You already have access to this product. Take advantage of your special upgrade offer to receive Unlimited Access!
Visioning your future is fun, but usually it's not very directed. You sit around and think up more questions than answers.
Is now the time to take on that more demanding job?
Am I looking for more flexibility?
Should I invest more in health or wealth?
Is this the right time to change careers?
All of the above?
The InPower Coaching career planning approach is simple, yet taps deeply into your authentic desires for a career that supports your life--and a life that supports your career!
Easy-to-use worksheets and videos take you from "not sure where to start" to "I know what I want from my next career move," in 7 days (or less!)
Member-only coach forums give you personal support and community to help make your decisions for life and career change
Perfect for early-to-mid career professionals looking for meaning in their work and a work-life blend that fits their lifestyle.
Career-Life Inventory

6 inventory worksheets give you a new way to look at your current work-life balance (or blend!) and effortlessly prioritize what's most important in your next career move

Personal Vision & Values

Ground your career planning in what kind of place you want to work in and where your passion lies (which helps you network authentically and naturally!)

LIFE SKILLS BONUS: Stress Management Tools

Gain access to member-only core InPower Coaching tools to help manage stress and increase your personal resilience, including Emotional Detriggering, Transforming Negative Beliefs, Focus Intentions and Mindfulness (without meditation!) A $100 value, which is yours for free!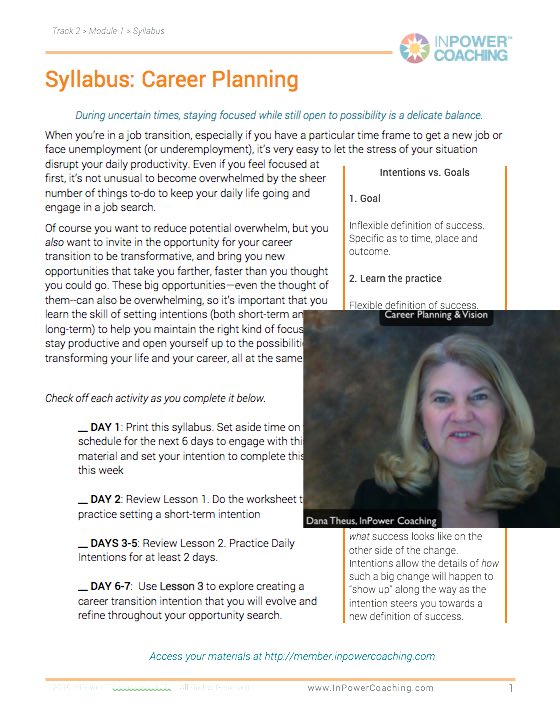 Don't make your next career move without focusing on what your dream job adds to your life. 

"This are excellent worksheets. I came to some very powerful realizations, that helped clear up some of the options I have been considering and helped me resolve into one focused goal for my job search."
- M.N. Privately held international health logistics organization
100% Money-Back Guarantee:
Take 7 days to enjoy the InPower Coaching Career Center and if you're not 100% satisfied that you're going to get your money's worth out of the program, send us an email and we'll fully refund your payment--no questions asked!
Career Planning
Worksheets & Videos
Get started on your new life today!
$97
Immediate access to Career Planning Worksheets & Videos - Plus Coach-moderated discussion forums.
InPower Coaching Stress Management package included free!
Buy Now
1 Year Access - Career Planning Worksheets & Videos
Unlimited
Career Center Access
Buy today and save $188!
$497
Unlimited access to 5 tracks (17 videos and 50+ worksheets)
Career Planning Worksheets & Videos
Job Opportunity Research & Networking Worksheets & Videos
Online LinkedIn Profile, Resume & Cover Letter Worksheets & Videos
Interviewing & Offer Negotiations Worksheets & Videos
LIFE SKILLS BONUS track on Stress Management Worksheets & Videos
PERSONAL SUPPORT Includes 11 Coach-Moderated Discussion Forums on the topics above
Save $188 when you purchase the whole package!
Buy Now
Get
unlimited access
to all FIVE tracks to help you put your career plan into action!
Learn More