InPower Coaching programs include two types of behavioral assessment tools, in our InPower Circle Leadership Development Programs, designed to provide the client internal and external insights into their strengths and opportunities for growth.
Personal Insight Assessments
All InPower Coaching programs include personal insight diagnostic tools designed to help clients distinguish their own, personal inner voice of guidance. Learning to tap one's inner voice is a key leadership development skill and by participating in our programs, clients develop the habit of accessing this wisdom at any time, on any subject. These personal assessments also help clients prioritize areas where they are most motivated to improve.
External Assessments/360 Assessments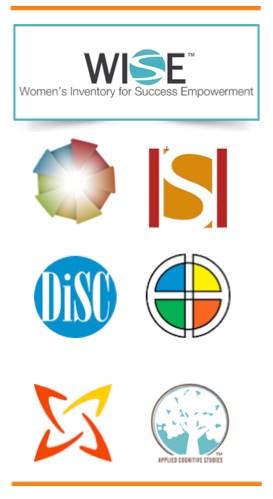 In addition to the online assessment and report we offer personal coaching debrief and assessment-based personal development plan supplementary recommendations to help clients interpret the report results and take appropriate action on them. InPower Circle Guides are also trained in how to use the results of industry standard survey and 360 assessments in order to advise clients how best to expand and enhance their individual strengths using InPower Coaching program content.
InPower Coaching currently includes two assessment tools in our leadership development packages:
DISC behavioral Profile and the
Women's Inventory for Success Empowerment (WISE) Profile
In addition, at the client's request we offer upgraded offerings that include  EQ-I 2.0 Emotional Intelligence Workplace, Influence Style Indicator, Myers-Briggs Type Instrument, Herrmann Brain Dominance Instrument (HBDI), and the Workplace Big Five assessments, or others requested (or in use by) our corporate clients.
Learn more about the DISC Assessments, supplied via SkillSource (authorized partner of Everything DiSC® products).
Learn more about the WISE, HBDI, EQ-1 2.0, ISI and Workplace Big Five assessments, offered in collaboration with NorthStar Consulting Group.