Change Leadership is not simple, but it's also not rocket science.
Despite the fact that companies are initiating more change projects than ever before, the success ratio continues to be about 30%, i.e., abysmal. Executive leaders are getting more frustrated with the slow pace of change, and yet they realize that their organizations must become proficient at change in order to survive.
What's missing for such a universal need to go so regularly unmet?
Resistance as Rocket Fuel for Change
In our experience, change fails most often because resistance to change is handled so poorly. Too many Change Leaders lack the emotionally intelligent soft skills to turn employee resistance into a strategic asset in the change process. While everyone recognizes that resistance is inevitable when leading and managing change, it's usually dealt with in a cursory manner (i.e., with a few brainstorming sessions) or pushed aside as "something that happens."
But resistance is a critical component of change success. Without resistance there can be no buy-in. But resistance-as-rocket-fuel requires emotional intelligence (EQ) on the part of those thinking up the change, and those implementing it as well, or it gets no where.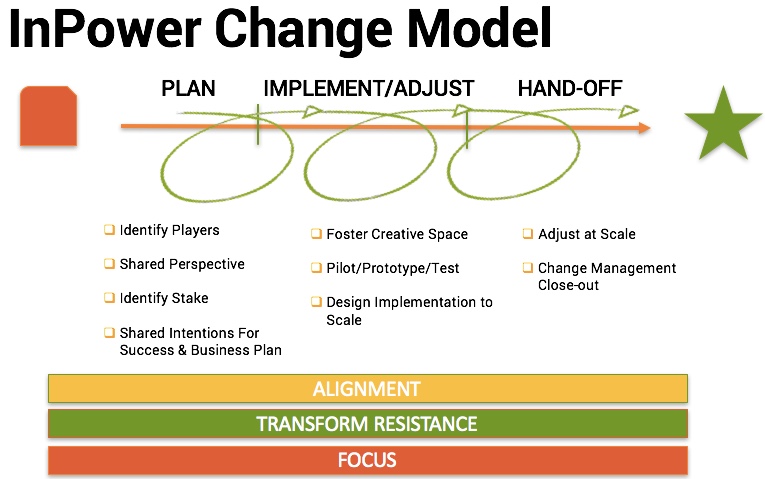 Middle Management Makes or Breaks Change Leadership
Most change efforts are thought up by executives, and sometimes consultants, and are handed down to middle management to implement. This is why so many executives are frustrated with how slowly change happens, if it happens at all. They are handing it off to perfectly capable middle managers, who've never been taught how to implement change.
Middle management is where change goes to die in our company. – Anonymous HR Leader
There are plenty of change management frameworks out there, and what the stats show us is that about 30% of the organizations that use them to implement change in middle management have the soft skills to take full advantage of the frameworks and realize success. Many more companies' middle management layers are lacking the soft skills to manage resistance as the strategic asset that it is.
We think of mid-level managers as managing incremental change — but many are change leaders in the making. When they align their personal goals and strengths with the organization's goals, they become extraordinary leaders. – Behnam Tabrizi, Harvard Business Review
Change is a Cultural Competence
Want your company to turn change into a core competency? Realistically, this must be both a top-down and middle-out effort to shift the organizational culture in ways that authentically allow and transform resistance. Every management employee must be given core emotional intelligence skills and honored for practicing them.
Think it can't be done where you work? It can! Anything is possible where InPowered change leaders take on the challenge.
Contact us to learn more about InPower Coaching's change management and change leadership programs for mid-level and executive leaders. All our programs can be implemented as stand alone change management frameworks, or implemented alongside existing programs such as Lean Six Sigma, Kotter's 8 Steps or ATD's Change Management framework.