---
Subscribe now to access FREE articles and videos to help you find your dream job.
---
InPower Coaching Articles on Stress Management and Personal Resilience
Change is always stressful. When you are looking for a new job, you are making a major change in your life. You will be leaving colleagues and friends behind, adjusting to a new schedule, experiencing new activities and personal growth. The process of finding a new job can be encouraging, inspiring and full of rejection at every turn – all in the course of a day.
Here is some advice and tips on how to navigate what's happening and cope with the changes.
Work-Life Paradox: Conscious, But Not Happy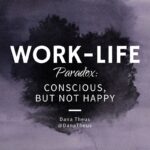 Dana Theus
Over the past few months I've been hearing from clients and friends who struggle with a vague sense of dissatisfaction in their lives and careers. In most cases it's not too tough to ferret out the source of work-life dissatisfaction; we scan our lives and find that we're happy in life, but we hate our jobs – or vice versa. But not always. continue reading…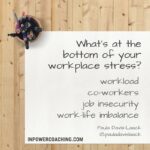 Life Is Stressful: 10 Things To Stop Tolerating
Paula Davis-Laack
According to a recently published article in the Wall Street Journal, stress is the number one workforce risk issue, ranking above obesity and physical inactivity. What's more, there seems to be a disconnect between what employees say is stressful and what employers focus on when it comes to stress. A Catalyst work report shows that most employees feel stress in four main areas: workload levels, interpersonal issues, job security, and juggling work and personal life. Does this sound familiar? If so, it's time to examine what you might be tolerating in your life; those things that may be driving some of your unhappiness and lack of productivity. continue reading…
---
A job search is more than an updated resume.
Make an investment that pays for itself.
Getting your dream job takes more than simply updating your resume. You need to target the right position, network in the right way with the right people, put your personal brand on LinkedIn to attract recruiters and know how to negotiate the best compensation, .
Get the guidance you need to get the job you deserve. 
---