---
Subscribe now to access FREE articles and videos to help you find your dream job.
---
InPower Coaching Articles on Online Career Opportunity Research/Networking
You have a vision of what you want your life to be like, but how to you get there? You may decide to switch careers, move into management or executive management or own your own company. You may want to work more often from home and have more flexibility with your time. Or have better benefits. What's the next step?
You need to research the job market, talk to people to learn more about companies and possible opportunities, and start to build your path towards your vision. Researching and networking helps you learn and explore new opportunities for change.
And networking can help you help others. A solid network won't only help you get a job, it will provide you with a support network to achieve your dreams and vision.
Here is some guidance how to find your next job and create a network that will help you achieve your life dreams.
Why Your Dream Job Isn't Just A Dream
Dana Theus
If you could wave your magic wand and have the job of your dreams, would you? You might be surprised how many people have to stop and think about that question. I recently had a client who was so beaten down by her employer, doubting her own value, that she was afraid to start her job search because she thought she'd never be able to get the kind of job she really wanted. Sally was a Vice President and had run afoul of some pretty nasty office politics leading up to a merger. continue reading…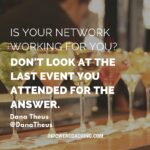 The Art of Business Networking
Dana Theus
"Networking" is a word I often see accompanied by a slump of the shoulders, a groan or a roll of the eyes – in both women and men. We know it's critical to our business and career success, but so often when we think "networking" we think stiff smiles, exposing ourselves to rejection from strangers and time wasted when we could be vegging after a hard days' work. Because like it or not, when you engage in it intentionally – as an investment in your career, your business and your efforts to change the world – it is work. continue reading…
---
A job search is more than an updated resume.
Make an investment that pays for itself.
Getting your dream job takes more than simply updating your resume. You need to target the right position, network in the right way with the right people, put your personal brand on LinkedIn to attract recruiters and know how to negotiate the best compensation, .
Get the guidance you need to get the job you deserve. 
---