---
Subscribe now to access FREE articles and videos to help you find your dream job.
---
InPower Coaching Articles on Personal Brand, Social Media, Resume/Cover Letter Preparation
You have researched what you want to do for your next step and know what you want to do for your career – now it's time to go get it. Polish the resume. Tweak the LinkedIn profile. And off you go!
Is it really that easy?
You need to position yourself as the perfect candidate for that job. But how do you do that? How does your resume reflect you? How can social media help – or hurt – you and your job search efforts?
Below are some articles that provide some advice to get to your next step.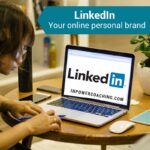 10 Biggest LinkedIn Mistakes Most of Us Make
Henna Inam
I was at a speaking engagement about creating our personal brands and asked the participants how many had a Linked In profile. About 50% raised their hands. I asked how many felt really good about their Linked In profile. About 3 people kept their hand up. If you're in business, the people you want to connect with are checking you out on Linked In. Here are the ten biggest mistakes many of us make on Linked In. Do any of these apply to you? continue reading…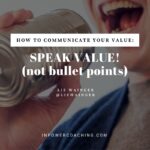 Stop Making Lists and Start Communicating Your True Value
Liz Wainger
No matter what our endeavor, whether we are in the job we love or seeking new opportunities we all seek to create value for those we serve. And yet, so many people involved with worthy ventures and causes don't get traction because they struggle to say what those around them need and want to hear. Why are you valuable to me? continue reading…
---
A job search is more than an updated resume.
Make an investment that pays for itself.
Getting your dream job takes more than simply updating your resume. You need to target the right position, network in the right way with the right people, put your personal brand on LinkedIn to attract recruiters and know how to negotiate the best compensation, .
Get the guidance you need to get the job you deserve. 
---