You already have access to this product. Take advantage of your special upgrade offer to receive Unlimited Access!
Nervous about how you'll do in the job interview for that amazing opportunity?
Wondering what to say, what not to say and how to control your jittery emotions? 
Even more nervous about how to negotiate your job offer so you feel really good about accepting?
It's natural to feel excited and uncomfortable before a job interview, but don't let your nerves prevent you from bringing your best self to the interview. And definitely don't let those butterflies in your stomach cause you to leave money or other benefits that are important to you on the table!
Giving a good interview requires emotional and intellectual focus, and when you learn to do it right your chances of getting your dream job, with a package you feel good about, get higher!
The InPower Coaching Job Interview and Offer Negotiations worksheets and videos will guide you - emotionally and intellectually - through how to prepare so that your best self  shows up at the interview and you are empowered to research and negotiate a strong employment package.
Easy-to-use worksheets and videos help you release your anxiety and improve your focus during the interview. Once you have the offer, InPower Coaching strategies and tools help you evaluate it and develop a counter-offer that includes what you need to receive to feel valued when you walk in the door.
Practical worksheets help you find your confidence and focus on what you want to communicate in the interview.
A simple practice interview guide and rating sheet helps you and your mentor/colleague prepare you for the real thing.
A comprehensive employment offer checklist and offer negotiation worksheet help you evaluate your offer and develop a compelling counter-offer.
Member-only coach forums give you personal support and community to help make your decisions for life and career change
Perfect for early-to-mid career professionals who want to demonstrate confidence in the interview and negotiate the employment package they deserve.
Job Interview Preparation

Worksheets and videos help you identify what to emphasize during the interview, what you need to ask, and guidelines (including sample questions) for practice interviews and emotionally put yourself in a confident state of mind.

Job Offer Negotiations

Learn the keys to negotiating a good employment package that makes you feel valued at your new job day one.

LIFE SKILLS BONUS: Stress Management Tools

Gain access to member-only core InPower Coaching tools to help manage stress and increase your personal resilience, including Emotional Detriggering, Transforming Negative Beliefs, Focus Intentions and Mindfulness (without meditation!) A $100 value, which is yours for free!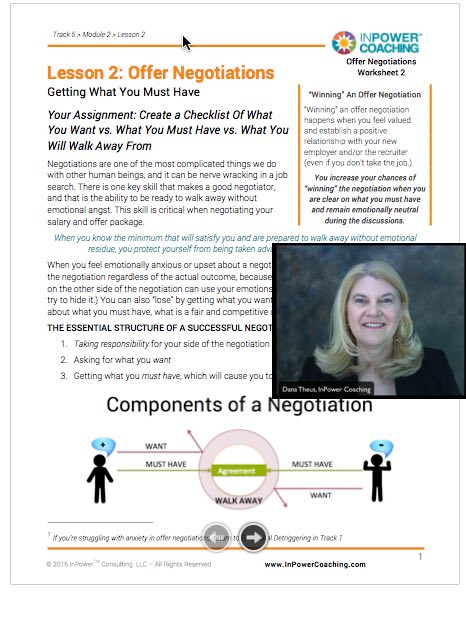 Walk into your interview calm, confident and ready to show them your best. Prepare yourself with information the emotional tools you need to negotiate the employment package you'll get excited about!
"I turn to InPower Coaching whenever I have a big decision or a big career move to make. InPower strategies have an uncanny way of always helping me tap exactly the right thought, perspective or belief within me to achieve the next stage of my career success. InPower Coaching recently supported me on making the biggest move of my career. With the confidence I found inside myself I landed not only the job of my dreams, but the salary I deserve." 
- K.A., Program Executive
100% Money-Back Guarantee:
Take 7 days to enjoy the InPower Coaching Career Center and if you're not 100% satisfied that you're going to get your money's worth out of the program, send us an email and we'll fully refund your payment--no questions asked!
Start now!
Job Interview & Offer Negotiations Preparation
Worksheets & Videos
Learn the secrets to acing your interview and negotiating your offer package!
$197
Immediate access to Job Interview & Offer Negotiations Preparation Worksheets & Videos - Plus Coach-moderated discussion forums.
InPower Coaching Stress Management package included free!
Buy Now
1 Year Access - Job Interview & Offer Negotiations Preparation Worksheets & Videos
Unlimited
Career Center Access
Buy today and save $188!
$497
Unlimited access to 5 tracks (17 videos and 50+ worksheets)
Career Planning Worksheets & Videos
Dream Job Research & Networking Worksheets & Videos
Online LinkedIn Profile, Resume & Cover Letter Worksheets & Videos
Job Interview & Offer Negotiations Preparation Worksheets & Videos
LIFE SKILLS BONUS track on Stress Management Worksheets & Videos
PERSONAL SUPPORT Includes 11 Coach-Moderated Discussion Forums on the topics above
Save $188 when you purchase the whole package!
Buy Now
Get
unlimited access
to all FIVE tracks to help you put your career plan into action!
Learn More