Shannon Muruli returns to talk about the connection between the School of Courage, her new book, #DoItAfraid, and "fluid career."
Fear can hold us back from getting what we what. We hide behind it, hoping someone notices us. And when we hide from others we are also hiding from ourselves and our potential. We aren't allowing ourselves to shine.
It takes courage to take that next step and see your dreams come true. Sometimes courage doesn't require making even a step – it can be showing up for a single meeting or speaking up in a meeting.
It can be scary to embrace the thought of a fluid career. I mean, we used to be told that we have stability if we stay at a company for 10+ years, but do we? Are we settling for monetary security while we are suppressing our own needs and desires? Choosing to stay in a box because it isn't that scary and comfortable? No one likes to be uncomfortable. So what's it like to take that leap? What's it like to land somewhere else? Somewhere better?
We'll be talking about:
What it means to have courage and what that looks like. And if it's ok to have courage and still be afraid.

How to ignore to the naysayers and do what you believe is the right.

How the next step doesn't need to be a huge leap – it could be as simple as speaking up in a meeting to demonstrate what you know.

How you may be holding yourself back.

How to let go and let yourself shine – and not be afraid of that.
What's a fluid career? 
Dana Theus has been observing a new career trend – . The average tenure of a job for professionals is 3.5 years. This means that someone could have up to 10-12 jobs in a lifetime and possibly 2-3+ careers. It is freeing, in that it gives people more control to design more work-life balance in their career over time, and anxiety-producing as it can feel less stable if one defines success as "a job that lasts at least 10 years."  This fluid employment trend takes into account the growth in both entrepreneurship and the Gig Economy, reductions in employee tenure, increases in employee dissatisfaction and increases in employee turnover.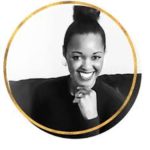 Shannon Muruli is a Motivational Speaker, Personal Growth Coach and Creator of the School of Courage for Women™ and other courage based brands, courses and events for women. Shannon was named by i10 Magazine as one of the Top 40 Under 40 EmergingLeaders in Dallas, Texas in 2015. She has been featured in Bauce Magazine, Women Are Gamegchangers, FailLearnGrow.org, and is the former Ambassador for the Dallas Entrepreneur Center.
Shannon is a seasoned and sought after keynote speaker and courageously takes the stage as a speaker for various events.
Shannon received training from Fowler International Academy for Professional Coaching, and obtained both a Bachelor's of Science in Psychology and a Masters in Public Health (MPH) with Behavioral Science Courses from Florida A&M University.
Her training and education has helped her excel in sales, the network marketing industry, as a corporate recruiter, life management teacher and now as an entrepreneur and courage coach to aspiring professional women.
Besides having a passion for her purpose, being a health enthusiast, a lover of family, fashion, fun, books, good laughs and God…Shannon is a giver which is why after being diagnosed with a chronic auto-immune condition in 2010 she launched You Can Do Tough ™
The YOU CAN DO TOUGH ™ initiative is a private scholarship program to help provide a small capital injection to assist a woman who may be experiencing hard times financially because of her chronic autoimmune condition, but has not lost her ambition to start or progress in a particular profession or industry that she is passionate about.
She also just released her book, #DoItAfraid.
Join Us Live!
There are 2 ways to join us live in the conversation:
1. Participate online
2. Call in/audio only:
Dial: +1 408 638 0968 (US Toll) or +1 646 558 8656 (US Toll)
(View international numbers)
TECHNICAL NOTE: We use a video meeting and webinar service called ZOOM to bring you – live! – into our weekly talkshow via audio, video and/or chat. To participate you'll need to download a small applet to your PC. The downloaded app only takes a few seconds to load and is secure. Learn more about Zoom's security features.
Miss a Coffee Break or Want to Keep Talking?
Keep the conversation going in our Coffee Break Talk Show Forums.