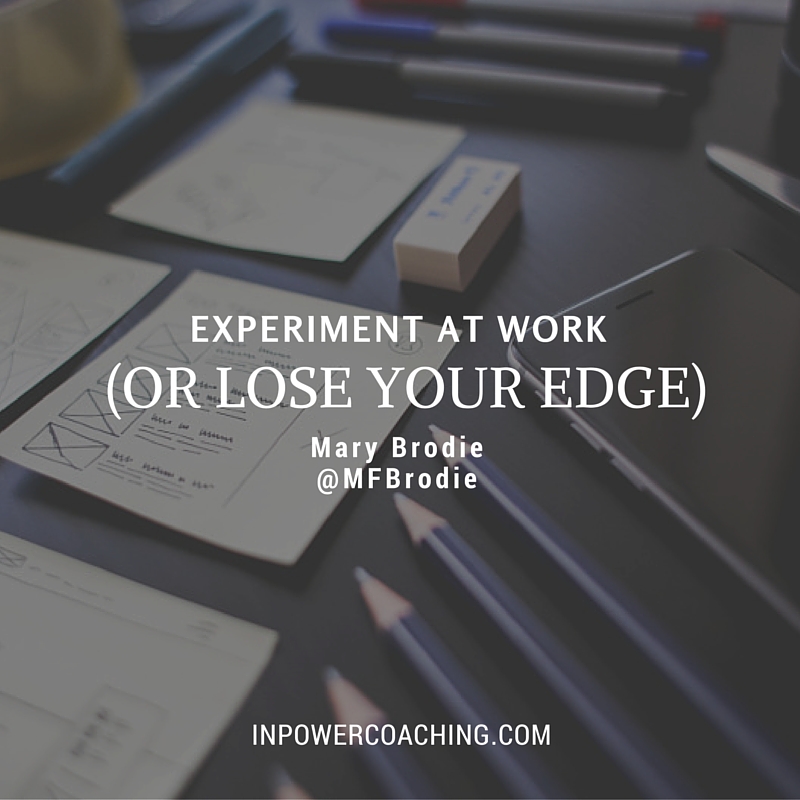 The world is changing by the minute. It's exciting to see the constant changes with mobile, the Internet of Things, Agile, Lean, social media, bots, video. We are rethinking our world – how we live in it, how we play in it, and how we work in it.
And then there is the work environment we have to complete every day. It's easy to get bored at work, doing the same type of work with the same types of tools day in and day out. There's not a lot of change happening in the day-to-day corporate world. If there is change, it seems to happens at a glacial pace.
How do you stay inspired at your daily job with the exciting changes happening in the larger world?
There are some options:
Industry publications
Training
Experiments at work
Freelance on the side
Industry publications
There are many business publications you can read, almost too many. It's information overload with the amount of content someone can read about any topic. In some ways, the Internet has made it almost too simple to create an online publication, build a following, and claim expert status. One has to wonder about the validity and accuracy of the information presented online these days.
In other ways, the Internet has opened a world of wonder. Within seconds of a discovery, the world can know about it. New technology, practices, and approaches can be shared instantly. The Internet is like a shared brain.
However, the challenge with basing your industry knowledge on industry publications alone is that you aren't getting hands-on experience. It's theoretical knowledge. There are many great ideas, but do they solve the problem they claim to solve? Unless it's an approach described in a case study, feasibility of these ideas is not entirely clear.
Training
I try to attend a major conference every year to stay current, but I work for myself. In many corporations regular training doesn't usually happen because it's difficult to get the funding. And this is becoming a problem in the US.
"Politicians, business leaders and HR teams alike acknowledge the growing skills gap in the U.S.," said Paul Sebastien, vice president and general manager of Udemy for Business. "But the majority of companies aren't taking essential steps to implement more training and make sure their employees can thrive while their organizations grow…Ultimately, the success of their companies depends on it."

"Companies See Widespread Skills Gaps, But Most Spend Minimally On Training", PR Newswire
The choice companies make not to invest in training could be a hiring problem rather than a training problem. One has to wonder if companies hire employees to be part of a team or hire employees to do a specific job needed today. And it's unclear why companies do this because the benefits of training employees are tremendous.
Cheesecake Factory invests an average of $2000 annually per employee on training. The chain enjoys sales of $1000 per square foot, almost double the restaurant industry average.

–Danielle Bullen, "How Top Companies Make The ROI Case For Employee Training," Skilled Up for Companies

Motorola has found that every dollar invested on training can yield as much as a 30 percent gain in productivity within three years, which has helped them cut costs by $3 billion and increase profits by 47 percent.

–Laura Stack, The Big Benefits That Come From Consistent Training, TLNT
This proves that training employees on what's current makes them more productive and a company more profitable.
Experiments at work
Fail, Learn, Grow! is an organization that supports entrepreneurial learning. Some entrepreneurs succeed selling their companies, landing huge clients, and earning huge profits. But many don't. Fail, Learn, Grow! celebrates failure and its contribution to learning. Failure includes anything from losing a deal to closing operations.
Startups embrace the risks of experimentation, new thinking, and ultimately, learning on the job. But with great risk, comes their great wins.
The startup model, combined with a low cost of entry, makes them a formidable threat. With inexpensive data center infrastructure, freelance communities and ecosystems to provide support and office space, startups can move fast to disrupt an established industry.

How Corporations Can Remain Competitive with the Help of Startups, The Rivalfox Competitor Intelligence Blog
Failure isn't always celebrated in large corporations.
Studies show that efforts to stimulate intrapreneurship — entrepreneurship within an established company — more often than not fall flat. According to my current research at Harvard on innovation models in global companies across diverse sectors, these types of projects fail between 70% and 90% of the time.

–Beth Altringer, "A New Model for Innovation in Big Companies", Harvard Business Review
Why? Some are reluctant to embrace change and avoid risk. Generally, corporations prefer maintaining current success with traditional best practices rather than encouraging risky experiments with potential to fail. For on the job learning and experiments to be embraced and encouraged, learning from failure needs to be embraced – and encouraged.
Freelance work
Some corporations want your attention focused on them at all times and discourage freelancing. In other companies, management doesn't really care – what you do outside of business hours is your business. Either way, freelancing can be necessary if you aren't able to get training or aren't allowed to experiment with new approaches.
There are a number of articles that include learning through on the job as a benefit to freelancing. In a freelance situation, the commitment from both sides is low, whether the work is successful or not.
The employer gets work done and learned from the experience
The freelancer gets to expand his knowledge and skill set for some cash
If your employer doesn't typically support training and learning, freelancing can be a great way to stay current and expand your skills for your next career move.
There's really no excuse to be bored at work. Learning new approaches through experimentation is vital to your career growth. Being stagnant in this ever-changing world can kill your career potential. Companies need to assume risk if they want to see incredible gains – either the cost of training or the risk of failure. If your company won't support those things, freelancing may be a great option until you are ready to find a new position. The world is changing too quickly to just stay current.
Don't get left behind.
Take charge of your career development to get the job that supports your work and your life. Check out the tools and resources in the InPower Coaching Career Center.