Step-by-step personalized tools give you the competitive edge in your job search
No matter where you are in your career development, we save you time and energy in taking your next, confident step towards career success and satisfaction, and we help you tap into the hidden job market (the one that's not on any of the job boards!) Not sure where to start your career transition? Start at the beginning. Have an opportunity knocking on your door right now? Jump in anywhere! (Return to introduction video.)
Want to know more about a specific module? Scroll down!
BONUS OFFER
INCLUDED IN YOUR PURCHASE
30 minute coach follow-up call with Dana Theus, Executive & Career Coach
Review your work and get recommendations and an assignment to unlock your power to succeed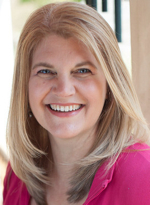 ---
Module 1: Stress Management and Personal Resilience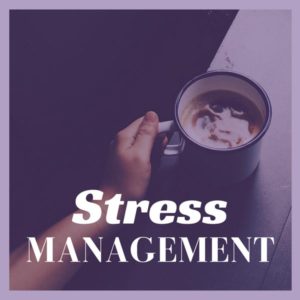 Feeling nervous about looking for a new job, an upcoming interview, or a life change?
The secret to finding a new job is to stay positive, confident and upbeat. De-stress your life with tools, including 5 videos and 8 workbooks, to manage worry, nervousness and anxiety during your transition, and when you start your new job too!
How can you stay de-stressed, positive and confident in the middle of a career change? These in depth coaching tools give you simple strategies to:
Manage your time and energy with mindfulness (view syllabus)
Let go of emotional triggers that undermine your confidence (view syllabus)
Maintain productivity and focus with daily intentions (view syllabus)
You get all these resources, plus a bonus video, information, links and recommendations on ways to build mindfulness practices into your everyday life without adding time to your schedule!
The videos and workbooks in this module will give you step-by-step instructions for understanding how the unique circumstances of your career transition triggers your anxiety, and give you tools to release fears over things you can't control, encounters (like interviews!) that don't go as well as you'd hoped and frustration over unfair decisions outside your control.
Tools to help you manage your time and energy will help you stay productive and focused with a powerful and intuitive system for managing your personal time and energy. Simple mindfulness techniques won't add any time to your day, but they will guide you to a more stress-free life in your new career.
5 videos and 8 workbooks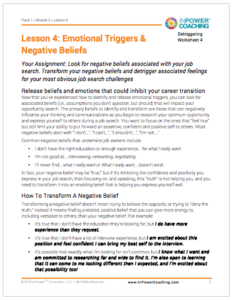 "InPower Coaching's career transition program was exactly what I needed when I found out I was getting laid off. The program lowered my stress overall through a difficult time and gave me confidence to go for the job I wanted. I love my new job. It's exactly what I want and I can't thank InPower Coaching enough for helping me get it!" A.H. Privately held international health logistics organization
"The detriggering tool helped me gain a better understanding of what makes me anxious. With this knowledge, I was able to handle my nerves in a more calm and productive manner. The detriggering tool is a great addition to my personal tool box." J. V. Project Director, Major Manufacturer
---
Module 2: Career Planning and Vision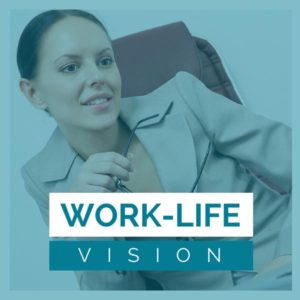 Looking for meaning and a work-life blend that fits your lifestyle?
Your career vision must fit your life vision. If you're looking for more professional fulfillment but not sure how to balance questions like going after more responsibility or flexibility, deeper expertise or new experiences, personal time or professional intensity, then these 3 videos and 5 workbooks will help you figure out what's right for you!
Where do you start in developing the kind of personal vision that will guide you in finding and getting your dream job? To get your dream job you have to dream. These insightful tools take you step-by-step into building a vision of your future that will motivate you with the positive energy you need to achieve your dreams.
Take a comprehensive look at your career in the context of your life to find actionable ideas about how your next career phase can contribute to your overall well-being. Create a detailed Career Transition Intention to guide you in researching your perfect job so you don't waste your time on the wrong opportunities.
Take a fun exploration of your future, tapping you into what gives you the energy to succeed. Ground yourself in the Values of the work culture where you'll thrive.
3 videos and 5 workbooks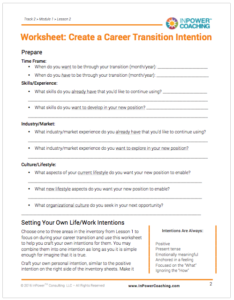 "These are excellent worksheets. I came to some very powerful realizations, that helped clear up some of the options I have been considering and helped me resolve into one focused goal for my job search." M.N. Privately held international health logistics organization
"The Career/Life Inventory opened my eyes to some areas where my job could be better supporting my personal needs and goals than I'd realized. It's made me more determined to find a workplace that will help me grow as an integrated person." S.H. Nonprofit Executive
---
Module 3: Job Research and Networking Plans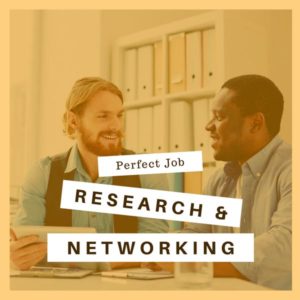 Wondering where to find your dream job?
Looking for your perfect job can be overwhelming and unempowering. These 3 videos, 6 workbooks and 6 bonus resources guide you in a straightforward research and personal networking process to quickly identify your dream job and give you the confidence to eliminate opportunities that are a waste of your time.
Where do you start looking for your dream job? Which job boards and companies should you track? Who should you call for help and what should you ask for when they answer the phone? Don't be overwhelmed by these questions, follow this step-by-step approach to finding your perfect job and building the network that can even help you find your next one!
Create an inside-out research plan for yourself that quickly reveals what your perfect job looks like and where you're likely to find it. You'll develop a list of keywords, organizations and job boards to fuel your search, develop a contact list of people you know (and would like to meet) and create a networking intention so reaching out to people feels natural and authentic.
3 videos, 6 workbooks and 6 bonus resources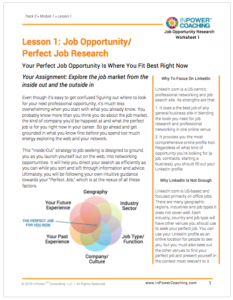 "Narrowing down my search to focus on exactly what I wanted to do and where I wanted to live helped me find my 'perfect job' with surprising results. Sixty days after starting my search, I reported to work in a new city. I couldn't be happier and love the new life I'm building here." A.P. Financial Education Specialist
"I never realized how easy networking to find my perfect job could be!" A. L. Privately held international health logistics organization
---
Module 4: Social Media, Resume & Cover Letter Preparation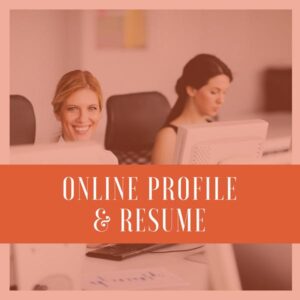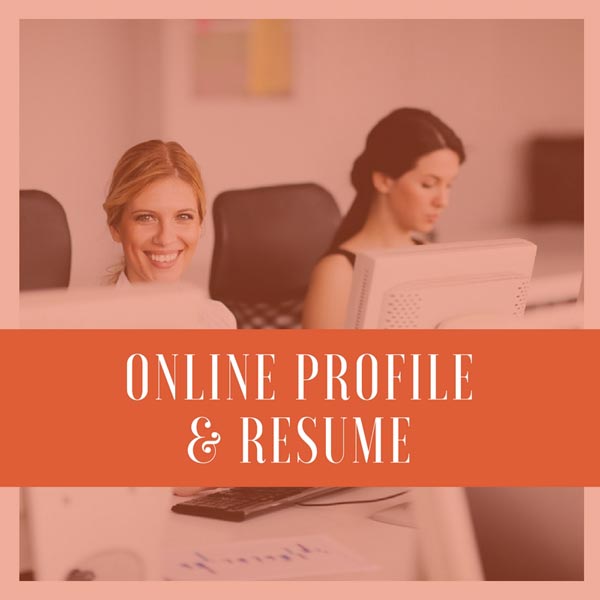 Want to attract the right recruiters and hiring managers?
Whether you're updating your LinkedIn profile and resume for a particular position or to attract recruiters for your dream job, these 3 videos, 5 workbooks will guide you through how to powerfully present yourself to potential employers. Do it right and the perfect job may find you!
Why should you update your LinkedIn profile before you do your resume? What's most important to include in your summary? How can you use keywords in your profile and resume to position you perfectly for your dream job? Should you include a cover letter? These resources and worksheets answer these questions and many more, walking you through a straightforward process to help you put your best foot forward before the interview and make you more visible to recruiters.
Leverage LinkedIn's powerful resources to connect you to your dream job. These workbooks will guide you in writing a succinct summary that will position you perfectly for your dream job, creating the right list of keywords to draw the right recruiters to you.
Efficiently tailor your resume by using your LinkedIn profile appropriately and building in more detailed information to enhance your personal brand fit for your dream job. We'll also guide you through cleaning up your other social media accounts to present you authentically in your career transition.
3 videos 5 workbooks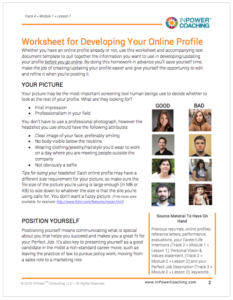 "InPower Coaching helped me clarify my objectives and communicate my strengths in ways that I had not considered. This insight helped me craft a summary statement and my LinkedIn Profile and resumes are much stronger. I am very happy with the results." L.H. Sr. Manager, food industry
"Now my LinkedIn profile is different from my resume and I'm getting contacted for jobs I didn't even know existed." B.K., Marketing Manager
---
Module 5: Interviewing & Offer Negotiations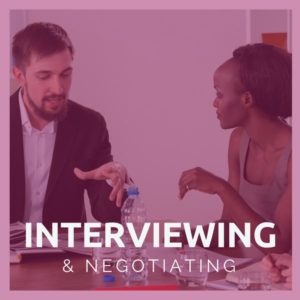 Need to find your confidence to interview and negotiate the package you want?
Interviewing and negotiating your employment package are the two most important steps in your career transition. These 3 videos and 5 workbooks will focus you on the key points you want to communicate, give you a list of common interview questions to practice with, a practice evaluation template, a list of benefits you can negotiate with, and more. Find your center to interview and negotiate with confidence!
How can you manage your anxiety and take your best self to the interview? What should you say? What should you look for in the offer and when do you know you need to put a counter-offer on the table? These straightforward resources and checklists will help you find your confidence and express it clearly during this critical phase of your career transition.
When interviewing and negotiating your offer, you don't usually have much time so you need to focus on the most important aspects of preparation. These workbooks will help you prepare key talking points and questions for the interview, calm your anxieties and practice by yourself or with a colleague so you can be authentic and confident when it counts.
Don't overthink it when negotiating your employment package, but do negotiate! Our officer negotiations breakdown and checklist will help you evaluate what may be lacking in their offer, and how you can ask for what will make you feel truly valued.
3 videos 5 workbooks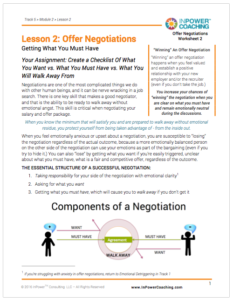 "I turn to InPower Coaching whenever I have a big decision or a big career move to make. InPower strategies have an uncanny way of always helping me tap exactly the right thought, perspective or belief within me to achieve the next stage of my career success. InPower Coaching recently supported me on making the biggest move of my career. With the confidence I found inside myself I landed not only the job of my dreams, but the salary I deserve." K.A., Program Executive
"InPower Coaching is a wonderful resource. I got an offer on Thursday, downloaded the InPower worksheets on offer negotiations on Friday and successfully negotiated my new employment package on Saturday. Watching the online video tutorials and using the lesson worksheets helped me remain calm and focused at a stressful time: negotiating my package negotiating my package. Dana's insightful "big picture" commentary on the negotiation grounded me as I sat down to craft a counter offer. InPower Coaching's worksheets provided solid advice on how to analyze my needs and wants in a job offer; the process of thinking through those points helped me to solidify a strategy prior to negotiating. Then, throughout the conversation, having a plan in hand helped me to remain calm and feel confident. I'm very happy with my employment agreement and I only wish I'd found InPower Coaching sooner in my job search! " — L.S. public relations manager
"Now my LinkedIn profile is different from my resume and I'm getting contacted for jobs I didn't even know existed."
B.K., Marketing Manager
"I never realized how easy networking could be to find my perfect job!"
A.L. Privately held international health logistics organization
Access the Materials Above – and More!
Purchase This Module
gain immediate access
$97 each
Coach-moderated forums
BONUS: Each module purchase includes a FREE
coaching session with Dana ($175 value)
Unlimited InPower
future-proof yourself
$97 + $37/mo
save $741
24 events/yr (coaching call topics & office hours)
Client Forums (coach-moderated)
Coaching call topic recordings
New Buzzwords & Upskills Lessons every month
The Module Above PLUS 12 more In-Depth Leadership & Career Transition Modules (43 Videos & 85 Workbooks)
annual payment – save 25%+
Unsubscribe at any time. All subscriptions come with a 100% money-back guarantee if canceled within 7 days. Learn More
100% Money Back Guarantee
Take 7 days to enjoy the InPower Coaching Career Center and if you're not 100% satisfied that you're going to get your money's worth out of the program, send us an email and we'll fully refund your payment–no questions asked!
Frequently Asked Questions
How long does the program take to complete?
You can take as much or as little time with this program as you like. It is completely flexible. With unlimited access, you can go sequentially through all five tracks quickly to glean information that will help you set up your own career transition plan and timeline very quickly, or you can choose to take your time and dive deeply into the tracks and modules that appeal to you. You can also go straight to the sections that will help you most when you uncover a networking or interview opportunity. The system also gives you ways to track your progress whether you go through it sequentially or not, by "favoriting" items and/or marking them as "complete" so you can see at-a-glance what you've completed and what you haven't. Your subscription includes 12 months of unlimited access and will renew annually at $27/year to help you continue building your professional network, keep your LinkedIn and resume updated, get your questions answered and get back up to speed any time opportunity comes knocking again!
How do I access the system?
As soon as you complete your purchase, you'll receive a link to the InPower Coaching Career Transition Program home page where you'll have password-protected, 24/7 access to all the materials. You'll be able to view the videos on any device and download worksheets, as well as track your progress as you complete different steps in the process.
Will my employer know I joined?
We do not make this service (or our client's identities) available to recruiters or hiring managers. No one will know you have access to the materials. While your name will appear if you choose to comment or participate in the forums, you are welcome to use a pseudonym to keep your identity anonymous if you are concerned that you may have colleagues also using the system.
I'm a coach or I have friends who need this too, can I use these materials with my clients or colleagues?
By purchasing the InPower Coaching Career Transition System you explicitly agree NOT to share or sell these materials with anyone. You agree that they are for your personal use only. If you're interested in becoming an authorized reseller, affiliate or InPower certified coach, please contact us at service (at) inpowercoaching (dot) com for more information.
InPower Coaching helped me clarify my objectives and communicate my strengths in ways that I had not considered. This insight helped me craft a summary statement and my LinkedIn Profile and resumes are much stronger. I am very happy with the results."
L.H. Sr. Manager – food industry
"The Career/Life Inventory opened my eyes to some areas where my job could be better supporting my personal needs and goals than I'd realized. It's made me more determined to find a workplace that will help me grow as an integrated person."
S.H. Nonprofit Executive