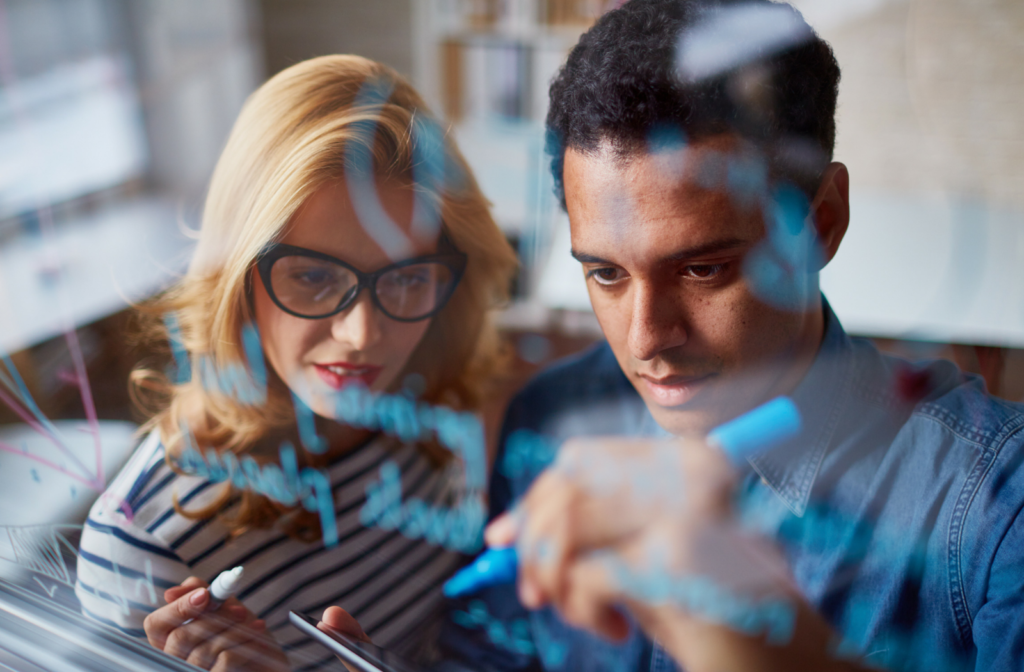 It seems obvious that people who are socially adept will be more effective at work. Yet the soft skills research to support this intuitive notion is only a few decades old. Emotional intelligence (often abbreviated as "EQ") is the ability to positively harness one's emotions and social interactions for greater impact. Employee EQ is vital for a vibrant and productive workplace environment. But can EQ be learned? The research says, and we believe, that people can develop emotional intelligence given the proper context and support to do so. It's also our experience that emotional intelligence is a linchpin to business success.
Early emotional intelligence research focused narrowly on a person's ability to understand their own emotions and those of others. More recent research often encompasses the broader concept of "social intelligence." Two examples of social intelligence are the ability to cultivate positive relationships, and possessing finely honed interpersonal communication skills.
This EQ at Work and Soft Skills Research Index looks at the relevance of emotional intelligence in the workplace in its broadest meaning: the attributes, mindset and skills that people need to effectively navigate their interior selves and external environments to contribute to organizational success.
The index summarizes scholarly research and current media articles from thought-leaders on pro-employee business practices. Our index provides human resources and organizational development practitioners access to case studies, research and opinion pieces that will help them design practices to help their employees develop this important skill set.
Want to learn more about how to build EQ into your enterprise talent development strategies? Start by reading our Emotional Intelligence at Work overview for our take on where to start.
The Business Case for EQ at Work
The studies and articles in this section demonstrate the benefit of investing in the development of employees' emotional  and social intelligence. Business leaders, HR managers and OD consultants can use this information to help others understand the kind of payoff investments in soft skills development for their employees can have on the organization as a whole.
Pro-Employee Business Practices
These resources offer research that informs HR and OD practitioners on emerging workplace trends. From programs that address work-life balance for employees, to the entry of Gen Z into the workplace, business leaders, HR managers and OD consultants can use this information to stay informed of the shifting forces that shape the modern workplace.
The Science of EQ and Soft Skills
Since the mid-1990's researchers affiliated with several prestigious academic institutions have worked to identify the science that proves the importance of social skills in the workplace. The soft skills research highlighted in this section will help make your case to executives who remain skeptical that "soft" skills can be isolated and developed.
Emotionally Intelligent Leadership
We've long understood that effective leaders are "good with people." Daniel Goleman's 2004 ground-breaking article What Makes a Leader? in the Harvard Business Review ushered in a new era in research and commentary on the science of effective leadership. The research highlighted in this portion of the index points to the business imperative for developing leaders with high emotional intelligence and social skills. Much of the EQ research conducted to date focuses on leaders, so we've chosen the studies we believe will help you discern the relevance for your organization.
Soft Skills Development in the Workplace
Using the pioneering work of academics Daniel Goleman, Peter Salovey, John Mayer and others, business people have turned their attention from developing executive leadership exclusively to expanding soft skill capabilities throughout their workforce. The thinking goes that if leaders could improve their business relationships through the development of EQ and soft skills (and therefore improve business results) then a workplace filled with emotionally-intelligent employees would be a good thing as well. Here's a round-up of research that helps you make that case within your own organization.
Know of a study we don't feature, but should? Let us know!

InPower Coaching can help you bring EQ and Soft Skills development to your organization. We specialize in programs that use innovative online platforms to infuse EQ into middle management and establish frameworks to support expanding these concepts into the executive suite. Contact us to learn more.