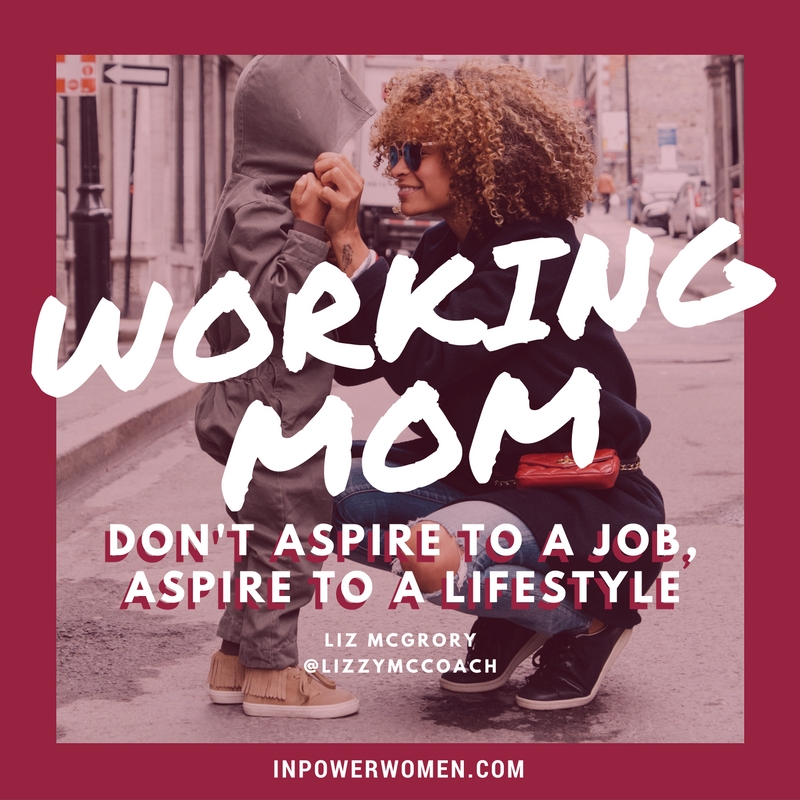 I invite you to take this moment to dream about your ideal working mom lifestyle. Not sure where to start?  Follow these steps to help create your vision.
Assess What Your Personal and Professional Values Are
What is important to you? When you are envisioning your ideal working mom lifestyle know what your personal and professional values are and then think about how they fit into your vision.
Please don't think about another working mom while trying to decide what's important to you. How she makes things work for her may not work for you. Everything about you is unique, like your children, their activities, your home, your career, and your family. Your working mom lifestyle will be unique, too.
For example, if your family is one of your top values, then your lifestyle should reflect this. In your vision of an ideal working mom lifestyle, is flexibility a high priority? Does your current job offer work flexibility?  If not perhaps your next job will so you can be present more for your home life. 
Envision Your Daily Working Mom Lifestyle
Think about these four questions:
What is your morning schedule, how does your work-day play out, and how do you end your day?
What is working well for you in these three daily time zones?
What are they like now and where is there room for improvement?
What are you really good at, and how can you do more of that?
For example, take a snapshot of how your mornings look now. Are you able to get up and out in a steady manner without zapping your personal energy? Or do you and/or the kids get cranky and stressed? There are many factors to consider like how everyone is feeling, did they get enough sleep, plus how to get everything done to feel ready for the day.
Now imagine how you'd like to start your day. While creating this vision be sure to have pen and paper or your phone to record a voice memo. If you're more of a visual person, create a vision board either on Pinterest or on a poster board with magazine clippings. Your kids may appreciate this visual goal because they can see how you want things to go. You are setting expectations and goals.
Envision What Your Monthly and Holiday Time Working Mom Lifestyle Would Look Like
As I write this, Halloween is about 4 weeks away, Thanksgiving is in 8 weeks, and the holidays start in 10-12 weeks (shudder). Now is a great time to envision how your lifestyle will change because of the extra demands on your time and energy. How can you manage the holidays better for you, your children, and your family?
It all comes down to what's important to you (your personal values). What kind of holiday season do you want?  How will you welcome people into your home or how do you want to show up when you visit family? How can you avoid showing up late, frazzled and overwhelmed? This mental preparation will have a big payoff in the end.
Envision What Your Working Mom Lifestyle Could Look Like a Year from Now
If your career isn't heading in the right direction include this in your working mom lifestyle vision.  Do you think you don't have time to focus on your career? Here are a few pockets of time you can dedicate to working on your career (not in it):
On your commute to work
Your lunch break
Walking to the ladies room
Going outside for a breath of fresh air
Doing the dishes or the laundry (you could even use a PostIt note on the kitchen cabinet or dryer that says "What next?)
Take these pockets of time to marinate on what you want to do with your career.
When envisioning your working mom lifestyle a year from now, set goals.  They are what will create change and push you forward. When you're setting the vision, think more freely as a lot can happen in a year (or even a day!).
Have fun with this! Don't let fear get in the way. Don't fret about how you'll make this happen or any "what's if's". Be bold and audacious and think about what you want, not what other people want for you.
You're not striving for perfection here. You're at point-A, you want to get to point-B, so what do you need to do? It's as simple as that. The actions may not be simple at first glance, but don't get caught up in that. You're creating the path. It's easier said than done, but if you don't say it, how's it going to get done?