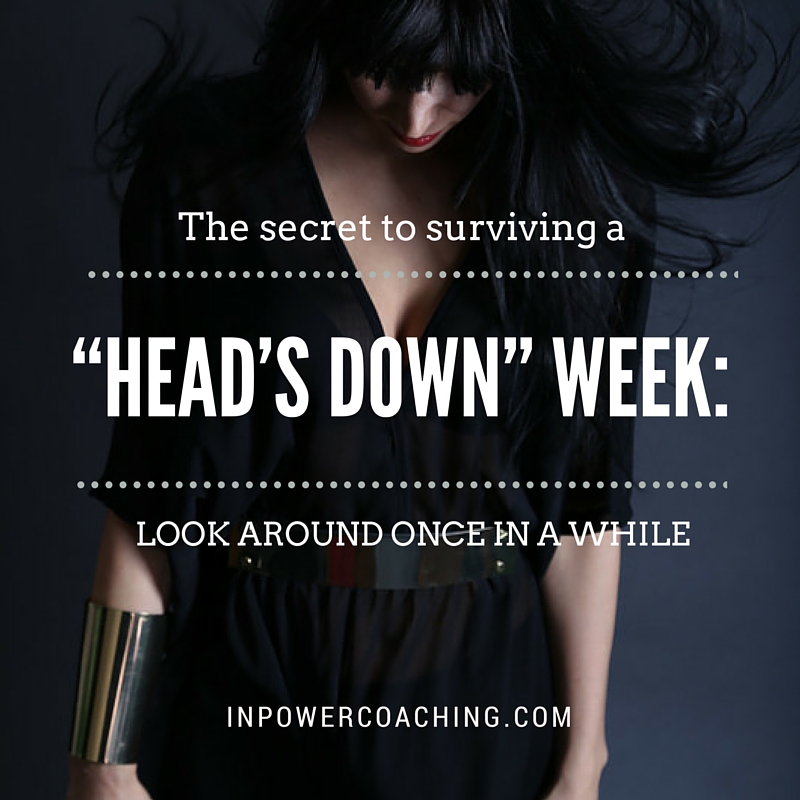 This week has been grueling. Fourteen-hour days, deadlines, high-profile appearances and high-stakes meetings. Needless to say I've been head's down all week long. Now it's Friday and I'm taking a breath before the final push.
Taking stock I find I'm not too tired; I don't feel overwhelmed. I'm still able to focus and today's twelve-hour day will be a good one.
What the heck have I done to survive this week?
The secret to surviving a "head's down" week: look around once in a while"
Looking back over the week I can identify several points in each day where I "looked up" from the work that was absorbing me. Normally, I unplug and go for a walk–or give my brain a rest–when I feel overwhelmed, but in a head's down week that's not really an option very often (if ever.) But intentional efforts to look up, look around and refresh my brain have kept me sane.
Next week will be challenging too, though not quite as bad. I plan to do a lot more looking up, and a bit more walking around… until the next head's down period lands on my calendar.
What are your head's down survival strategies?