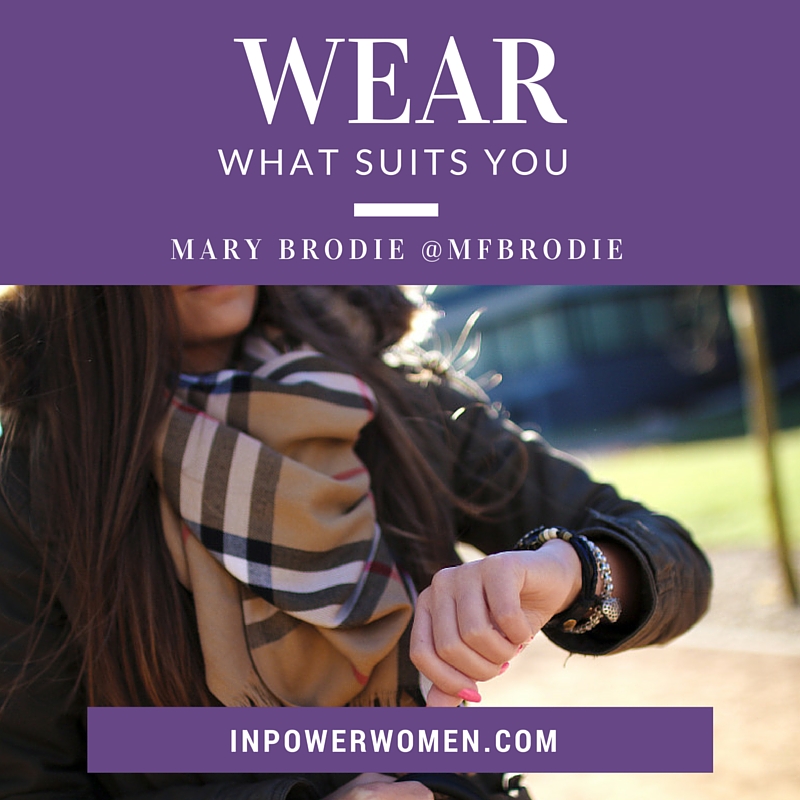 This piece is part of the "Un"fashion Carnival at InPower Women to support our partnership with Silk Armour UK and your effort to find your style. – InPower Editors
I never understood what "it suits you," meant. I heard it from others, and thought I understood it, but it wasn't until nothing in my closet suited me anymore that I got it's meaning. 
One morning about a year ago I was getting dressed to go to work. I stood in my closet, trying to decide what to wear. Dressing for work was becoming a tiring daily ritual. There was a triangle – me, what I thought I should be wearing, and what was hanging in the closet. I felt like I had a closet full of clothes for someone who I didn't know.  
The problem got worse when I tried to buy new clothes. I would walk into a store and see thousands of pieces, thousands of possibilities. The same happened with online shopping. What I used to feel comfortable in and what would look great on me didn't work anymore. I wore a lot of black and I suddenly wanted to wear more color. I wore geometric styles and now I wanted something more fluid. I needed a change, but where to begin? I felt overwhelmed. I wasn't sure what to choose and I needed help. But I wasn't sure how to get the help I needed.
By chance, I completed an online survey for a style consultant and met with her to see if maybe she could help me. After looking at 10 pieces of my wardrobe she found my problem: my closet represented a junior professional seeking to get to that next level. However, I am a senior person who is looking to get her business back, present at conferences, get published, and network. I had the wrong wardrobe for my career level. No wonder I was having a hard time getting a job for what I felt I should be doing – I didn't dress the part and didn't feel like that person.
Most people think working with a stylist means that you learn the right colors to wear for your hair color and skin tone and the right clothing to complement your body shape. That's true, but there is so much more to the experience. 
We talked a lot about who I am, what I value, where I want to be in 5, 10, 15 years. We talked about my job and what I do every day. She even went to a user experience meeting to see what my colleagues were like and what they value. We explored many sides of my personality and started brainstorming how to reflect those aspects of me in my wardrobe and accessories. I love glitz, shine and bling, so we talked about jewelry often. And colors – I love colors, so we talked about them too.  Needless to say, we became good friends during this process. I understood why many Hollywood actresses are friends with their stylists. She knew more about me than some of my friends did.
Our first project together was to clean out my closet. First, we removed the clothes that were the wrong color for my hair and skin tone. Then we removed clothes that weren't right for my body type. About 90% of my closet was ready for consignment or a thrift shop after that activity. It was a little shocking to experience. I spent so much money spent on clothes I never wore; clothes that weren't right for me. All that money thrown away. Disappointing.
We discarded my identity as I knew it in a couple of hours. But at the same time, that's why I wanted to work with her. I knew that those pieces didn't represent me anymore. I needed a wardrobe that better represented the me I had been evolving to be over the years. 
Nature abhors a vacuum, which made the next part of the process easy. We started filling up my closet.
We explored different styles online. I ordered some pieces and tried them on for size. Some worked, some didn't. After some trial and error and a lot of exploring, I assumed a style unique to me. It includes animal prints, crazy paisleys, strong autumn colors, lots of jewelry and lots of bling. 
It's funny, now I go into my closet and have an easy time selecting pieces to wear. Everything matches, as crazy as the colorful pattern mixture sounds, and feels right when I wear them. Even with all the jewelry. And I know what style and look works for me. In Vegas, a friend and I went shopping and I saw a blouse that I immediately felt was perfect for me. I tried it on and bought it on the spot. She couldn't believe how right it was either – and how I knew right away it was the piece for me.
When people meet me for the first time they experience a taste of my personality based on what I'm wearing. One would think that my clothing choices would be a distraction and perceived as unprofessional because it's so colorful and decorated. But that's not true. I now look like me – strong, assertive, bold, creative. And people respect me for being myself. I have had better business interactions because of it – no more guessing about who I may be.
After the experience working with a stylist, I understand what it means to find something that suits you. It means that it works for you – all of you, your hair, your body, but most of all, your personality. It means you get to find your style and use it to express who you are. Your look may not work for other people – they may like it but know that it's not for them. I hear that about my hair color and cut often. It's not for them, but it wasn't to begin with. My look is a way for me to express myself and my individuality. My look represents me. It suits me. 
The after photos: