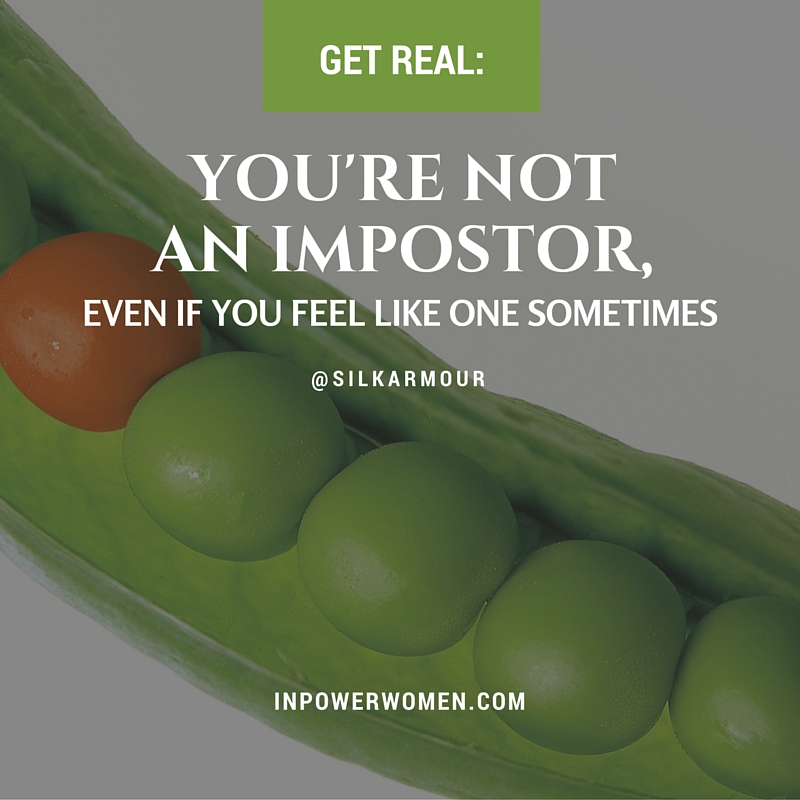 With more women joining the workforce than ever before, it would be easy to assume that a promotion to a role of power and influence would boost our confidence. Sadly, the voice of doubt that used to hold us back as students or in entry-level roles is now sinking it's claws into our career potential and making us feel like we're not worthy. This dynamic has become so common that it has a name: the Imposter Syndrome.
The Widespread Phenomenon
Named by psychologists Pauline Clance and Suzanne Imes in 1978, the persistent feeling that you are a fraud hasn't changed much over the last 40 years–except for the fact that women in positions of power and influence are more susceptible than ever. Sheryl Sandberg, best-selling author and COO of Facebook, is a key example. In her book, Lean In, Sandberg publicly highlighted the speech she heard at her Harvard graduation, 'Feeling Like a Fraud' as her moment of realization. Listening to the speech she realized that throughout her education, she felt that she had 'fooled' everyone into thinking she was as capable as she is. $1.7billion of personal net worth later, it's baffling to imagine how this could happen; but this is the reality that 70% of professional women live with.
The Issue of Gender
The gender divide we experience as children is arguably the main source of these feelings. According to Valerie Young, author of The Secret Thoughts of Successful Women, the lessons of being bold and exuding confidence we get as children are seemingly exclusively for boys. Girls are taught to translate self-publicity as an unattractive quality, to remain humble. Evidently, this hasn't gotten us very far and instead, set women on a path of grappling with perfectionism and the "disease to please" while ignoring the real value of their accomplishments. In being taught differently form a young age, our own ability to build confidence within ourselves is drastically reduced. On average we hear the phrases "no" and, "you cannot do that" around 148,000 times before we turn 18; a point in our lives in which society wants us to have figured out our identity, career path, relationship with our bodies and be able to defend ourselves in the social paradigm that is the world of work. Not only is it overwhelming and unrealistic but it's also the product of condition that we are unconsciously fed.
How Do We Overcome It?
So how do we defeat the beast? A saying that summarizes it all was penned by Professor Stajkovic of the University of Wisconsin; "If you believe, you achieve, if you doubt, you'll go without". Like any issue, work or personal acceptance of a problem is the real first step to recovery. Safety in numbers is an old saying but we'd be lying to ourselves in thinking that we feel better dealing with problems alone, not to mention the fact that sometimes faking it (for a little while at least) works! Telling someone we have an issue, however small it is, appeals to our basic human instinct. We feel better knowing we are not alone, and telling someone is the first step to tackling it.
Owning our own successes is another way to reclaim confidence. Being humble is one thing (and will do us a great deal during our career ascension) but denying our input or even sole effort into achieving a certain goal completely undermines the effort we have put in to get where we are. Again, the root of the issue here is that women are taught not to flaunt their achievements whilst men will proudly explain what they have done, according to psychologist Natasha Murashev. In succeeding, a man will confidently publicize his achievements and in turn, "will feel like he deserved the same promotion through his own intelligence and hard work". Women often have to discover other strategies to talk about success without feeling like they're "bragging."
Interestingly, becoming a mentor to someone is another frequented way to overcome the Imposter Syndrome. When we're semi-responsible or in affiliation with someone, more often than not, we have a reflexive response to be confident and believe in what we are saying. The 'auto-pilot' mode that turns on when we are considered as a role of authority by someone at a junior level instantly appeals to the information we have retained throughout our career so far – you're surprised by how much you do know when someone else asks you.
Dress to Cultivate Confidence
Along the road to shattering self-doubt, one thing is guaranteed; we all feel better when we are dressed well at work. The power of a sharply-tailored suit, a sleek pencil-dress or the particular item of clothing that makes you feel amazing can lift your self-esteem and enable you to feed off the elevated sense of respect others give you because you exude confidence. In the same way that a capsule wardrobe saves time in dressing for work, a confidence wardrobe gives you the shot of empowerment you need for the days you are feeling down. Consciously dressing to cultivate confidence has the same affect that a uniform of office clothes does in preparing you for a day at work; through psychological association. By building a selective wardrobe of items that you know elevates your confidence and brings out the best version of yourself, every item can contribute to improving your mood and give you that extra boost when facing the dragon of self-doubt.
Plus, they don't call them killer heels for nothing.