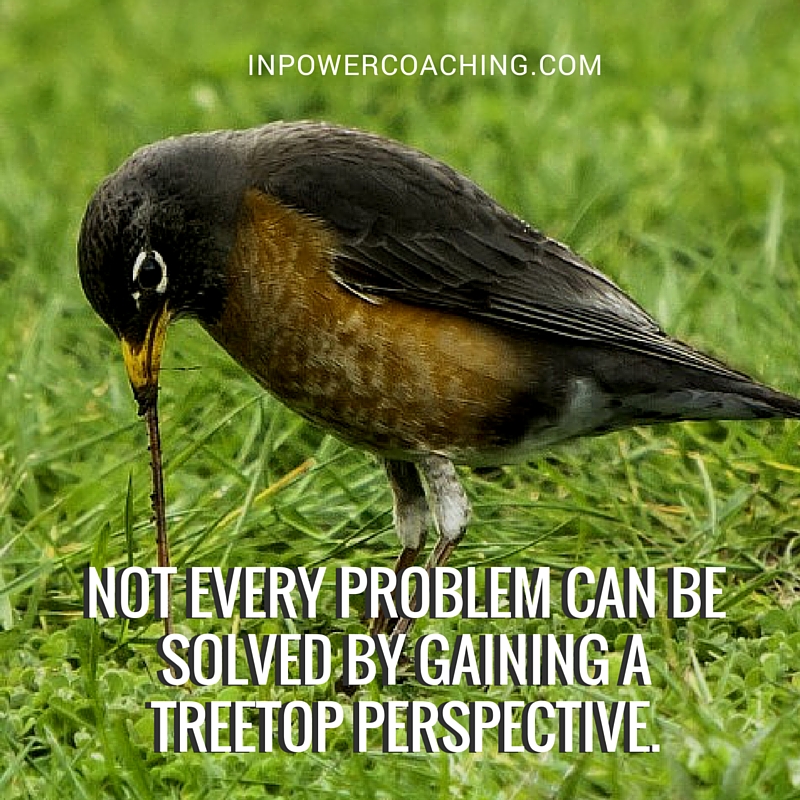 Creative Commons "The early bird gets the worm" by Sheila Sund is licensed under CC BY 2.0
Is it February already? I'm sorry, what year is this?
These are actually thoughts I had earlier this week as I searched for my calendar to date a memo I was trying to get out the door before rushing out to a meeting.
Whoa… I said to myself. It's not good when I feel this lost in the weeds. True, it's not good, but it is a fact that since 2016 started I've been feeling overwhelmed on a regular basis. Maybe you have too.
Weeds vs. Treetops
I know lots of tricks to beat back the overwhelm. They're tricks I use and teach my clients and they work. My favorite trick—daily intentions—works because it helps me take a step back to refocus on my priorities. I love flying up above the weeds!
But sometimes, there are just too many priorities! And sometimes I remember that another important trick to dealing with feeling overwhelmed is to simply be with the priority in front of me.
Some weeds need to be whacked at. Some worms need to be wrestled out of the ground, and not every problem can be solved by flying up high.
This is a hard truth for someone like me, who loves to stay in the treetops and focus on the horizon, but it's good discipline to remind me to be in the moment.
After all, when you're in the weeds, each weed (or worm!) is a unique challenge. Each challenge requires focus. And when I'm present with the weed-of-the-moment, time can stand still.
It's a very Zen way to look at being overwhelmed, and sometimes it's exactly the perspective I need to remember to take a deep breath and deal with a weed that needs dealing with.
The weed-of-this-moment–this post—is now done! Whacked! Time to move on to the next one. Good luck with your weeds, too!