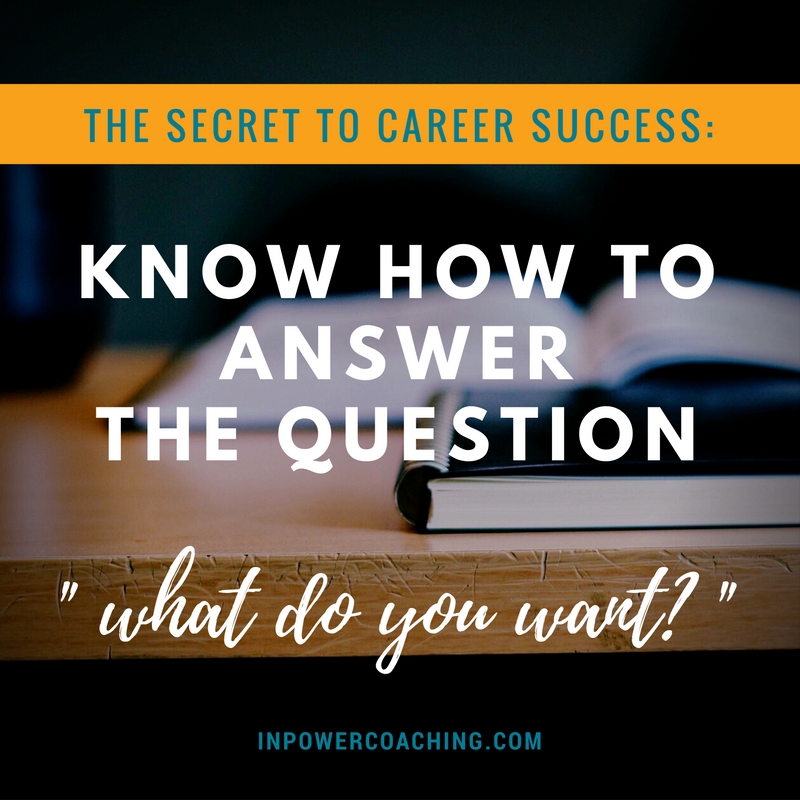 The key to getting what you want in life is to …. wait for it… know what you want.
So simple, and yet so hard, right? When I was younger I always thought that the hard part of goal-setting would be getting what I wanted, but it wasn't. The hard part was prioritizing the few things I cared enough about to work hard to get.
Truth #1: The more you focus on what you want the more likely you'll get it, so what's your priority?
It's easier when you are unhappy to define what will make you happy, but goal-setting with focus is something I see a lot of my clients struggle with when their life is pretty "okay". When things are going "sort of okay", we're often too busy to really stop and think too hard about it, and the motivation just isn't there.
But when things are "sort of okay," that's the most important time to figure out what you want next because if you're not careful you'll turn around one day and things won't be okay at all. The time for you to have jumped–or focused or moved–will have passed and instead of feeling okay about things, you'll feel stuck. So don't wait. Make it a priority to find your priority goal while you still have energy to move towards it without feeling panicked, unhappy and stuck.
Truth #2: Figuring out what you want isn't a strictly intellectual process, you have to invite your intuitive self into the conversation and be willing to take some leaps of faith.
When I first went out on my own I panicked trying to figure out what I wanted my business to be. I thought I should have had it all figured out day one. But I didn't. Slowly I began to realize that I had more choices than I ever had before and to my surprise, this was terrifying.
It was like the genie visiting me and offering me one wish. I knew I was at a cross-roads and I could do or be anything I wanted… but to have that one thing, other things would receive less of my focus (see truth #1 above) and be less likely to come to fruition.
If I was going to put most of my eggs in one basket, my business; what basket would it be? I was stuck for a long time, months; then I got a little work but more of my energy went into some community and creative projects. I forgot to think about my goal setting so obsessively. Before I knew it my intuitive voice was coming through and guiding me towards what I wanted for my business.
Letting my intuitive voice in, hearing it and giving it credibility, because it rang so true deep inside, was the smartest thing I ever did. It helped me connect the dots between what I'd done previously, what I was enjoying doing in the moment and what I dreamed could be possible. In fact, my business evolved even beyond what I could see then, but it was that soft, clear voice I heard while focused on things other than my business that got me pointed in the right direction for my business.
Truth #3: You can only hear your intuition when you're open to hearing it.
What I learned in those days of getting to know my intuitive voice is that most of us are so used to ignoring it that learning to hear it is a skill we have to develop with intention. We're so busy with our lives and careers that when we stop and say, "Okay, intuitive voice, what do you have to tell me?" our brains become full of thoughts we've been holding back that are noisy and often overwhelming. Many of those thoughts just haven't had a place to go. They may not even be relevant anymore, but they still want to get out of our heads. Most of us find that a bit too much and just shove them back in and go back to our busy lives.
But I can guarantee that if you let them out (a journal page is a safe place to put them for a while) eventually you'll start to hear the things that can guide you most directly.
There are other ways to hear your intuition. Becoming calm and answering question prompts, from a book or worksheet can call out the intuitive voice you most need, too.
The most important aspect of goal-setting is to take time to be with yourself, without responsibilities and "have to's" crowding your mind. Take time to let the miscellaneous thoughts out. Take time to dream about what could be if you changed your focus. Take time to envision how your life and career could blend more comfortably.
Taking this kind of time doesn't look powerful on the outside, but on the inside, there's nothing more important you can do to invest in your personal power to accomplish things that matter to you, and you'll find the missing pieces laying all around you.
Take charge of your career development to get the job that supports your work and your life. Check out the tools and resources in the InPower Coaching Career Center.