Tuesday – Noon pm ET / 9 am PT
When I asked Lynn to join our Coffee Break about fluid careers, I asked her about how she'd like to approach our conversation. I originally thought we could talk about her own fluid career (which is interesting). But she had a much better idea.
Lynn's wanted to discuss curiosity and it's role in the fluid career. What this means to Lynn:
"To choose to be curious about futures one might not yet have contemplated, about being intentionally open to the unknown, asking more questions about what emerges, and doing some rapid prototyping to see what might work, using that information to build and (re)shape that emerging future."
This will be a different approach for our fluid career conversation. So far, we have discussed fear, courage, opportunity, change, clearing, power and other related topics. We have had guests who have provided examples of what a fluid career could be. We have yet to discuss curiosity, but it's so important in creating a fluid career. You need to be curious not only be open to an alternative present and future, but to about what that means to you, your family, and your future. Curiosity goes further than imagining. It includes wondering, dreaming, exploring, researching, and questioning. We all could use more curiosity in our lives, and what better way than when thinking about possibilities in our future for our next career step?
We'll be discussing:
What it means to be curious and open to alternative presents – and futures
How do you structure an environment and mindset to do this
What does it mean to prototype a potential future
How to shape an emerging future in a different direction
Why you need to be curious to do this and the benefit of curiosity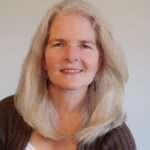 Lynn Borton is a facilitator—of conversations and transformation—with more than two decades of experience in governance and change management in the non-profit sector. For nearly 25 years she worked with NAMI (National Alliance on Mental Illness – the nation's largest grassroots mental health organization), capped by a dozen years as chief operating officer. In the summer of 2014 a confluence of events reminded her that life is short and in 2015 she left NAMI to write and consult.  Lynn is producer and host of "Choose to be Curious" a biweekly radio show on WERA-LP 96.7 FM in Arlington, Va.
Since her departure from NAMI she has worked with established non-profits and emerging start-ups, traveled in Southeast Asia, plunged into the frozen Atlantic Ocean, posed as a painter's model, sewn two quilts, taken two MOOCs, participated in a Moth Story Slam, given a LEAD Talk, begun a personal blog, trained in radio production—and enjoyed a lot more sleep.
Lynn graduated from Yale with honors and a degree in Religious Studies, but she learned her most important lessons working in a community mental health center following graduation. When pressed, Lynn describes herself as mostly grown up, with grey hair and laugh-lines to show for it; a hard-working, mission-driven former executive; unrepentant volunteer and middling cook.
Join Us Live!
There are 3 ways to join us live in the conversation:
1. Participate online
2. Call in/audio only:
Dial: +1 408 638 0968 (US Toll) or +1 646 558 8656 (US Toll)
(View international numbers)
3. Facebook!
TECHNICAL NOTE: We use a video meeting and webinar service called ZOOM to bring you – live! – into our weekly talkshow via audio, video and/or chat. To participate you'll need to download a small applet to your PC. The downloaded app only takes a few seconds to load and is secure. Learn more about Zoom's security features.
Miss a Coffee Break or Want to Keep Talking?
Keep the conversation going in our Coffee Break Talk Show Forums.