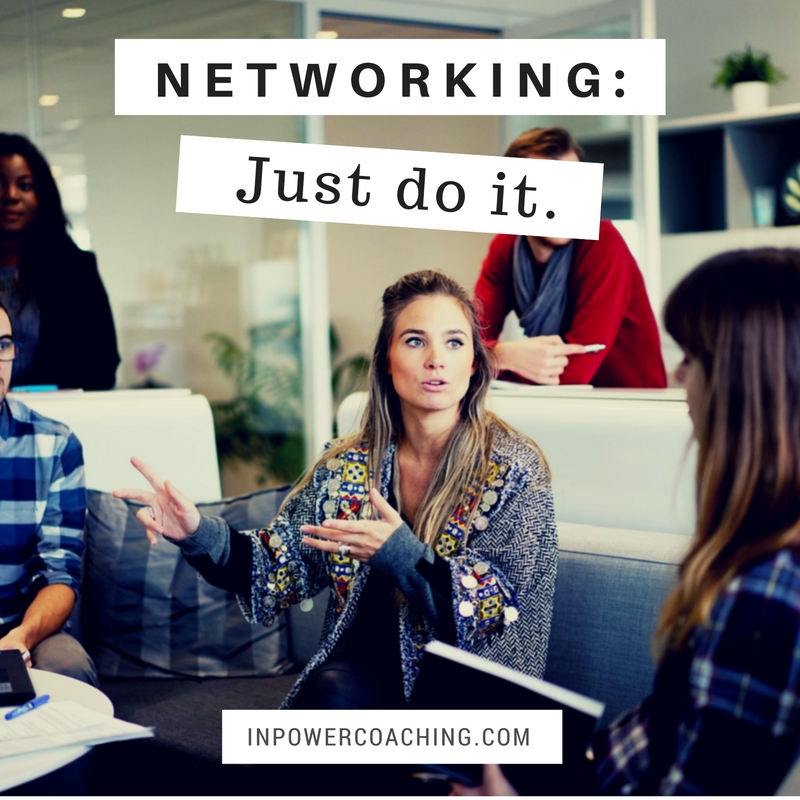 You know you're supposed to do it to get ahead, but somehow you just find excuses not to. Emily shows us that it's as simple as doing it. Just do it. -InPower Editors
Last week I spoke to 4,000 women.
Two back-to-back sessions at the Massachusetts Conference for Women with 2,000 attendees each.
It was incredible.
Exhilarating.
Amazing.
And – I should also mention – the crowd wasn't there to see me.
They came for Cathie Black.
New York Times bestselling author.
Former Chairman of Hearst magazines and Publisher of USA Today.
The woman named to Fortune's "Most Powerful Women in Business" list – not once – but 11 times.
What's interesting about this story is that it – very easily – might not have happened.
It could have been one of those opportunities left unseized in a large pile of "what ifs."
I'm going to tell you why it didn't – but first you have to go back with me to April of last year.
That's when I received a message on Facebook from a friend about a women's leadership conference at the Greenbrier, a resort very close to my home.
"You totally need to go to this," she wrote.
As I scanned the highlights – organized by Cathie Black, keynotes including Martha Stewart, celeb chef Katie Lee, and Essence editor Mikki Taylor – it was clear I didn't want to go.
I wanted to speak.
Immediately, I prepped an elevator pitch, called up the Greenbrier, and asked for the event organizer.
When she came on the line – I wasn't as nervous as, say, meeting Sheryl Sandberg – but I wasn't all 'cool confidence' either.
I made my case and then…..silence.
"I'm sorry. We don't have any speaking opportunities available – but I'd love for you to attend."
Crap.
So much for Plan A. Moving on to Plan B…..
"Ok, what about a panel?" I said. "Is there a panel I could slide into? I've got lots of new research from a book I'm writing about women's leadership plus I would love to be a promotional partner for you and spread the word about this event."
The ice cracked.
"That would be great!"
Turns out, she was more excited about the promotion than the panel….but I ran with it anyway and gave a few off-the-cuff ideas.
"I have a blog that's read by women leaders in the region, plus there's a local women's network here and I know they have a large email list. What if I interviewed Cathie for my blog and then sent the link over to the network…."
This one comment kickstarted a 20-minute conversation on social media marketing – something the conference needed, but was outside her area of expertise.
At the end of our discussion, she agreed to approach Cathie for an interview (SCORE) and I agreed to share the event online.
"Before we wrap here," I said, "can we revisit that panel?"
Cut to eight weeks later and the conference opening reception.
I had secured a last-minute spot on a panel.
I had published a glowing interview, personally contacted the local women's network, and given the event a lot of social love.
As I walked into the room, I immediately spotted Cathie, holding court, but surprisingly alone.
Taking one of those now-or-never breaths, I walked over and introduced myself.
She was kind but reserved and left the conversation quickly.
I, on the other hand, stood there second guessing everything I'd just said.
The next morning in a break between sessions, I spotted Cathie in another rare moment of solitude and decided to try again.
Bad move.
She was about to go onstage and was reviewing her notes with great intensity. After a few moments of small talk, she politely excused herself…. again.
And I was left standing there.
Again.
We didn't have another opportunity to connect before I left but – as a result of our interview – I did have something more valuable.



Already a subscriber? Log In
Her email.
It's been well over a year since the Greenbrier conference, and in that time I've stayed in touch loosely, but strategically.
I wrote to say thank you for hosting the event.
To let her know I was sending her a copy of my book.
To express my condolences when her mentor and USA Today founder Al Neuharth passed away.
To wish her safe travels on a trip to Saudi Arabia.
The common denominator in all?
I gave her something of value each time without asking for anything in return.
This is the heart (and the secret) of successful networking. Give first then ask.
It's what got me on that panel where I met Cathie in the first place.
What motivated me to try for a relationship when it would have been much easier to walk away.
And what made me feel super comfortable reaching out when I actually, finally had a request to make.
Since we'd come a long way after our initial meeting, I kept the message short.
Hi Cathie –  
The Massachusetts Conference for Women wants us to host a couple Q&As this year. If you're in I'm going to do some major fist pumping over here.
Best –
Emily
The response was equally efficient.
"Sounds fun. Go ahead and fist pump."
Take charge of your career development to get the job that supports your work and your life. Check out the tools and resources in the InPower Coaching Career Center.