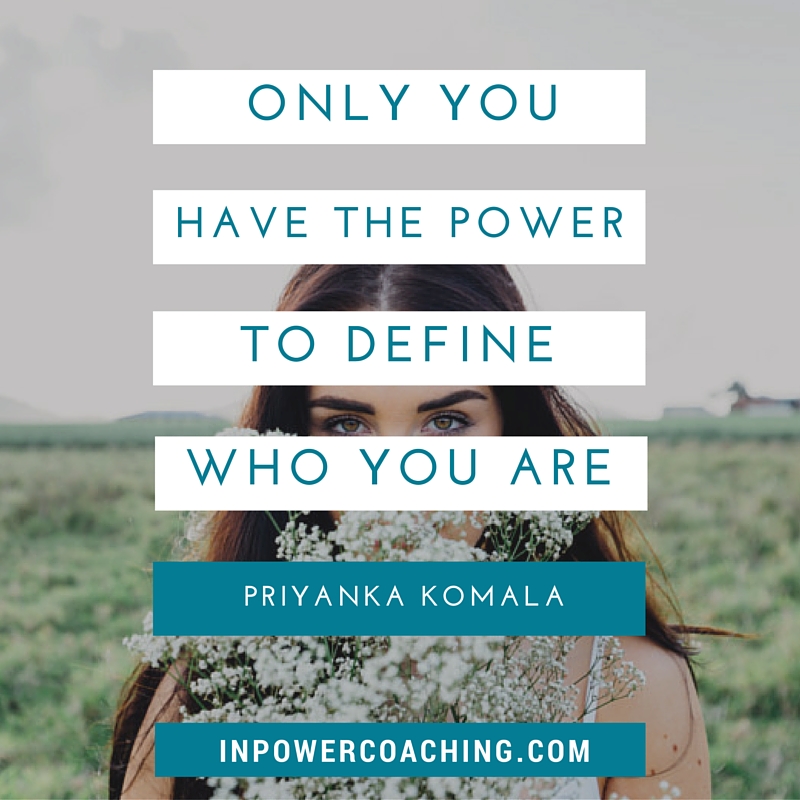 We met Priyanka in our InPower Coaching forums and have enjoyed watching her blossom into her personal power. We're excited that she is sharing more of her personal story with us and how she came to appreciate the truth that "only you can define you." Please welcome Priyanka to InPower Women! – InPower Editors
It should arrive anytime soon. I kept looking at my phone every few seconds to see if a return call came through from a prospective employer. I kept refreshing my inbox. Finally, a ding arrived and my most awaited message came through.
"Sorry I didn't return your call but I wasn't able to make out most of what you said anyway."
My heart sank. My confidence dented. The job opportunity vanished.
This happened close to a decade ago. Given that I was an award-winning public speaker back home in India, I was upset and frustrated with being an international graduate living in the United States of America all by myself. It was my first time living on my own away from my family who were seven seas apart. It was a lonely and a lovely experience, and what I learned dealing with the hardships of those early days in the States are key to my current day success.
Back then when things were falling apart and I didn't know where to turn, the emotional turmoil built up in me. Touching base with my parents was a luxury, and I could afford to speak with them only for five minutes a day, given the lack of technology and Internet back then. International calling was way too expensive. I decided to hold my thoughts to myself as my family would be worried if they knew I was upset, and instead I focused on chatting with them about their well-being.
Days passed and I kept looking at the rejection email wondering what I should make out of it. I wanted to trash it, but my gut reaction kicked in and I archived it instead. I told myself, I'm not going to let someone define who I am and my capabilities. I am not a quitter and should take this comment as a feedback to hone my skills and adapt to a different culture.
The reason I'm sharing this personal experience is because in life we all come across different challenges but will have to stay resilient and never let anyone define who we are and our capabilities. Today, I'm a distinguished Toastmaster, prolific speaker, writer and have been invited as a guest speaker for several organizations. Had I taken that email to heart in a pessimistic way, I would have packed my bag and called it quits a long time back. Instead I decided to archive the email and use it as a reminder to strive hard for excellence and empower myself with impeccable skills.
When you face such criticism, take a moment and remind yourself that you are the best at being you, and reinforce your confidence that you have what it takes to succeed. Remember, only you have the personal power to define you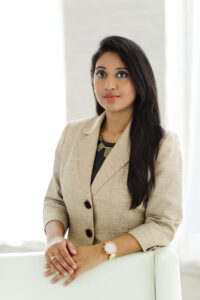 A distinguished Toastmaster, Priyanka Komala enjoys using technology to drive businesses strategically. Her focus is on leadership to make impact and inspire trust. At the National Academy of Sciences, Engineering, and Medicine, Priyanka is responsible for creating and delivering the web strategy and future technological direction for a $30M division. Priyanka graduated from Anna University with a degree in Engineering and ranked top 5 among 15,000 students in the state of Tamil Nadu, India. She holds a Master's degree in Computer Science from American University and an M.B.A from the Stephen M. Ross School of Business at the University of Michigan. 
Priyanka stepped up on stage as a speaker at five and enjoys sharing insights on happiness, personal growth, entrepreneurship and women's issues, and the potential of STEAM (Science, Technology, Engineering, Art and Math). Priyanka has been featured on HelloGiggles and you can read her latest musings here and follow her on Facebook and LinkedIn. 
Opinions are my own and not the views of my employer.