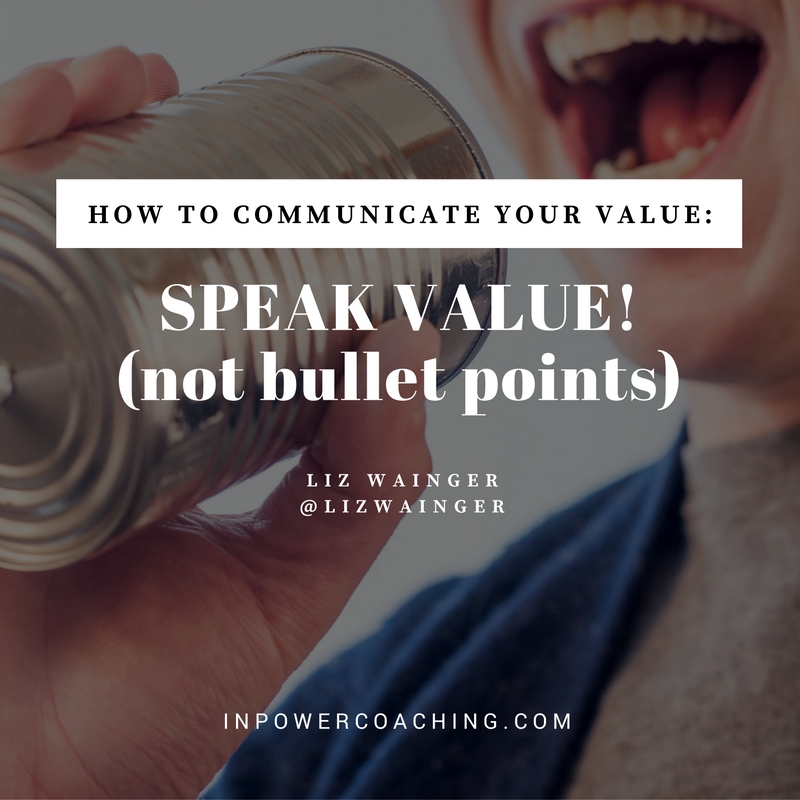 No matter what our endeavor, whether we are in the job we love or seeking new opportunities we all seek to create value for those we serve. And yet, so many people involved with worthy ventures and causes don't get traction because they struggle to say what those around them need and want to hear. Why are you valuable to me?
We see the world through "frames" that limit and define our perspective. Frames organize and contain information, and we build our narratives on these frames. We develop our frames based on our experiences. Frames help us make sense of the world.
Just as we see the world through our own frames, our value lives in the frames through which people see us. Value is relational. Value always involves exchange. Time, money, energy, emotion. We buy certain logos, go to certain restaurants, or hire certain companies, because we get something in return; we get a feeling. We are friends with certain people because they're fun. We participate in certain clubs because they give us access to enjoyment, connection, or people who can help. And we're happy to participate in that exchange because we're getting something we want. The associations and impressions that others have about us form our personal and organizational brands.
When communicating about ourselves and our work, the challenge is to craft messages that clearly state the value of the exchange. Too often, we speak in List-Speak, lists of products and services as well as adjectives that we think describe what we do. And then we punctuate these lists with stories. While I'm a big believer in storytelling to enhance communication, narratives about happy customers or successes alone don't help you communicate value.
In order to move to Value Speak, it is important to step back, and take the time to understand what the various people we want to engage need or desire most. We have to look inside and outside of ourselves and sometimes we find out things we'd rather not know. Perhaps our manner isn't as friendly as we think it is. Or the product we are marketing isn't as useful as we think it is. We might even learn some of the toughest realities to absorb—like our own team finds our organization bureaucratic or autocratic, making them ripe for poaching by competitors.
How Do You Communicate Value?
Ask. Reach out and request feedback from your key audiences. Find out why they love or hate what you do. Probe more deeply. If your respondents say your product is great, ask what in particular delights them. And if the comments are glowing, ask if there is anything they'd like to see you do or change.
Accept What You Hear (in Balance)
This may be the most difficult thing of all, especially if the feedback is negative. Avoid the tendency to dismiss critics, as you risk putting your head in the sand. Domino's Pizza once floundered amid harsh criticism of its taste and delivery protocols. But by revamping and rebranding their product, they also bolstered their stock price. By the same token, be careful to keep feedback in balance. Sometimes we focus on the one negative comment that stands out against ten positive ones. That's just as harmful as dismissing what you don't want to hear.
Frame Your Offerings in Terms that Matter to Your Audience
When stating what you do, always frame your communications in terms that specifically answer the needs and/or aspirations of your target audiences. (You will understand what those are if you ask and listen.)
Don't Stop When You Think You've Figured It Out
Value communication is not a task, but a process that is never fully done. It is like a beautiful rose garden that has to be carefully tended and pruned, otherwise the garden becomes overgrown or weeds obscure the blooms.
Invest the time in an incisive look at what and how you articulate and communicate you and your organization's mission, purpose and value. The rewards will be worth it.
Liz Wainger shows leaders and their teams how to get their point across to win customers, change minds, boost productivity and expand their influence. Follow her on Twitter @lizwainger or visit her website www.waingergroup.com.