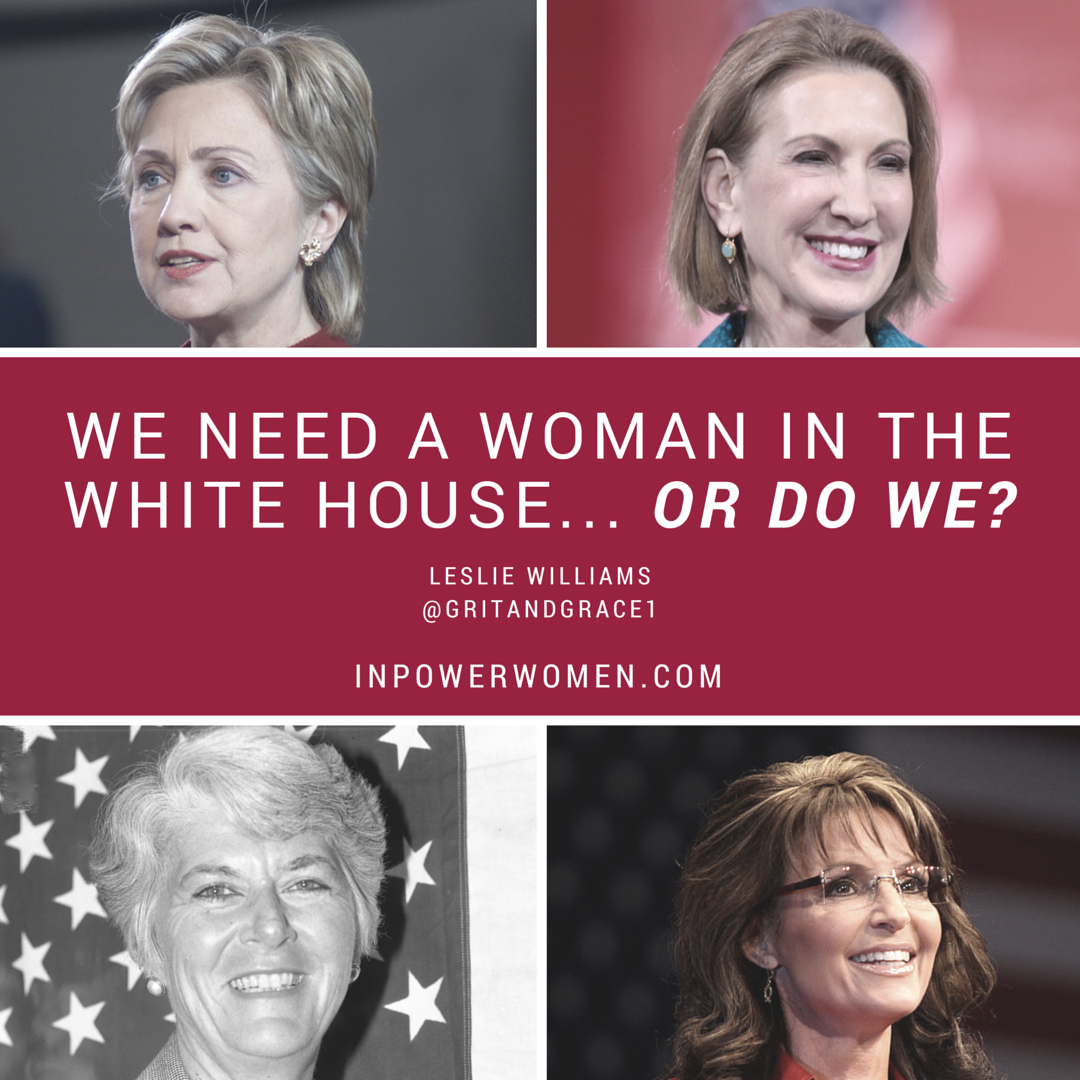 It's easy to think of female candidates for the White House as a recent occurrence and yet a woman has been on the ballot since the 1870's. Is this the year? Leslie makes the case that it's not really about the candidate's gender. What do you think? — InPower Editors
As another U.S. Presidential election campaign revs up, this rallying cry to put a woman in the oval office is louder than ever before. On this blog we've wondered what it will take to make a woman President of the United States.
But what do we really mean when we say that it's time for a woman in the White House (or in any position of power)?
I think each of us assumes that we agree on what that means, but we're mistaken. This one claim arises out of a variety of motivations and perspectives. Let's unpack six of the most frequent rationales.
Biology: Some believe that women inherently lead differently from men, and that governance and policy-making suffer when women are absent from positions of power.
Equality: For others, it's an issue of justice. They feel that it's inherently unfair that one group holds such a disproportionate degree of influence over the rest of us.
Values & Approach: Some are less interested in whether the next President is male or female, but in whether the next President will lead with more of the traits that we characterize as "feminine:" qualities such as collaboration, compassion and humility.
Advocacy. Many voters want a woman in the White House because they assume that she would push legislation favorable to women.
Electability/Market Share: The election of Barack Obama changed our assumptions about who can assume the Oval Office. Women are a significant segment of the electorate, and the parties are wise to put forth someone who might appeal to such a large demographic.
Loyalty: In 2006, Madeleine Albright famously made the statement that, "There's a special place in hell for women who don't support other women." Recently reviving this war cry for the 2016 election, Albright represents the viewpoint that women owe it to each other to cast their vote for the woman candidate.
These motivations and values are not mutually exclusive. At the same time, it's important to be precise about what we're trying to achieve by bringing more women into the highest levels of leadership.
We need a woman in the White House! Or do we…?
From my point of view, there's nothing magical about anatomy. I've coached many women who rival any man's ambition, competitiveness and take-no-prisoners approach. I've also coached many men whose compassion and attention to relationships rival that of any woman.
Gender alone doesn't get me what I want: full-spectrum leaders who blend both grit and grace: leaders who are both confident and humble, driven and collaborative, clear and curious, focused on profits and dedicated to sustainability. Why? Because that's what it takes to drive progress without driving us to extinction. Give me that person – man or woman – any day.