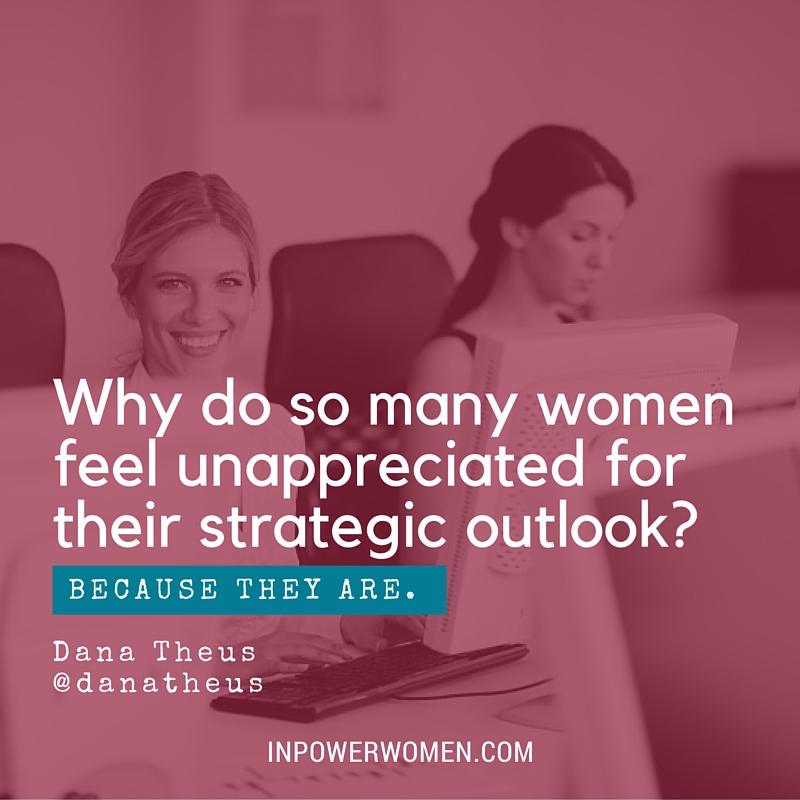 Women are natural strategists, but we don't always find our strategic outlook valued by the organizations we work for. Why not? Join Dana as she interviews Mary Simpkins about her new initiative Women in Strategic Execution today at 3pm Eastern. – InPower Editors
Business benefits from the talents and abilities that women in leadership bring to the workplace, and one of the most important is long-term, strategic thinking. Women very naturally factor the secondary and tertiary impacts of their efforts (and the efforts of their organizations) into their thinking. And yet, just as women don't represent our fair portion (50%) of executive roles, we don't represent 50% of strategy jobs either.
I personally experienced this disconnect early in my career where I didn't feel appreciated for my strategic outlook. I learned to do both and, focusing on short-term results with a strategic bent to my thinking, but I did the adapting, not the organizations I workined for. I see this happening over and over again with my female clients too. Why do so many women feel unappreciated for their strategic outlook? Is it a matter of bias? Or vocabulary? Priority? Influence strategy? And more importantly, what can we do to close the strategy gap?
Join me as I interview Mary Simpkins, VP of Global Marketing at IPS Learning and founder of the Women in Strategic Execution (WiSE) initiative announced at this years' Strategic Execution Conference in Santa Clara, CA. (Follow Mary on Twitter too @ipslearning)
Questions we'll cover in the interview include:
What is "strategic execution" in business and why is it valuable especially in STEM fields?
Do women have an advantage or a disadvantage in strategic thinking? (HINT: Yes!)
What advice should women follow who are strategic thinkers but not recognized for it?
Does the new "Barbie Book" set us back?
What is WiSE and who should become involved?
Have another question? Ask it in comments below!