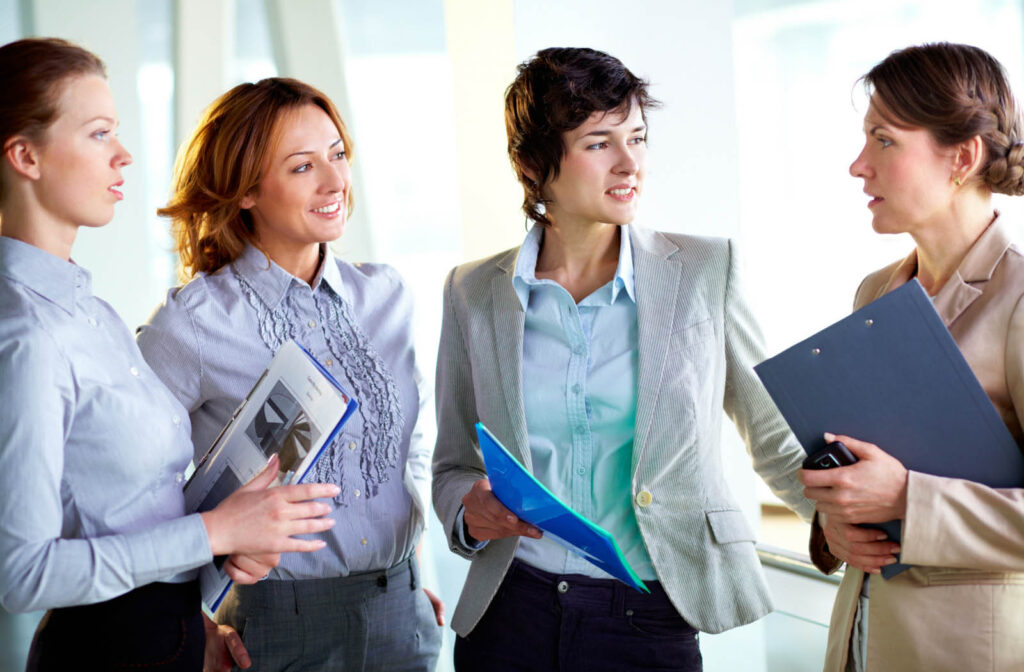 At InPower Women it's important for us to keep a current eye on how women are doing in the workforce and in society in general. This gender research index of studies below are our favorites for painting a topical picture of the ever-changing relationship of women and the workplace. This includes studies about women, their impact and how they most successfully advance their own search for career (and life!) satisfaction. Know of a study we don't feature, but should? Tell us in our research forum to let us know! What do you think about some of the studies listed below? Share your thoughts in our research discussion forum.
Why Are Women Good For Business?
The studies listed in this section look at diverse populations and correlate the presence of women – primarily in leadership positions – with the results achieved by the group, organization or sector studied. More and more gender research studies are showing that women in leadership make a measurable and positive impact on business and the economy!
Is Gender Diversity Profitable?

(Peterson Institute, 2016)

How Having More Women Pays Off: Women Correlated with Higher Returns (Morgan Stanley, 2016)
The Business Benefits of Gender Diversity and Working Women on the Front Lines (Gallup, Badal, 2014)
How Diversity Can Drive Innovation

(Harvard Business Review 2013)

Women on Boards Negotiate Better M&A Deals (Li, Sauder School of Business, 2013)
Why Diversity Matters (Review of multiple studies conducted by Catalyst Research, 2013)
The Impact of Gender Diversity on the Performance of Business Teams: Evidence from a Field Experiment (Tinbergen Institute, 2011, Hoogendoorn, Oosterbeek, van Praag)
WDR 2012: Gender Equality and Development (Lin, World bank, 2012)
Is There A Payoff From Top-Team Diversity? (McKinsey 2012, Thomas Barta, Markus Kleiner, Tilo Neumann)
Women in Charge: The Impact of Female Managers on Gender Inequality (Academy of Management, 2012)
Women Drive Successful Startups (Dow Jones, 2012)
Unlocking The Full Potential Of Women (McKinsey 2011, Barsh, Yee)
The Bottom Line: Corporate Performance and Women's Representation on Boards, 2004–2008 (Nancy M. Carter, Ph.D., and Harvey M. Wagner, Ph.D., Catalyst 2011)
Are Women Capable Leaders?
These gender research studies evaluate what women (and men) are capable of, genetically, neurologically and behaviorally. Many of them draw conclusions or hypotheses about how these fundamental capabilities affect our ability to perform in business situations.
How Many Women Are There In Business?
These studies track the number of women – usually as a percentage – at various levels of participation in business, government and other organizations. Because many of the studies above show correlation between women in leadership, as measured by board membership and senior executive roles, there is an emphasis in participation studies on these categories. We endeavor to find as many participation metrics as we can and will list them here.
How Can Women Advance In Their Careers?
The studies in this section provide insight into what you can do with your innate abilities to advance your career, get promotions and build your business and resume. They study the behaviors, skills and attitudes that successful (and unsuccessful) business people exhibit and provide insights based on the correlations of behavior and success.
How Corporate America Has Gotten Worse (not better) for Mothers

(Market Watch, 2017)

Winning Workplaces for Women (Great Place To Work, 2016)
Factors that Lead to a Pay Premium for (Some) Women (Harvard Business Review, 2016)
Why Women Don't Negotiate Their Pay Offers (Harvard Business Review, 2014) <=Good Advice!
Women Need More Hot Jobs To Advance (Catalyst, 2014)
If You're Going To Be A Leader, At Least Act Like It! (British Journal of Psychology, 2013)
Do Women Negotiate Salary? (Liebbrandt & List, National Bureau of Economic Research, 2012)
The Language of Female Leadership (Judith Baxter, UK Economic and Social Research 2011)
Do Nice Guys- and Gals- Really Finish Last? The Joint Effects of Sex and Agreeableness on Income (Timothy A. Judge, Beth A. Livingston, Charlice Hurst. Journal of Personality and Social Psychology 2011)
Women Don't Ask? Negotiation and the Gender Divide (Linda Babcock, Carnegie Mellon 2011)
The Myth of the Ideal Worker: Does Doing All The Right Things Really Get Women Ahead? (Nancy M. Carter and Christine Silva, Catalyst 2011)
The New Path To The C-Suite (Boris Groysberg, L. Kevin Kelley, and Bryan McDonald, The Harvard Business Review 2011)
The Old Boy Network: Gender Di fferences in the Impact of Social Networks on Remuneration in Top Executive Jobs (Marie LaLanne and Paul Seabright, Economist/Tolouse School of Economics 2011)
Mentoring: Necessary But Insufficient For Advancement (Nancy M Carter Phd and Christine Silva, Catalyst 2010)
Why Men Still Get More Promotions Than Women (Harvard Business Review, September 2010, Ibarra, Carter, Silva)
How Are Gender Trends Changing?
The gender research studies in this section measure what large populations are doing and thinking, liking and disliking. They provide insights on how women and men are living their lives and the role that business plays. They also provide opinion data that provides insight into why we are thinking and doing certain things. This section provides particularly interesting insights into issues affecting work-life balance.
This index page includes links to research summaries on and off our website that we believe tell the most important stories. Research is exploding in this area and we make a good faith effort to screen for the most current and most insightful studies. If you know of a study we don't have–but should–please contact us and let us know.