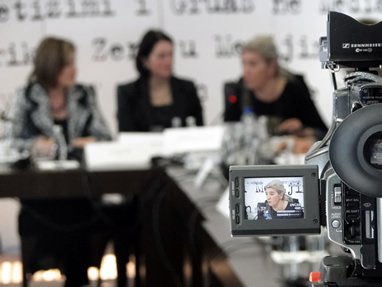 Welcome fellow members of the media! InPowerWomen.com offers a rich resource for covering facts, data and issues about women in leadership and women in the workforce. Please feel free to reference the resources below and contact us for more information and perspective. On this page:
FAQs: Women in the Workforce
How Many Women Work?
In 2011, women made up 58.1% of the overall labor force (Source: BLS)
The ratio of women to men varies greatly across industry and management level (Source: US Dept of Labor)
What percentage of men compared to women are unemployed?
Women are also more likely be employed than men, with 9.4% of men being employed compared to just 8.5% of women.. (Source: BLS)
How many mothers work?
What percentages of women are moms?
According the U.S. Census Bureau, in 2010, 85.4 million women in the United States were mothers. In addition, 53% of women between the ages of 15 and 50 were mothers. In the same year, it was found that 81% of women became mothers by the ages of 40-44 (Source: Census)
What percentages of moms work?
A 2014 Pew study comparing stay-at-home mothers with working mothers found that 25.2 million women work outside the home. (Source: Pew Research)
This statistic varies among various demographics of women especially age. A 2013 survey by the U.S. Bureau of Labor Statistics, 70.9% of the workforce consists of working mothers with children under the age of the 18. (Source: BLS)
Are women paid less than men?
There are considerable data and reports that demonstrate that women are, on average, paid less than their male counterparts.
How much less are women paid?
Studies conducted by Pew Research Center based on hourly wages, women of all ages make 84% of what their male counterparts earn.
Does this statistic change across demographics?
Yes. Women of color face a larger wage gap in their communities than their white female counterparts.
How large is the gap among millennial women?
Millennial women are on the lower end of the gap spectrum, facing a 7% wage gap. This is because they are less likely to have to take time off to raise a family, are the most educated group entering the workforce, and maintain the same work ethic as their male counterparts. The gap increases as they grow older and begin to have families.
Sources: Pew Research, BLS, National Women's Law Center
FAQs: Women in Leadership
What percentage of business leadership are women?
In June 2015, women's share of board seats of US Stock Index companies was 19.2% (Source: Catalyst Research)
What advantages do women bring to leadership?
Studies have found that not only are women more than able to hold top management positions in organizations, they also possess valuable skills and unique abilities.
Women outperform their male counterparts in many of the top competencies management leaders possess.
In a study where over 7, 000 professionals were surveyed about the most important characteristics in leaders, women leaders were found to possess those traits traditionally attributed to men such as taking initiative, building relationships, displaying high integrity and honesty, and innovation. Of the 16 core competencies that the surveyed professionals were asked about, women were found to outperform their male counterparts in all but one. (LINK: HBR)
So- called "soft" skills are not the only leadership characteristics in which women exhibit high performance.
Women's strengths are often stereotyped as having only soft skills such as communication, constructive criticism, and empowerment. Women were also found to have other important skills not categorized as a soft skill such as decision- making and standard setting. The study also found that overall, women are rated better as managers than their male counterparts. (Source: Pfaff)
A separate study also found that women's distinct and motivational personalities add to the social diversity of the workplace. Female leaders were found to be more persuasive, have greater interpersonal skills, and exhibit greater resilience. They are also willing to take risks and flexible. (Source: Greenburg, Caliper)
What kind of cultural barriers hinder women's advancement?
Several cultural obstacles prevent women from advancing to senior positions in their companies, particularly after they reach director level:
Structural obstacles
Lifestyle obstacles
Institutional obstacles
Individual mindsets
(Source: McKinsey)
How do organizations thrive with women in leadership?
Teams dominated by one gender were found to perform significantly less than teams consisting of a mix of genders. Gender- mixed teams are more likely to work more cohesively, there is increased accountability, and equal participation.
What are the benefits of gender diversity at the senior level?
In the 2011 McKinsey study Unlocking The Full Potential Of Women, it was found that when men and women share executive level positions, there is greater diversity in opinion and an increase in general intelligence and innovation. (Source: McKinsey)
How does having women in senior positions influence other female employees?
In a study by the Social Science Research Network, when more women held upper- level managerial positions, they were more likely to mentor and sponsor lower- level employees. Women in lower positions were found to be more motivated and committed when they had female mentors in higher positions to encourage them. (Source: Social Science Research Network)
FEATURE: InPower Women CEO Dana Theus Speaks on the Benefits of Women in Leadership
In this TED Talk, Dana Theus shares her insights on the stories about women in our culture, including the statistical "truths" behind our beliefs, and gives each individual a way to view their own personal power behind the data.
Explore the InPower Women Gender Research Index
There is so much research out there! Visit our gender research index to see the studies we believe offer the most inpowering view of women in the workforce and workplace.
Contact Experts for Media Interviews
Here are the InPower Women writer and advisory team members who are willing to take media interviews on topics related to the information above.
Dana Theus, President & CEO InPower Coaching and Founder, InPowerWomen.com. Speaks on trends and research regarding women in the workplace as well as how to create employee engagement programs for women and millennials. (contact Dana)
Valerie McMurray, President & CEO of NorthStar Consulting Group. Researcher, coach, facilitator and speaker with expertise on women's career and leadership development. The author and publisher of the evidenced based behavioral assessment tool the WISE Profile, the first of its kind assessment that measures critical career and leadership success factors specific to women. (contact Valerie)
Please note that we make an effort to keep this page up to date, but data moves fast on the internet. If you have any new data we can use or update, please let us know!