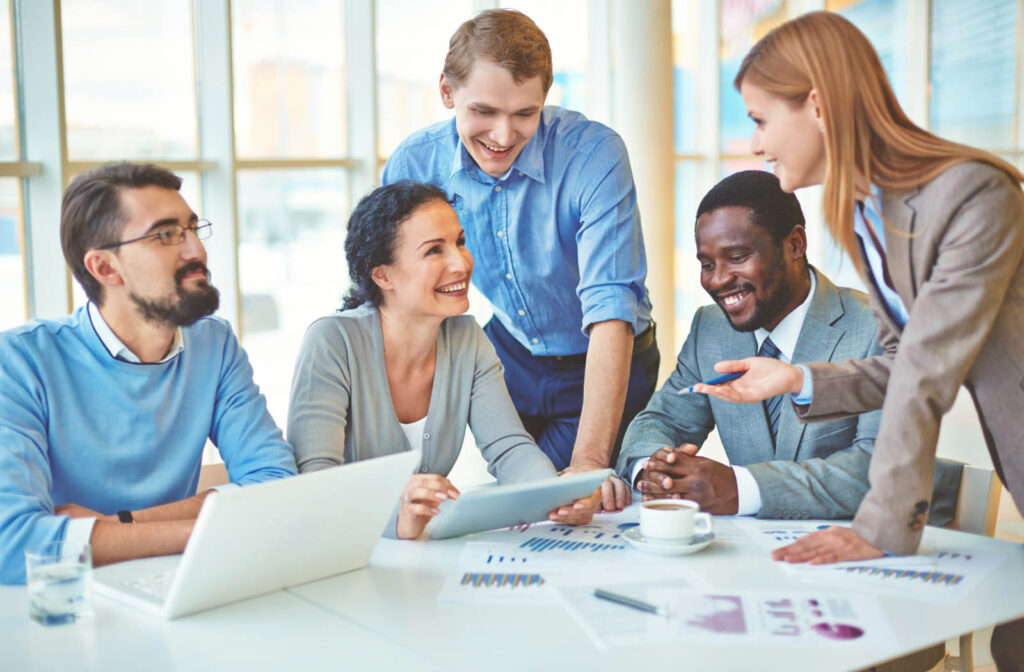 Talent Development is Personal
The employees walking the halls of your organization are your biggest business asset, and it's in constant danger of walking out the door. As the millennial generation ages into levels of responsibility, they're giving voice to something we all need–to be treated with respect and valued for our work and our potential. Organizations who don't step up to supporting their employees' professional and personal development will bear higher costs of employee turnover–from 30% to 250% of salary*–as compared to those who do.
Talent development requires an intention to bring emotional intelligence to work. There's no simple formula to keeping good employees, but one thing we know for sure is that middle managers who don't operate from a place of personal power and emotional intelligence will drive them away.
That's why we've been working on cracking the code on personal power in the workplace, and with the launch of the InPower Enterprise Coaching Platform in 2015, we've done it! This innovative, global and affordable talent development solution helps you reach your entire employee population with coaching-quality multimedia lessons and tools to develop their Emotional Intelligence (EQ) "in the work," instead of in a training facility.
Change In the Workplace
Working with individual clients we've decoded the progression from personal mastery to executive stewardship of culture change, employee engagement and performance. To make it affordable for our corporate clients we make self-study multimedia materials (videos, readings, audio recordings and worksheets) available to support individuals as they discover their personal superpowers while participating in group coaching and accountability programs.
The result? Employees find their personal paths to authentic emotional intelligence while working with their colleagues, customers and stakeholders, to shift the organizational culture as they develop. A boon to team productivity, InPower Coaching is designed to work for every individual in your company while bringing teams into closer alignment.
The InPower Leadership Development Model
1-Personal Mastery for Success Foundational practices for gaining emotional balance and mindfulness. Personal energy management skills that support productivity and goal-setting.
2-Personal Branding & Presence Insightful practices to connect personal and professional goals, establish an authentic leadership style and develop a personal network.
3- Communications & Relationship Management Key skills to communicate clearly, give/receive feedback and transform conflict support more advanced approaches to relationship development and negotiation.
4-Mastering Change InPowered approaches to enroll, motivate and guide others through change, including managing group energy by building on personal mastery practices.
5- Cultural Stewardship Principle-based leadership practices to establish and enrich a healthy culture, lead at a higher level and develop other leaders.
Stop picking and choosing who gets leadership development
There is never enough leadership development budget to give all the employees who deserve support developing their emotional intelligence. That's why we've combined self-assessments, personal development planning templates and hundreds of worksheets, short videos and audio recordings online to give your employees the tools they need to practice developing themselves in the work. As they become increasingly engaged, each interaction with fellow employees and customers becomes the learning ground for increasingly improved stress management, communications impact, high-performance teamwork, leading change and stewarding the culture towards success. Popular culture shift themes include:
change resilience & leadership
team alignment
accountable leadership
Learn more about how the InPower Enterprise Coaching Platform can support your employees for $100/person/year–or less!
What employees are saying…
The Energy Integrity lesson came at a great time this week as I was pulled a bunch of different directions with competing priorities. I was conscious about choosing my commitments and I was able to ADD additional activities to my week. I was able to accomplish more and was happier about what I was doing, which helped to round out a great week! – E. B., MICROSOFT EMPLOYEE

I am finding InPower Coaching really valuable. I am learning how many aspects of challenging relationships are not due to my behavior, but other people's baggage. Amazing! I have such a weight off of me now; I haven't resolved everything, but I feel much better and more confident. – A.L. – MARKETING EXECUTIVE, BIOTECH
Check out our free webinars and resources for leaders, Human Resources and Organizational Development professionals.
Subscribers log in to join peer discussions and events about how to develop the talent in your organization:
Lost Password? Click here to reset your password.
Not an InPower Coaching subscriber yet? To explore our webinars and best practices:
Leadership Subscribers: Organizational Development Webinars All Career Development & Women's Leadership Resources
Subscribe to for free
How can your HR department step up to lead change? The real answer is that your organization's approach to change will be unique and you'll need to chart your own course, but InPower coaching makes it easy by coaching and guiding your team through the process. We have both off-the-shelf training programs and individualized coaching and consulting resources to support you.
LEARN MORE
How can your organization leverage the full talent of your employees? Start by investing in their emotional intelligence so they have more to give. InPower coaching makes it easy by coaching and guiding you, your team and your employees through the process. We have both off-the-shelf training programs and individualized coaching and consulting resources to support you.
*Center for American Progress, 2014