Activate the Power of Your People
On the Front Lines
In the Heart of the Management Relationship
Give your mid-level managers the emotional intelligence skills they need to deal effectively with customers and employees.
Everyone in your organization needs support when it comes to communicating effectively, handling conflict, managing their own energy for greater productivity and leading (or adapting to) change. With our Enterprise Coaching Platform of online programs available to all your employees, you can generate:
Greater leadership and management efficacy among middle management
Emotional intelligence habits infused into the culture
Higher employee satisfaction/lower turnover
Deeper enfranchisement of women & millennials into the leadership culture
100% Leadership Development Solution
Stop Picking & Choosing Who Gets Coaching & Training: Provide Access to Everyone
Our innovative coaching-for-the-price-of-training subscription packages support leaders in the work as they forge their leadership identity. Our five-stage Leadership Competency Model and related programming take aspiring and established leaders on a journey of personal development in the workplace that supports their professional success and your company culture.
Optimized For At-Risk Leadership Groups
Research says that women and millennial employees (ages 18-30) are most likely to leave the leadership track before they can make their greatest contributions to your organization. These populations value personal development to support their blended work/life and they appreciate the opportunity to develop a leadership mindset in gender-balanced cohorts where they take away an applied appreciation for the advantages of diverse teams, a greater sense of meaning in their work and strategies for making a larger impact in their current role.
Recently I found myself in a position that I felt was above my capabilities. Early on I was very overwhelmed and I felt defeated – on the verge of throwing in the towel. After the activities

[in today's call]

, I feel rejuvenated and am ready to conquer this situation. I am open to new and uncomfortable challenges in the future. I didn't understand what was going on, but after utilizing the tools you have provided I can continue to learn and grow comfortably. Thank you! – Joseph A. Mid-level Manager
The Benefits of Enterprise Coaching Within Your Training Budget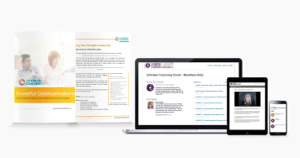 InPower's innovative, online-based formats blend training and coaching support to help leaders internalize key leadership principles while they refine their own personal style, leadership identity and mindset. Always available, our 50+self-serve multimedia coaching protocols and monthly Drop-In coaching lessons and callsallow leaders to combine self-motivated effort to satisfy on-demand needs with group and personalized coaching.
Our account managers are experienced Executive Coaches and know how to engage your people to step up to their highest potential! We will work with you to implement InPower Coaching in a way that is designed for your employees and to meet your organizational needs.
As a professional charting a new course for the company, I struggled with making change and getting buy-in in a field that constantly requires it. While working with InPower Coaching programs I learned it is critical to focus my intention, understand what is important to others and to gain alignment before working to move forward. Armed with these new strategies, I'm already seeing more engagement with others in the company, and I am seeing early success in leading others to take ownership in the change process. L.H., Food Manufacturing & Distribution Marketing Manager
InPower Leadership Competency Model
1-Personal Mastery for Success
Foundational practices for gaining emotional balance and mindfulness. Personal energy management skills that support productivity and goal-setting
2-Personal Branding & Presence
Insightful practices to connect personal and professional goals, establish an authentic leadership style and develop a personal network
3-Communications & Relationship Management
Key skills to communicate clearly, give/receive feedback and transform conflict support more advanced approaches to relationship development and negotiation
4-Mastering Change
InPowered approaches to enroll, motivate and guide others through change, including managing group energy by building on personal mastery practices
Cultural Stewardship
Principle-based leadership practices to establish and enrich a healthy culture, lead at a higher level and develop other leaders
InPower Coaching For Membership Organizations
The introduction of InPower Coaching to the WISE organization was a game changer for me. The library is a powerful tool for professional and personal development. Access to the tools and information add tremendous value and guarantee my membership renewal. – A. H. VP Sales, U.S. Importer
Work for an association? Download a membership-focused info sheet