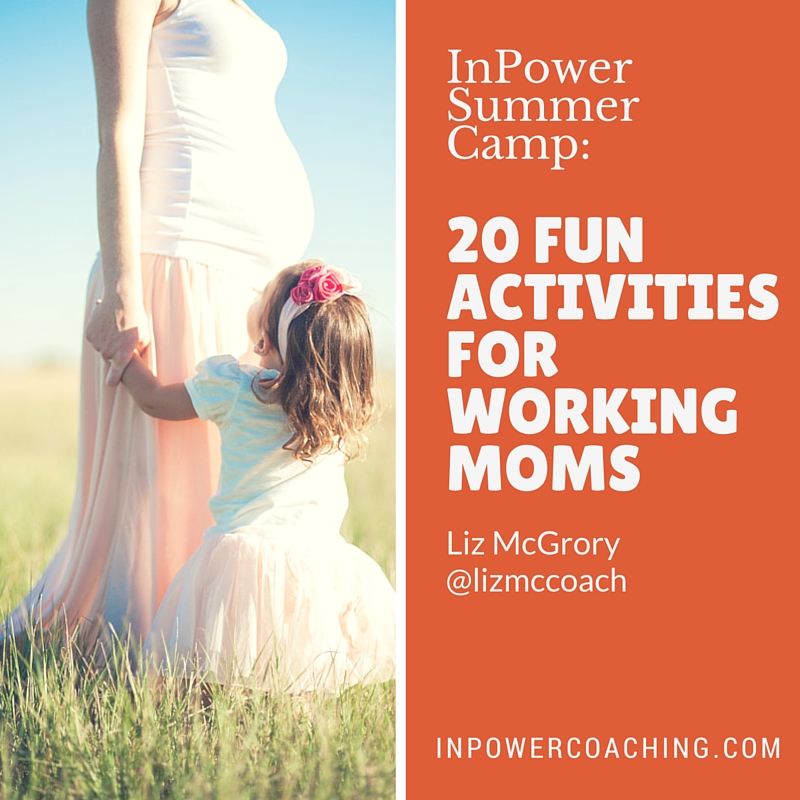 Summer is a special time that you deserve to take advantage of.  You've worked so hard over the past year, survived the holidays and maybe even some big birthdays.  Now is a time to celebrate all of your achievements with a little rest and relaxation.  It's summer time.  Get out there and really enjoy it.
The kids go to summer camp, why can't you? Here's how a working mom can make the most of her summer.
Clean Out Your Kitchen Junk Drawer
You may find some surprises like gift cards that could be spent.

 

If you do find some make it part of your summer plan to go and spend it! This would be something fun to look forward to plus it's "free!"
Bonus! Finding an organized junk drawer releases the frustration you feel when you open the drawer.

 

No more dealing with the mess of the junk drawer!
If your school participates in the Box Top program find a small Tupperware container to put them in over the summer.

 

Then put them in a place other than the junk drawer.
I wonder what else you'll find in that drawer!
Change Your Mind-Set For The Summer
Summer is that time of year that everyone takes vacation, including you, so find ways to slow down a bit at work.

 

Ask if you can work summer hours like taking every Friday or Monday off or changing your start and end time. Telecommute more and watch your stress levels ratchet down a notch.
Aim to sit still more. Summer can get tiring with weekend BBQ's, outdoor activities and the heat.

 

Make room for time for you to just sit and be still.
Disconnect from social media for a day or a week.

 

Don't share your thoughts on social media for a week so you don't have to keep up with the responses.
Take a break from the to-do list.

 

Sure fewer things will get done, but so what?

 

Repeat after me, "It'll get done eventually". When you feel that guilt creep up, say that mantra "It'll get done eventually", because it truly will.

 

You will get around to it.
Find Something New
A good book, podcast or audio book will help you get your mind off things or learn something new.
Go to the library a night after work without kids and check out the latest releases.

 

Sometimes you only get the book for 7 days, which will push you to read it, and quickly.
Buy something new to eat, like a fruit in season you've never had or a drink with a new flavor.

 

This will be "mommy's treat" which you will not share because you deserve a treat that is all for you.
Bring toys into work like play dough or a slinky.

 

Play with it while on a conference call (ok, maybe not that slinky).

 

During lunch go outside on the grass and color one of those adult coloring books with your own set of colored pencils.
Find a new singer or rock band to set the right tone this summer.

 

Make a playlist or save a new station in your favorite music app.
Buy a new board game, keep the kids up late, and have that family game night you've always wanted to do.
Get a new pair of soft sandal type slippers so when you get home from work you can slip them on and feel a bit more at ease and relaxed.
Make Plans For YOU
You know that thing that you keep thinking you want to do?

 

Make a goal to do that thing by the end of the summer.

 

For me, it's to make a dress.

 

I have the fabric and the pattern and have a goal to wear it on July 4th (here's hoping!).
Make plans for an at-home date night with your partner.

 

After kids go to bed, grab your favorite drink, get outside and enjoy the fresh air, deep conversation, and some laughs.
Make plans with some girlfriends at a restaurant with outdoor seating so you can have the same experience you did with your partner–fresh air, deep conversations and lots and lots of laughs.
Find a list of local parks near your work.

 

Take every Friday or Monday off, and enjoy the parks.

 

Bring the book you picked up at the library or take the kids out of camp for the day and take them.
During your lunch break bring some co-workers to a local ice cream stand for lunch.
Take a cool bath on a hot day.
Summer can be challenging time for working moms to relax.  The kids are transitioning from school to summer camp.  There's packing to do, surviving family vacations, the unpacking, and the ridiculous amounts of laundry.
All this work is overwhelming to think about.  That is why it's so important, before summer starts to make your relaxing plans a top priority.  Remember, you are a hard working mom and deserve a break, so take it!