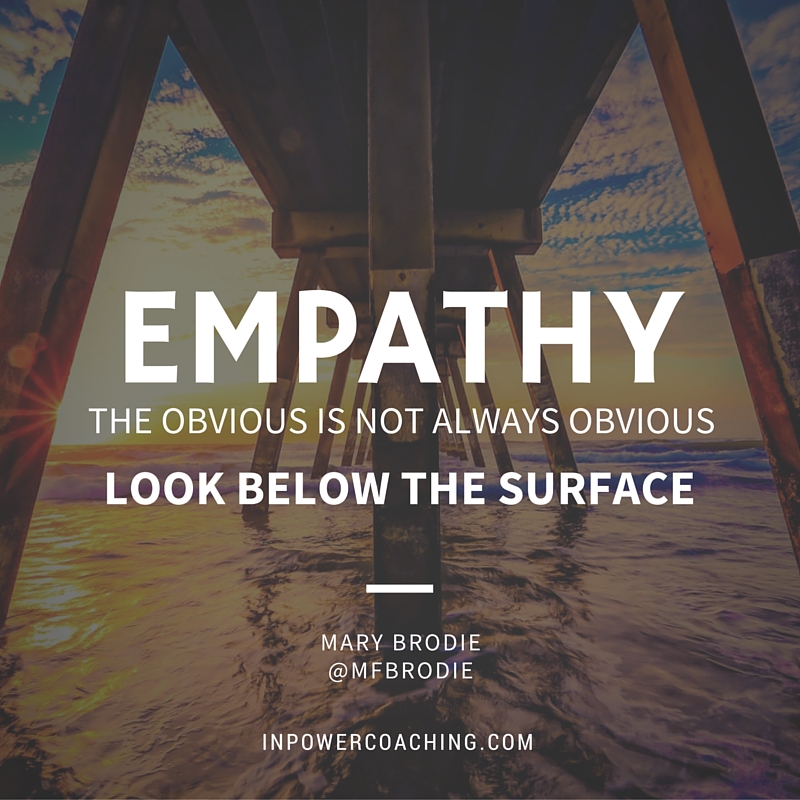 There have been a number of projects where I observed a client not following industry best practices. It was weird. The client company had many smart employees, so for them not to follow best practices, to not do what was obvious, seemed strange. Why not do what every other company does?
I learned the hard way that stating the obvious, asking why they didn't follow best practices, was never well received. Sometimes my suggestion would be interpreted as a snide remark about their work, or worse, perceived as a personal attack, accusing someone of not understanding their field.
Over time, I realized that there were 3 main reasons why stating the obvious directly to my client was a faux pas.
It was embarrassing for my client to admit the real reason why best practices weren't being leveraged. I learned that many of these businesses had either a business/resource or political reason. For either situation, if I was too direct in my communications, the client tried to mask the real reason why best practices weren't being followed. Who wants to admit that they don't have the funding to do something properly? Or that a VP doesn't like the best practice for some silly reason? By directly suggesting that they implement a best practice, I was calling them out on a "failure." In a way, I was demanding them to explain themselves and share their dirty little secrets. And no one likes to admit to secrets.
I implied that the client is inept. Telling someone the obvious could imply that you don't believe he knows what the best practices are. In a way, you are indirectly criticizing that person's job performance. This could lead to that person thinking you don't trust him or her to do their job, or worse, you believe that he isn't qualified. Although that may not be true, perception is reality, so what the client perceived as true, was true. I could do nothing to change his mind. I decided it would be better not to set that message in someone's head.
I was perceived as one who searched for problems. Stating the obvious and pointing out weaknesses or defects was often interpreted as a way for me to get business. I may have been right, but I was seen as a troublemaker, looking for problems to fix. And the client didn't want to hear about one more problem on their side anyway.
So how did I change my communication approach so I could do the work I needed to do?
I practiced empathy in my communications.
Before I shared my perspective with a client, I would take a beat and ask myself if I was going to be stating the obvious. If that were true, I would then ask myself "why is this client not doing what's obvious? There must be a reason."
I'd put myself into my client's shoes and try to imagine why they did something differently. I'd ask myself questions like:
He seems smart – why would he not use industry standards?
Maybe they aren't aware of them and what's current?
Are they doing it and I just don't know about it?
Maybe they don't have the resources to do this properly?
Maybe their superiors don't want to do it?
Maybe there is something else going on? What am I missing here?
This process would get me to reframe the conversation. Rather than telling someone he should be following best practices, which he already knows, I would shift the conversation to find out why it's not being done. I'd turn it from being an inquisition to a discussion about the best way to work.
Some strategies I used:
I'd ask questions rather than make statements, using starters like:
I was wondering if you have thought of….
Did you consider….
 Sometimes I'd be direct:
This may sound like an obvious solution, but I didn't know if…
I'd include complements with the suggestion, especially with clients who seemed on top of things:
I'm sure it has come up that [item here] would be valuable and I know you've probably got this and have a plan in place…
I would note that it may be something that someone already considered.
I'm sure you already thought about this, but what about…
I have an idea I wanted to run past you…
I'm not sure if you tried this in the past….
I'd often blame myself if I brought up details in discussions where we weren't there yet.
I know this sounds nit picky, but I found…
I know it's early in the process, but some feedback…
Acknowledge when people are busy and haven't had a chance to address an issue. Don't demand it to be addressed today, but be clear in your communication that you believe that your client's "got this."
I know you have a lot on your plate, but I'm sure you are considering these other solutions too….
We all want to be helpful, but at the same time, we need to communicate to others so that they will be open to our suggestions. We may think that stating the obvious will help someone because we are assuming that the person never considered that recommendation. That may be true, but don't assume that's the case. Most people have probably considered what you are recommending, especially obvious best practices.
Empathy can be the key to have more productive conversations. Empathy can shift a conversation from being an order – "follow this best practice" – to a collaborative discussion about why an organization decided to do something differently. Through empathy's nature, it fosters understanding, bringing people together. Taking a beat or two to reframe a thought to have an empathetic tone can make all the difference.