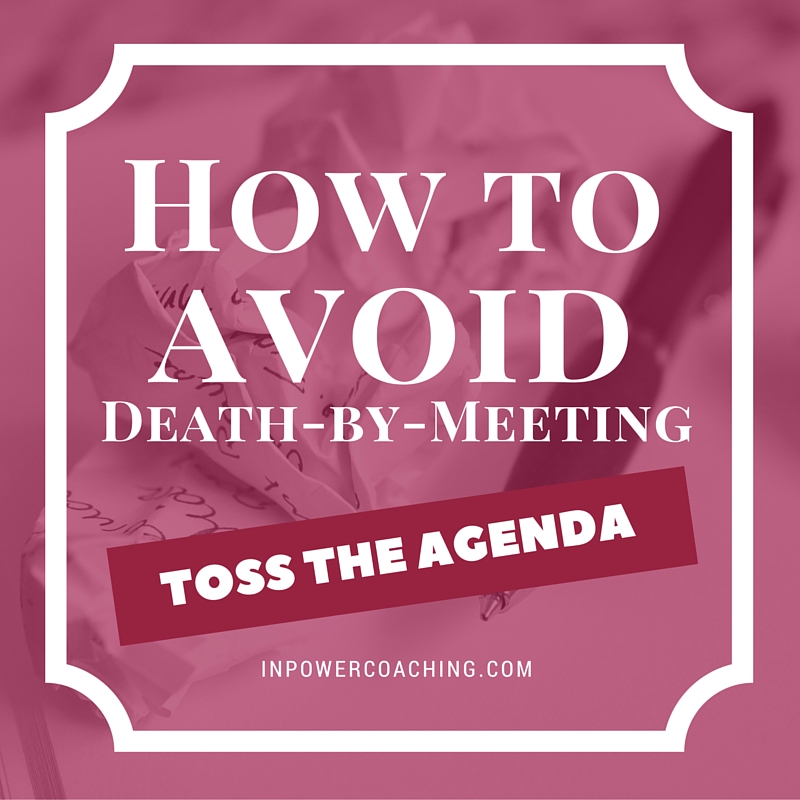 The bigger the organization you work in, the greater the likelihood that you'll meet your demise in death-by-meeting. What a horrible way to go! And the worst part? All that pain and suffering – and it's usually a crap shoot as to whether you'll get through all the items on the agenda.
No. Actually, the worst part is when you end up running those meetings yourself!
Toss the Agenda
Agendas are often useful for thinking through what you want to cover – and many people are wise enough to push back and refuse to attend meetings that don't have agendas. But – having an agenda does not mean having a meeting that is worth everyone's time to attend.
Why? Because sticking to the agenda presumes that the people – you? – who made it up know everything that really needs to be discussed at that time by those people regarding this situation. I'm sure you gave it a good effort and employed all that left-brain, methodical logic to ticking off the open items and decision points, but too often that just isn't enough.
In fact, the speed of business moves quickly and the real things hanging people up the moment they walk into the meeting room are most likely not on the agenda at all, or are buried under a bunch of non-essential stuff.
Engage the Right Brain
How to avoid death-by-meeting when you're in charge? Agenda or not, take the time to think through your intended outcome for the meeting. When it's all over, what is the one thing that must happen as an outcome of this meeting that will move the business forward? Name it and announce it as the focus of the meeting.
By simplifying the desired outcome of the meeting, you're setting your intention and sharing it. You're offering everyone in the room an opportunity to share that intention and help you meet it. This way, everyone knows what success looks like and can adapt as the conversation twists and turns around realities the agenda may or may not have anticipated in pursuit of that one, shared and intended outcome. I guarantee that the likelihood your meetings will be successful will go up exponentially.
Intentions Are Powerful Tools In Helping You Get Anything Done
Intention-setting, to run meetings, your day, projects and entire organizations, is an art more than a science and it's a necessary skill of modern leadership. Start small with meetings, but don't stop there. Use the art of intention-setting to help you align the whole-brain powers of your entire organization to achieve more with less stress and strain. It takes some practice, but luckily there's a manual to guide you along the way.
What is your experience with intention-setting to run meetings, your day, and/or your organization?