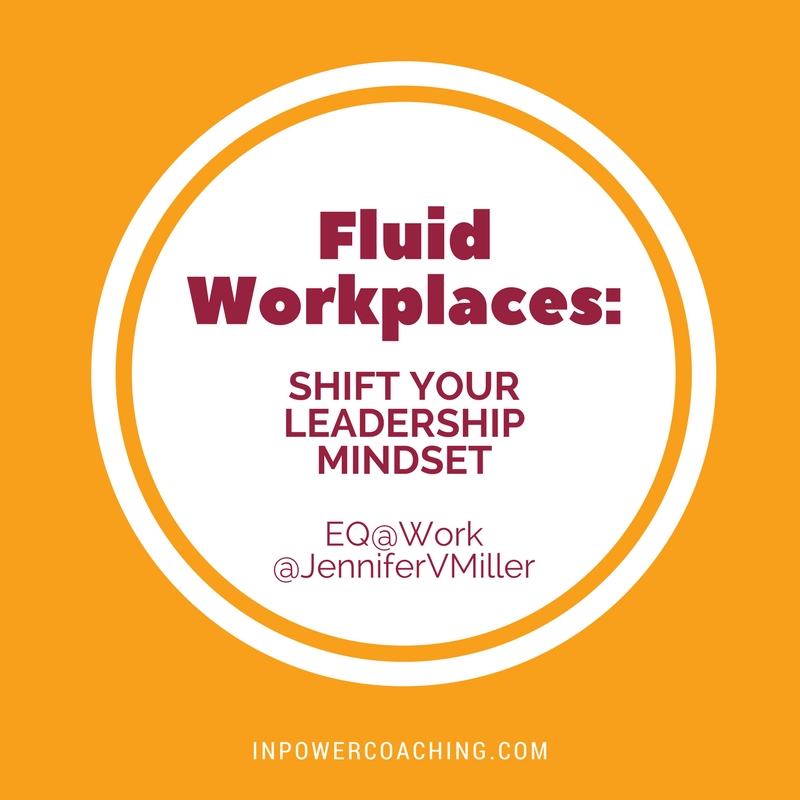 At InPower Coaching, we look for workplace trends that impact both the individual and the organization. The InPower team has covered the story of the "fluid career" for individuals via our Coffee Break Talk Show. In this post, we explore the flip side of that workplace trend: what business leaders need to know about "workplace fluidity."– InPower Editors
It's a familiar refrain in the workplace: just wait a minute and something is bound to change. And although many leaders agree their organizations need to take a page from the Agile Movement to address the onslaught of change, many of those same leaders are stuck in a mindset that keeps them tethered to outdated views of employee retention and workplace culture. To illustrate, Ultimate Software, a leading provider of human capital management (HCM) solutions in the cloud,  recently commissioned Forrester Consulting for an October 2016 study on an emerging trend in organizational life: the fluidity of the workforce. The fluid workforce, like the fluid career, encourages us to think about how to manage our employees with more flexibility, not just to meet their personal needs, but to also meet the needs of our rapidly changing businesses.
"We were observing, through conversations with our customers, as well as media coverage, that something was happening in the world regarding the way people identify themselves in relation to their employment," says Cecile Alper-Leroux, Vice President of HCM Innovation at Ultimate Software.  Where someone works is much less relevant to employees' identities, reports Alper-Leroux. For many employees, fitting into a pre-existing structure, be it an organizational chart or a job description, is too confining. She sees this rejection of a "job" as a source of affiliation as part of a larger societal trend in which people resist being categorized, citing examples like fluid gender or ethnic identity.
Fluid Workplaces: Shift Your Leadership Mindset – Click To Tweet
When you overlay these societal trends onto the workplace environment, interesting insights occur. Just as employees seek out fluidity in their lives outside of work, they want more fluidity at work as well. "When we began to explore the idea of 'job fluidity', we realized organizational structures simply don't keep up with the pace of change and innovation requirements that they face today," observes Alper-Leroux.
Today, many workers have adopted a "gig economy" career path; even those who work inside an organization desire the fluidity and flexibility that independent contractors have typically enjoyed. Employees today don't align their identities with their employers as closely as they once did. Instead, they see their identities as separate from their employers' and want job assignments that stretch them. Similarly, many people seek success off the career "ladder", preferring a career track that takes them around the "jungle gym" instead, stringing together work experiences based on variety and interest. All of this leads to a workforce that expects a more dynamic work arrangement than in decades past.
But not all employees have completely bought into this "freelance" mindset. InPower Coaching founder Dana Theus, in writing about the "fluid career," observes that many employees are stuck with "old stories we tell ourselves about how long we 'should' be in a job," which leads to a feeling of limited career development options when there are no promotions available within their current employment situation. When individuals shift their mindset and see the benefits of embracing a more fluid career (which may be marked by a variety of  traditional jobs interspersed with "gigs"), they will also see the employee-employer relationship in a new light. This can lead to a feeling of more personal empowerment over one's career.
As Theus points out, it can take a while for the reality of a situation to catch up with a person's perception of it. Just as employees are reluctant to proactively embrace a more fluid career, organizational leaders often fall into the same outdated mindsets of what it means to have a "job." Case in point: Alper-Leroux cites research from the Forrester study that nearly 90% of the 200 HR and business leaders surveyed acknowledged that the workforce is becoming more fluid, but fewer than half have specific plans in place to address workplace fluidity.
Leaders need to wake up to the reality of the fluid workforce and learn to use it to their advantage. As Cy Wakemen, author of Reality-Based Leadership said in her presentation at the WorkHuman conference, "the circumstances in which you find yourself aren't why you can't succeed . . . your circumstances are the reality in which you must succeed."  And this is where the "employee retention" conversation within organizational walls needs to shift: from "getting people to stay" to "helping them be their best selves for as long as they're here."
The reality of the modern workforce is that people won't stay at your organization as long as they used to, so the notion of "retaining" them has to change as well. It might not be a reality you're happy about, but as Wakeman points out, it's the reality you've been dealt.

Shifting your leadership mindset on employee retention can help you respond to today's fluid workforce. Here are three suggestions to help do so:
Are you operating with an "abundance" or "scarcity" mindset? Not sure? Examine your decision-making. If you're saying, "We can't afford to lose her to another department" as your justification for denying a project to a valued team member, you're seeing the situation as "scarce." Think instead about the valuable skills your team member will gain– and how that plum assignment may actually encourage her to stay with your company longer, even if it's not within your department.
When hiring, look for talent, not tenure. If you've found the "perfect" fit in a job candidate, but hesitate to make the offer because you think he'll pursue new opportunities within a couple of years, hire him anyway. The value he adds for those two years will far outweigh hiring a less-qualified candidate. Yes, it's a pain to go through the hiring process again, but that's the reality of today's work environment.
Make peace with fluidity. Although difficult, when you accept that many employees won't stay for much more than  2-3 years, you can recalibrate your expectations. Look at positions that are already outliving their usefulness and need to change and evolve. For example, if you've already reorganized the marketing department to factor in new digital positions over the last ten years, can you accept and advertise that these jobs will continue to shift and change as the market and technology they focus on changes? Can you hire people for jobs that are expected to evolve with them?
If some of these ideas feel uncomfortable, then you know you're on the right track. Learning to shoot the workforce rapids will take some practice, but it can be done. Learn to step up to managing the discomforts of change by learning to let go of your triggers and manage your personal productivity more intuitively. Your business, and your life, will be the better for it.
Check out the resources in the InPower Coaching EQ at Work and Soft Skills Research Index.
Get our free transformational leadership guidelines to help you lead others to achieve a triple-bottom-line!