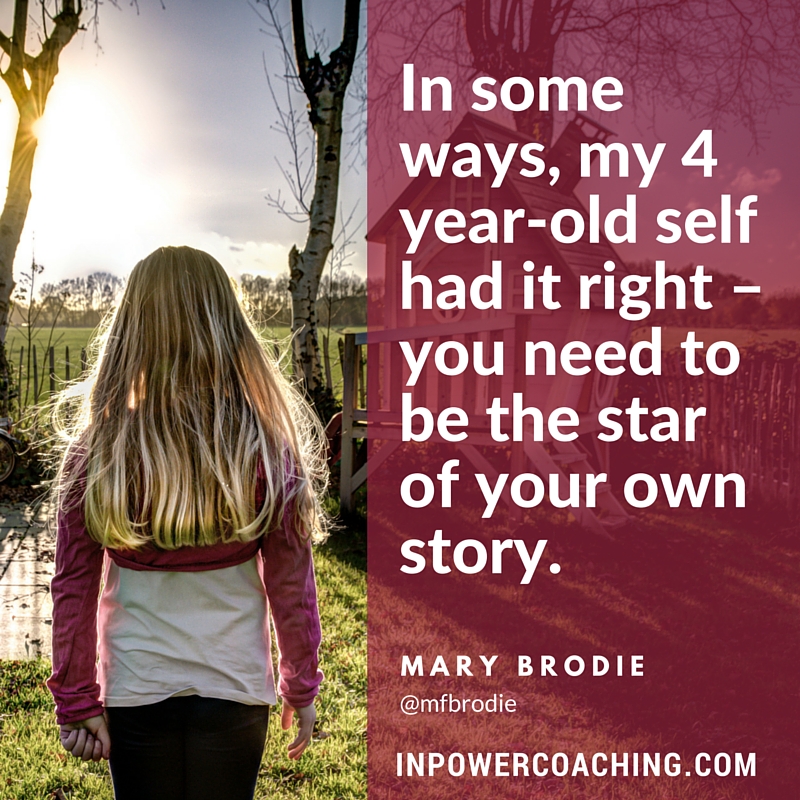 My dirty little secret: I love Disney princess stories.
My favorite princess was Aurora of Sleeping Beauty. When I was four, I would convince my uncle to play-act the story with me – from the initial curse to the 16 year-old pricking her finger, falling asleep, and being rescued by the prince. My uncle hated this game, and it wasn't only because he thought the princess stories put "garbage" into my head – it was because I gave him the supporting roles. All. The. Time.
I got to be Aurora when she pricked her finger. I got to be the prince fighting through the thorns while my uncle got to be "Aurora," fast asleep. Then we switched and I got to be Aurora when she woke up.
Of course I made myself the star! What do you want from a four year-old?
However, he was right about the princess stories and the "Cinderella Complex." Those tales tell the same story – a woman finds someone to take care of her after a prince deems her worthy.
Today, we are more aware of this subconscious tendency for being saved, and most dating coaches advise us how to avoid it.
But I sometimes wonder, does our desire to be saved go deeper into areas like employment and the pay gap?  
Do we subconsciously want to take the easy way out, looking to legal and corporate solutions rather than finding, and fighting for, our own value and value systems?
There are a number of metrics about men and women not being paid equally – the main one being women earn 78% of what men do annually. This disparity lessens at weekly earnings, and greatly improves when all factors are made equal:
If you account for those differences […education, industry, experience, union..] and then compare a woman and a man doing the same job, the pay gap narrows to 91 percent.

–Hanna Rosin, "The Gender Wage Gap Lie," Slate
Similarly, a "study by CONSAD Research Corp. took into account women being more likely to work part-time for lower pay, leave the labor force for children or elder care, and choose work that is "family friendly" with fuller benefit packages over higher pay. The study found that, when factoring in those variables, the gap narrows to between 93 cents and 95 cents on the dollar." (Katie Sanders, "PolitiFact Sheet: The Gender Pay Gap", Tampa Bay Times)
And this was consistent with Millennials: "7 percent difference in the earnings of male and female college graduates one year after graduation was still unexplained."
Many believe if women negotiated wages better, this would eliminate the consistent 7-9% gap.
Some suggest that we abolish wage negotiations completely and offer flat wages as compensation (although this comes with significant risk) or legalize the Paycheck Fairness Act as a more fair approach.
However, if you look at the pay gap from another perspective:
Research indicates that women may value non-wage benefits more than men do, and as a result prefer to take a greater portion of their compensation in the form of health insurance and other fringe benefits.
This perspective suggests that women already have great negotiation skills. A hiring manager in a large company needs to have a solid understanding of the value a prospective employee offers before recommending any policy exceptions. A hiring manager for a smaller company may have nothing else to offer top talent except non-wage benefits.
The pay gap question may be less about wages and more about value – self-value and the personal value placed on a compensation package beyond wages.
The problem with value and worth is that it is subjective. What one company or person values, another may dismiss as unnecessary. There is no constant to measure equality – why many refer to wages. Wages are concrete.
(Note that some women are doing just fine negotiating wages – in fact, 38% of wives are earning more than their husbands.)
The negotiation process should be a dance:
Prospects define their worth during the interview process – to themselves and the company (this is often where women lose –the pay gap report suggests women improve their negotiation tactics by: "Knowing what your skills are worth, making clear what you bring to the table, emphasizing common goals, and maintaining a positive attitude.")
The company defines qualities they value in employees and determine which traits will add value to their organization
Prospects negotiate a compensation package that maps to their values – from wages to benefits to work/life balance
The company determines which requests are amenable – or not


Already a subscriber? Log In
If a woman would prefer to work at a smaller company with the flexibility to work from home and accept a 10K/year less than a man in the same job at a larger company – should that be perceived as accepting less? Isn't that her choice?
Similarly, if a woman accepts a position at a company, where in addition to her assigned duties, she is mentoring a team, doesn't she deserve the opportunity to negotiate additional compensation, like shares or additional vacation days?
If we move to a model where there are equal wages for equal work and less negotiation ability, aren't we indirectly killing the concept of total compensation based on value and worth (on both sides)?
Then one must wonder, is the government and employers taking on a role of caretaker, determining worth and value of employees based on a single number rather than encouraging both sides to collaborate and create an agreeable compensation package?
To accept responsibility for our own futures, we women need to determine our own worth, think larger than simply wages, and determine the best compensation possible for each of us. We cannot be a "princess" and look to a "prince" to save us.
In some ways, my 4 year-old self had it right – you need to be the star of your own story.
It is only when we become our own "prince" and define our own worth and value when our personal fairy tales happen – when opportunities appear where we can grow and make our dreams come true.