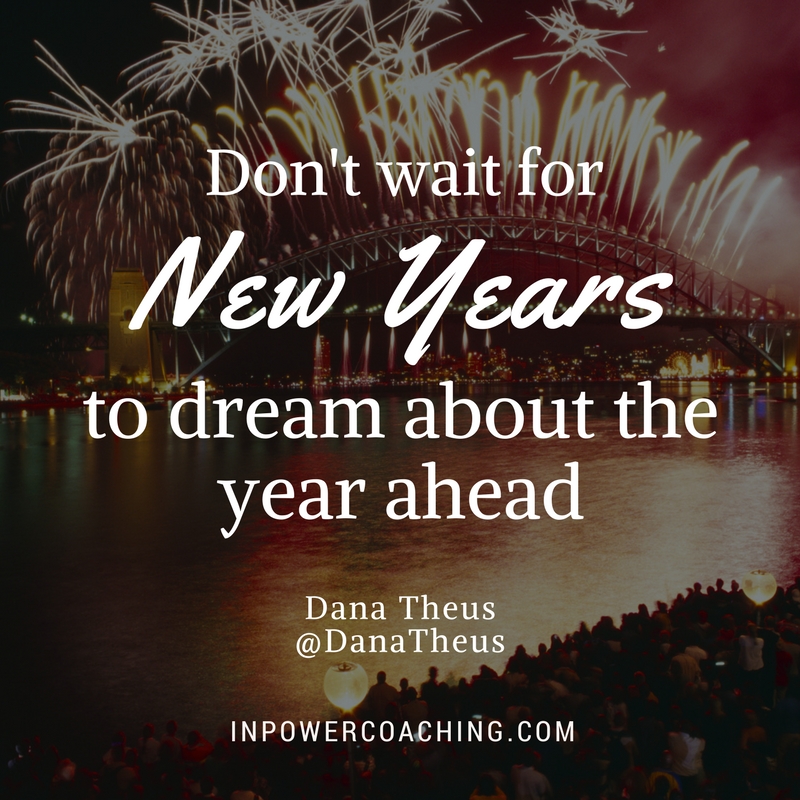 New year's day only comes once a year, and it offers us an opportunity to create a beginning like no other day. We like how Dana uses this day to do some intuitive career planning. But seriously, why wait until New Years to plan your future? Whatever you do today, enjoy the beginning. – InPower Editors
A few years out of school and into my career I found myself really enjoying New Year's Day. It was always quiet. Everything was closed. The bustle of the holiday was over and while some nursed their hangovers, I usually had little to do. One year, I found myself writing out some intentions. Even early on I'd given up on "resolutions," knowing that if I didn't want something to the point of planning on it, it wasn't going to happen.
My intentions looked something like this back then:
Move into a better apartment/neighborhood.
Convince my boss I was ready to manage a client meeting on my own.
Become a "player" on "issue X"
Decide whether to keep my car, get rid of it and do without or get a new one.
Upgrade my wardrobe.
Attach a cool vacation to some work travel.
I had fun writing the list. As I decided what would go on the list I let my imagination run free. I imagined running the client meeting without the boss around to direct things. I noodled the idea of living without a car (I came from L.A. My car was my life!) I thought about what kind of wardrobe I wanted for the new position I'd just take on in the firm. I imagined some of the places I could go on vacation. I didn't worry much about how I'd do these things, I just enjoyed letting my imagination come up with the list.
Exactly a year later, something pretty amazing happened. I found myself on New Year's Day with little to do and went back to my journal. I found that list and guess what? I'd accomplished everything on it! I was shocked. I'd forgotten all about that list and yet I'd accomplished it all – and more! It occurred to me that the mere act of writing the list had increased the probability I would be able to achieve it.
So I wrote out another list. And a year later I revisited it to find I'd accomplished most of what I'd set out to do. As the years went by, I came to rely on this New Year's Day reflection as the primary way I steered my career and my life. It became a time to sit back and look at the big picture – to climb to the top of the mountain and decide which direction to set out in next. It became my primary career planning tool.
Eventually, I began to do this more often, and even more deliberately – to the point where now I do a version of intention-setting almost daily. But New Year's Day remains a special time for me where I go to the highest mountain I can find and chart the most exciting course I can imagine. It becomes the one day of the year I truly don't give any energy to how I'll achieve my dreams, but simply enjoy the dreaming. And I believe it continues to be one of the most important ways I grow myself and develop my career.
What are you doing today? Are you taking the time to sit back and think about what you hope happens this year? Are you giving yourself the freedom to dream? I hope so.
Happy New Year!
Want some help putting away the past so you feel free to explore the future? Let us help with this free workbook.