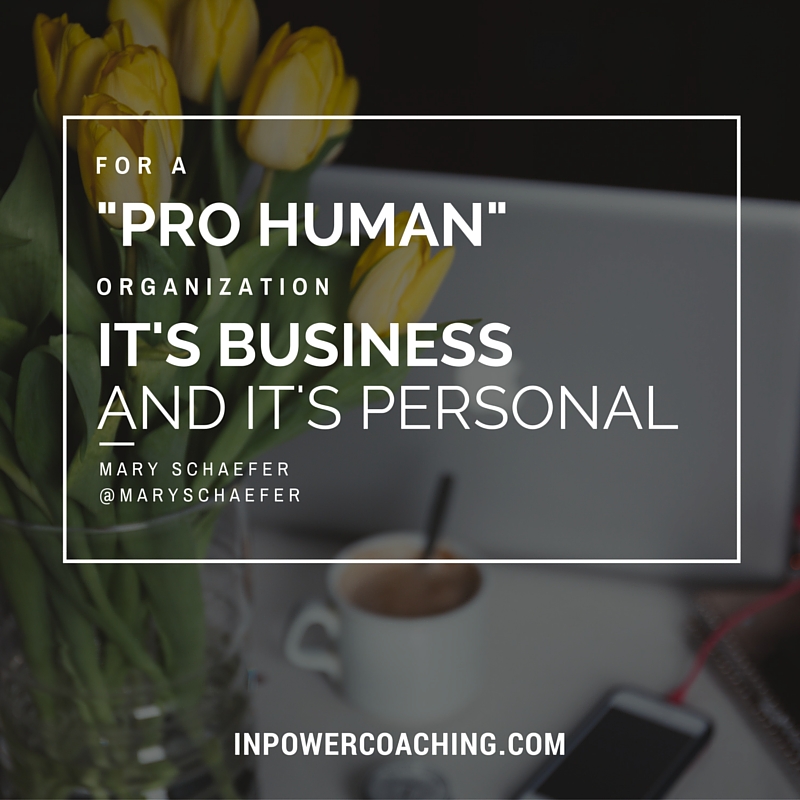 Talk to Mary live at our InPower Coffee Break Talk Show @Blab on April 5 – What would a "pro-human" work culture mean? Sign up for a reminder and meet us at 1pm ET/10am PT at our @Blab channel.
You may interpret the phrase "pro-employee" any number of ways. It could be about being on the list of top companies to work for. Maybe it's about working effectively with unions or being union-free. It could be about benefits, vacation time, flexible work hours, or on-site day care.
All of these things can affect your employees positively and improve your return to investors, as can other approaches. Today, let's try on a different spin on what "pro-employee" means though.
What would it mean to be a "pro-human" organization?
You could say it's about employee engagement, employee satisfaction, morale, spirit, vitality or any other similar buzzword of the day. Organizations create programs around these topics. Not that there's anything wrong with that. Intention and commitment at the leadership level is imperative. But to me it is a value to be embodied and applied on a daily basis, in our day-to-day interactions. This is as important as a structured program.
It's business AND it's personal.
Long ago, before I became an HR professional, I sent out an email at the request of an employee. She was off work for a prolonged period of time, having experienced a serious accident. She asked me to give her coworkers an update on her condition. An HR generalist was on the list. He called me immediately and told me to never do that again. I was not respecting the employee's privacy.
There are many reasons why I shouldn't have sent that email. HIPAA was just entering the scene. I get it. Yet what bothered me the most is that the HR rep was not sensitive in delivering that message to me. He was correct in his assessment of the situation. It was his job. He had the right to give me feedback. I won't say he enjoyed the embarrassment I felt, but he was indifferent to it, which is almost as bad. I didn't feel like he treated me like a human being that day.
A pro-human organization walks the talk.
You've probably heard this from many companies, "Our employees are our most valuable assets." Many companies have "respect for people" on their list of company values. Others conduct employee surveys to gauge the level of employee satisfaction, motivation and morale. Some claim employees are one of their major stakeholders. What would it take to be consistent to ensure the human beings who happen to be employees are feeling valued, and benefit by that?
Studies show that organizations that display empathy, among other human-related attributes, are more successful. In the book Firms of Endearment author Raj Sisodia et al. state the "firms of endearment" that are publicly held returned 1,026 percent for investors over the 10 years ending June 30, 2006. Compare that with 122 percent for the S&P 500.
I talk to my clients a lot about how they can work with others, and maintain their dignity at the same time. What I mean is maintaining the dignity of my client and those they are working with. I don't suggest being insincere or giving away the store. There are ways to run an organization and humanize the workplace and corporate culture at the same time. Some examples:
Think before you speak. Anticipate the possible reaction when giving feedback or delivering a decision. The director who gave a talk on how well the business was doing completely blew past the fact that a downsizing had been announced to his audience 2 days prior. This left people hurt and hurt his credibility.
Make them right. When people have a very human reaction, determine what is right about it and tell them so. I once gave an employee performance feedback. He responded with, "I think you think I'm an idiot." I told him I was glad he told me that. I went on to tell him I was having the discussion with him because I wanted him to be successful.
Stretch your empathy muscle. Don't finish the workday without getting back to an employee about a concern. Even if it is near quitting time, reach out to that employee so she or he doesn't lose another night's sleep.
Think twice before thinking out loud or giving direction. Clients tell me repeatedly that priorities are changed radically, sometimes multiple times in one week. This depletes employees' trust, and also diminishes how they view their contributions.
Read your email mindfully. Read through your inbox before you start shooting off a series of questions. You may get your question answered in a subsequent email. You'll save time writing. Your colleagues will thank you for not flooding their inboxes.
It's both a leadership thing and an individual thing. You can start today.
Undoubtedly leaders at the top need to model this behavior. Engagement and incentive programs have their place. They provide structure and consistency for a pro-employee organization. And simple gestures and thoughtfulness set the tone for a truly pro-human workplace. Ask yourself what you can do, today.
Talk to Mary live at our InPower Coffee Break Talk Show @Blab on April 5 – What would a "pro-human" work culture mean? Sign up for a reminder and meet us at 1pm ET/10am PT at our @Blab channel.
Check out the resources in the InPower Coaching EQ at Work and Soft Skills Research Index.