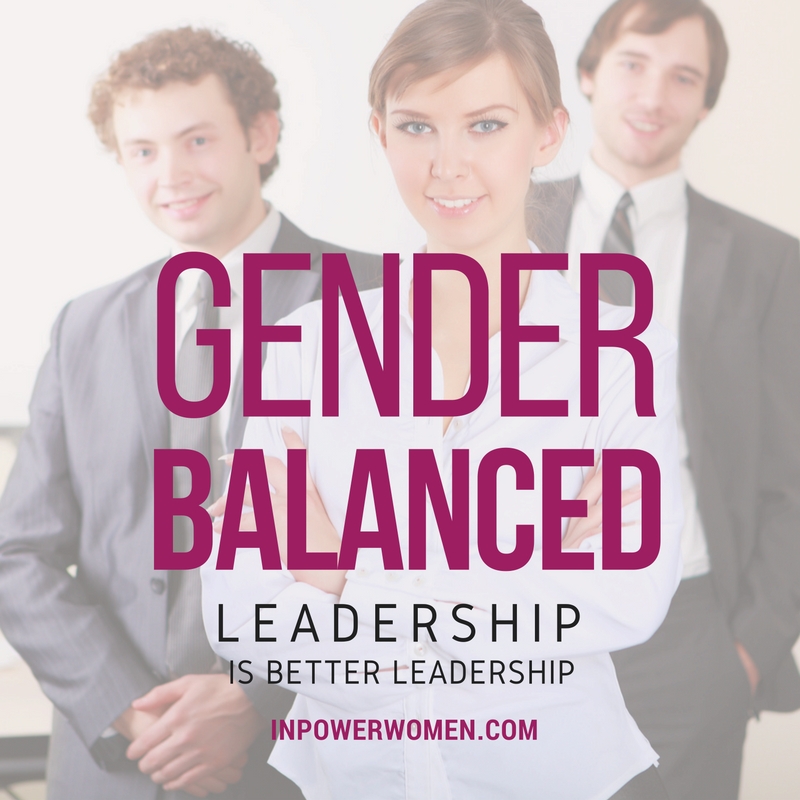 As you may know by now, I've been on a research quest to understand why The Woman Effect is helping organizations and economies succeed when there is significant presence of women in leadership. My fourth (and final for now) finding turned out to be a happy surprise. In our search for leadership roles and work-life balance, it's not just about us.
Reason Number 4: Women and men are forming new partnerships.
The final finding as to "why" The Woman Effect is working to allow professional women's leadership presence to contribute so greatly to business' success turned up in my front yard. It's also, I believe, one of the true secrets to work-life balance as we move deeper into the 2000's.
As I began talking to friends and colleagues about The Woman Effect last year, I sensed a pattern among my female friends and acquaintances who were particularly highly placed in their organizations. Namely, their husbands were doing a lot of the heavy lifting at home. I first heard this from my neighbor, a senior official at the Federal Reserve Bank. "If my husband hadn't turned down his last promotion to handle the kids and house, I don't know what we'd be doing now," she said as we watched her young kids run around where my boys had played about 10 years ago. I noted in conversation the way my husband's and my own career has see-sawed over the years as one of us pushed ahead and the other hung back to handle home and hearth. What I had thought was coincidence (my husband's career taking off when I started working at home in the quest for work-life balance), perhaps was not really coincidence at all.
Husbands To The Rescue
Wondering more deeply, I cast about for corroboration and where did I find it? The Census Bureau and the Wall St. Journal! Multiple trends are combining to shift the work-life balance of families, including more women in the workplace, less wage mobility for men and job increases in traditionally female-dominated career fields. And it looks like maybe even these figures are under-representing men's contributions. Newsweek and Business Week also summarized this new trend nicely – both for the average family and the executive family respectively. Watch the Newsweek authors interviewed on the Today Show for a quick summary.
Visit msnbc.com for breaking news, world news, and news about the economy
I ran into plenty of other anecdotal evidence in my personal circle for house husbands and other non-competitive types out there. Can you relate to any of these?
The increasing numbers of daddy bloggers I met at Blogher conferences.
An Air Force General whose husband had retired early from the service to be posted all over the world as her career took off so he could care for their son.
A Fortune 500 SVP who, though divorced, relies heavily on a full time male nanny for support
The ad agency President's husband who started working at home and doing the kid-shuttle when she was transferred from one big city to the other.
The entrepreneur's husband who came out of retirement to help his wife pay off her debts from a failed enterprise and startup a new one.
The congressman's' press contact and the IT entrepreneur's husbands who insisted on dressing them before they left the house every day so they didn't look like workaholics.
Finally, I loved this finding by Marcia Reynolds, PhD in her research for her book Wander Woman, she found that high-achieving women aren't looking for emotional support more than they are seeking financial support in a partner. Marcia believes that the relationship between high-achieving, professional women and their partners is simply not about dominant and submissive anymore. It's evolving into something else entirely – partnership.
But we need support not only at home, but at the office too. And I believe we get it.
Male Executives Can Pull Their Weight
I haven't seen any actual quantifiable research on this yet, but I have certainly heard and experienced anecdotal evidence that men frequently mentor and sponsor women for leadership positions. Given how few women leaders have traditionally been in business, who else has helped us reach the board member participation we've achieved to date? If it's not the guys promoting us, is this immaculate promotion? Of course we can read these stats cynically as the traditional feminist narrative has taught us, but I choose not to.
Is our participation in leadership as much, as often, as easily as it should be? I have no idea and probably not. But one thing is clear to me and many other leadership geeks watching the world of business, while much of the traditional feminist narrative might lead you to believe that only women will sponsor or mentor you, plenty of women get ahead with the help of men.
Combined Leadership Is Just Better
 Not only do I want to acknowledge the fact that men help us in our careers, but I think it's important to recognize that The Woman Effect is an effect within an organization comprised of both genders. Women's presence contributes to success and so does diversity in general – diversity of perspective, experience and skills, which is found in gender, ethnicity, socio-economic background, education and just about every other dimension you can think of. Diverse perspectives make any system stronger, women are simply a very important diverse perspective to have at the table.
Research is starting to quantify this. A fascinating and much linked-to study at Carnegie Mellon, reported in the Harvard Business Review found that when women were added to a group, the collective group's intelligence rose for problem solving, brainstorming and decision-making. The researchers are still trying to understand this dynamic, but their hypothesis is that the presence of women actually changes the way the men behave, obviously in ways that contribute to the success of the group.
All this leads me – and plenty of other leadership types – to conclude that it's not that women are better than men at leadership, but that when our skills and competencies are combined in partnership, the best results can be found.
This Isn't' About Winning and Losing
The Woman Effect does not mean that for business to succeed, women must rule, it means that for business to succeed, women must be significant players in significant numbers. To succeed once we're there, and to get there in ways that will help us succeed when we arrive, we must form strong partnerships with men. Why? We're more effective together! Here is a great view of how our strengths combine in business, from a great post by Becky Shambaugh:
Creative Ideas + Analytical Thinking = Realistic Innovation
Empathy + Fact-Based Approach = Results-Focused Engagement
Collaborative, Free-flow Conversation  + Clear, Concise Information = Dynamic Exploration
Cautious, Consultative Thought + Rapid Decision Making = Balanced Decisions
 For us to activate The Woman Effect in our own lives, we have to partner with men – to learn their styles and teach them ours, to contribute our own unique gifts to the competition of ideas that breeds success and, finally, to achieve balance for ourselves, for them and for our world. Let's not aspire to clump down our end of the see-saw, let's all just get off the damned thing!
And it's not always easy for the men who support women. Many of them report getting turned out of the "guys club" (although few I talked to seemed to care much.) So I, for one would like to thank all the men in my life who've helped me achieve my dreams – starting with my husband, many bosses (including and especially the challenging ones) and no end of colleagues who've mentored me along the way. Thanks guys, couldn't have done it without you!
What is your experience? Have you seen the benefits of male and female partnership in leadership? Do you have strong male and female career partnerships? How do they help you? How do they balance you? Have you said thank you lately?
 (Read the whole series: What is Woman Effect?, why 1, why2, why 3)