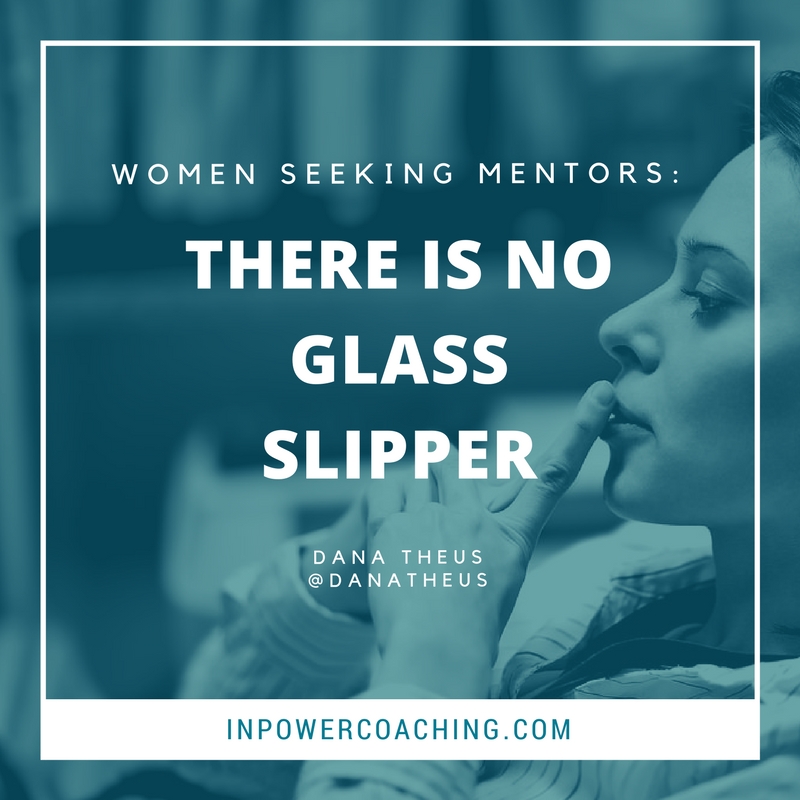 Having a well-placed, successful mentor can be the difference between success and failure on the leadership track – but it is definitely more an art than a science for the mentor and the mentee.
I recently started hosting a radio show interviewing CEOs of small-to-mid-sized companies. One question that male leaders love to answer is "tell us about your mentors?" It turns out that very few men make it to the top without mentors. For women, this experience is less consistent. I believe it's because the "old girls club" works more like a sewing circle than a smoke-filled room and for better or worse, some women just don't feel comfortable bringing up the next generation in a deliberately helpful manner. This is changing, of course, as more women succeed, but I find that women benefit more from "learning how" to mentor and be a mentee. It makes a difference for leadership mentors for women, although it's not as culturally obvious to us how mentorship works and how we can use it to our advantage.
In her book, Lean In, Sheryl Sandberg devotes a whole chapter to the subject of mentorship and she calls it "Are You My Mentor?" because she observes that too many women go around looking for a mentor like they're looking for a golden slipper. I love that chapter and if you haven't read the book yet, do so and make sure you read this chapter.
Here is some of the wisdom about mentors combined from Sheryl and me.
1. You don't "get" a mentor, you build a mentoring relationship. Good mentorship – the kind that can really help your career – just feels like a good business relationship between people with complimentary experiences who help each other. Many people actively seek our mentors during career transitions, but trying to make it happen may not work. Most of the best mentor/mentee relationships I know of are between people who don't even use those terms when referring to each other. If you are an emerging leader who wants to be in a mentoring relationship, do your part to meet senior leaders in a business context where you and they can develop natural chemistry.
2. Good mentorship goes both ways, so be prepared to give and take from the relationship. The best mentors learn from their mentees and use this insight to sharpen their own leadership and management skills. This requires that mentees be willing to "give" to the relationship (i.e., learn what your mentor values that you can provide and provide it!). For example, the mentee can provide "grassroots intelligence" on business issues, corporate culture, market intelligence etc. from a perspective the mentor doesn't have regular access to. Mentors and mentees can also use mentoring discussions as opportunities for personal self-reflection, feedback and growth. Part of developing the relationship is learning how you can help each other.
3. Mentors and mentees both benefit when they close the loop on advice given. Mentees need to be proactive in the relationship, asking for advice on areas they personally feel in need of support on. Most mentees understand that part. What they aren't as good at doing is circling back to close the loop and tell the mentor what happened when they used that advice. This is a critical step that helps the mentor understand how their advice actionable and develop more advice that's on the mark for that particular mentee. This "close the loop" part of the relationship is a critical opportunity for mentees to self-reflect with the assistance of someone who has great insight to share. Mentors can help the mentees close the loop by remembering the advice they gave and asking how it went when they used it.

4. Mentors aren't Prince Charming and won't pull you through the glass ceiling. Mentors don't give you anything you don't earn. It's debatable whether Cinderella did anything to "earn" Prince Charming or not but in a mentoring relationship, you earn good mentoring – and the sponsorship that can grow from it – by doing good work and being a "player" in the business in a way that's authentic to you. As Sheryl points out in Lean In, too many women believe mentoring is the ticket to success when it's just one of many helpful steps along the way. If you don't own your success, a mentor can't really help you very much.
4 Things Women Need To Know About Mentors – Click To Tweet
A final point of advice for mentees is to understand that having a mentor isn't the same as having a sponsor, who is someone who will put their own reputation on the line to help you advance. Of course, mentors are good candidates to become sponsors, but mentoring and sponsoring are different so be clear what value you're most likely to receive from the relationship as you go. Don't blame a good mentor for not being a good sponsor and visa versa.
A previous version of this post appeared on Smartblog on Leadership.
Take charge of your career development to get the job that supports your work and your life. Learn the 7 Strategies to Attract an Executive Sponsor.
Get our free personal branding guidelines to help you position yourself for long-term career success!