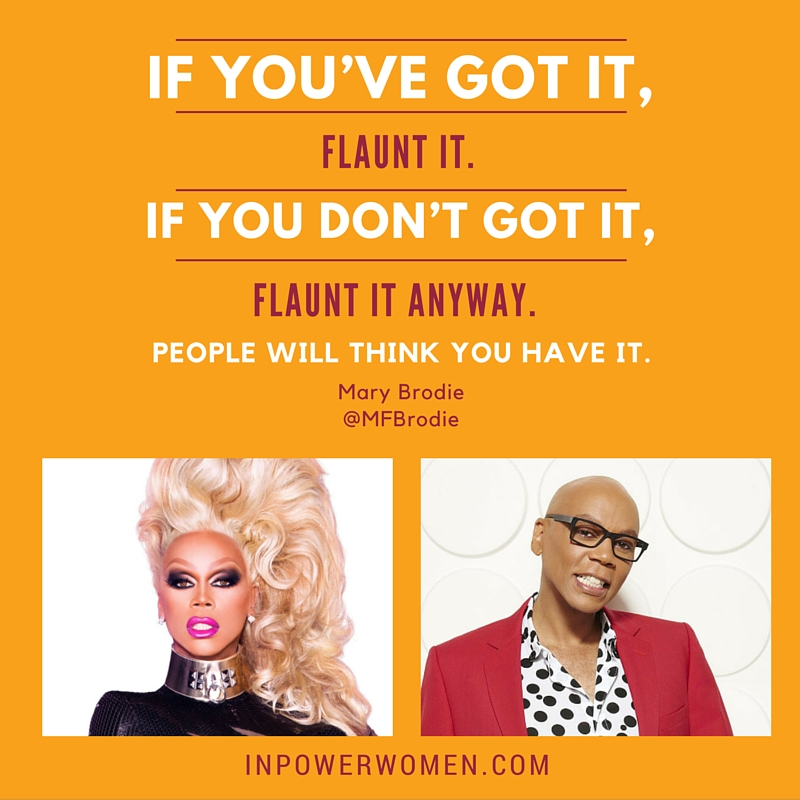 What leadership lessons can we learn from a drag queen? I have been a RuPaul fan for years. It all started after I heard his song, Supermodel. Then I was an admirer of his Viva Glam campaign for MAC cosmetics. I was thankful for RuPaul reminding us to be glamorous during the 90s grunge fashion years (thank GOD that disappeared). These days, I faithfully watch Drag Race every season.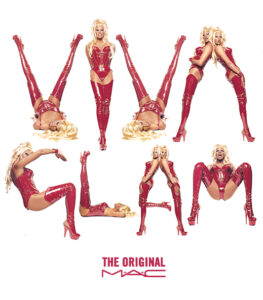 He's a talented artist – singer, writer, fashion icon, drag star – and successful businessman. He has created an empire.
RuPaul may be a household name, being interviewed on PBS talk shows and The View, but to him, drag will never be part of mainstream culture. He defines drag as a parody of gender, a reminder that gender is a construct.
"Well, drag is really making fun of identity," said the world's most famous drag queen. "We are shape-shifters. We're like, 'OK, today, I'm this. Now, I'm a cowboy. Now, I'm this.' That's what drag is about."

–"RuPaul Defines 'Drag' vs. 'Transgender'", The Advocate
5 Leadership Lessons I Learned From RuPaul's Career
Lesson 1: "If you can't love yourself, how in the hell are you going to love anybody else!"

RuPaul closes each Drag Race episode with that quote.  And it's true. If you aren't full of love for yourself, it's almost impossible to give love to someone else.
How do you start loving yourself? Put yourself first. I started practicing this recently. I think this is a challenge for most people because society teaches us that putting your own needs first is selfish. But if your energy reserves aren't full and you aren't feeling complete, how are you going to have anything to share with someone else?
Here's a video from Oprah that explains this best:
In a recent interview on The View, RuPaul said, "We are God in drag."  All the more reason to put ourselves first.
Lesson 2: "We're all born naked and the rest is drag"

Every day, we go to work and consciously or subconsciously, we are wearing a personality and costume. In some respects, we dress in drag every day. Society dictates that women typically wear dresses and heels, men wear suits and ties. We hear about management traits that are stereotypically masculine or feminine and at times we don't just accept it, but we embrace it and adopt the behavior in our own lives. I have worked with men who act more traditionally feminine and some who act more traditionally masculine; and vice versa for women. It makes one wonder – are there really any gender specific personality traits? Or do we choose what we each "wear" for our personality?
I think this is why we use the term "dressing up" to go to work.
I do it myself. When I visit clients, I'm wearing loads of jewelry, bright colored clothing, and heels – the taller, the better. And if I'm feeling a little tired, I will turn turn on my work personality with the smiles and charm. After a few minutes, I cheer up and get into character. I think we all do this. No one always starts a day at 100%.
We sometimes need to consciously choose to play a leader to transition into that character and be that person for the day. 
Lesson 3: It's fun – and powerful – to be a girl
Drag may be a parody about gender, but at the same time, isn't it fun to dress up as a woman?
Women have the best props for a costume. The clothes, the shoes, the jewelry, the makeup, the colors, the fabrics. And of course, the purse. I think sometimes women are on a quest to be taken so seriously in the world, that we forget to have fun with being a woman and play dress up.
Often we'll hear about men wearing fun socks or goofy ties with a serious suit. Many of these men have senior positions and are taken very seriously, but they wear something to remind them that clothing can be fun.
Women who embrace their femininity show others that being a woman is powerful. Women can always wear a fun piece of jewelry, a scarf, or even lingerie to make them feel like the sexy women they are inside.
And when you feel good about yourself you project confidence and power.  If you've got it, flaunt it. If you don't got it, flaunt it anyway. People will think you have it. – Click To Tweet
Lesson 4: There is room for all to share success
Drag Race just celebrated 100 drag queens being on the show since episode one. 100 drag queens have now been televised to millions of homes.
The show isn't just about the competition; it's about being your best possible self that week. RuPaul coaches every contestant so they can all see what they are capable of, how they can be better drag queens, and even greater than that, how they can all be better people.  The judges also challenge contestants to go beyond their comfort zone to create, experiment and grow.

RuPaul doesn't need to do this. He could be a star on his own, continuing to create new songs and performances. Instead, he has shared his spotlight. He created Drag Race, created world tours for the winners, and made a conference, RuPaul's DragCon, for drag queens to meet drag stars and learn from them. He constantly makes room for drag queens to be as successful as he is.
And by doing this, he is elevating and transforming the drag artform.
Lesson 5: You create your own reality
Underlying all of these lessons is the most important lesson I have from RuPaul's career: you are responsible for creating your own life.
You can sulk at home and avoid your dreams and passions because you are different. You can take life and the world very seriously and worry about what others think of you.
Or you can love and embrace your fabulous self, enjoy dressing up, and adopt a better personality. You can actively enjoy life. You can share the spotlight and make room for others to join your success. You can embrace being different and spark a revolution – just like RuPaul did.
How you live your life is up to you. You choose to be fabulous – or not.
Can I get an Amen!?
Get our free personal branding guidelines to help you position yourself for long-term career success!