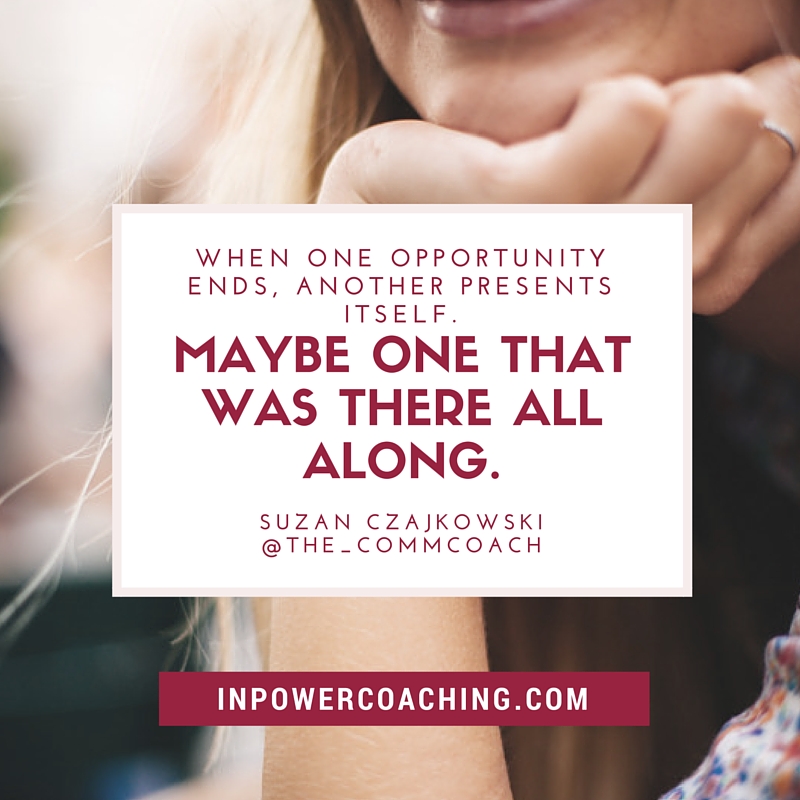 Dana's on vacation this week so we're taking a break from her regular Friday Insight & Inspiration post to share some thoughts from our newest team member Suzan Czajkowski who reminds us how to turn bad news into opportunity with a positive attitude. Please help us welcome Suzan! – InPower Editors
I received an unexpected phone call yesterday: "We've decided to discontinue that program that you're helping us run. We'll go to the end of next month, and then that's it."
Oh. Well, that sucks.
I really enjoyed working in that program. Though I have a number of other irons in the fire, this particular program was lucrative and, more importantly, it was fun.
Needless to say, I'm more than disappointed. That news generated a negative spiral and from there on, it felt like everything went wrong.
Maybe you've been there too? You're going along with everything feeling like it's all headed in the right direction when, out of nowhere, it all falls right back apart again. As I mentioned – it sucks.
And so I've spent some time moping…. And thinking. And moping some more. I headed for the chocolate and, simultaneously, scheduled an extra workout at the gym. One for comfort; the other for stress and to help me process.
And it was while I was at the gym, knowing I should be working harder and hearing my brain whisper, "I can't…" when it occurred to me: Maybe this is an opportunity.
There are things I've thought about doing that I couldn't even get started because there was too much going on. Ideas that I have that I regularly push to the side because I'm too busy. Except that it isn't just that I've been too busy. I've been scared, and not sure I could do it. I've been keeping busy and hiding in the shadows of all of that busy-ness, letting it get in the way.
Like this program that is now ending. It was fun, it was lucrative, and it took up a lot of time. It's also reminiscent of where I am right now, because working in that program was hard at first, and I remember being nervous and scared then too. But someplace along the way, it became fun and I would look forward to it – and that is when it became lucrative!
So maybe that is what this opportunity is: A chance to come out from the shadows, step up, and do that thing that I've been thinking about. That thing that intimidates me. I look at it and it's something I should be able to do… even though it's new, haven't I done things like this before?
When one door closes, another opens.
When one opportunity ends, another presents itself. Maybe one that was there all along.
I know that voice inside my head that tells me, "I can't…" "What if…" and "It won't work…"? That voice is a liar.
I know I can, because I already have – something else, somewhere else, but haven't I been here before?
Haven't you been here before?
"What if" is something to prepare for, but not something that should stop us. We don't know it won't work until we try… and even if it doesn't work, we'll learn something along the way and then maybe it will work the next time. Because we can. We have before and we will again. We can build a positive attitude on our previous experiences.
I've come to the other side of this bad news with some interesting ideas, and I've scheduled some open time for myself that I'm calling "development." A few days when I can focus on what comes next so I can start to get some ducks in a row. What program can I create to replace this one that someone else owned? Maybe it's my turn.
What opportunity are you hiding from? What idea do you have that you keep pushing away because you're afraid? Or because the path isn't clear?
Maybe it's time to step up. Come out from the shadows.
What one step can you take towards grasping your next opportunity with both hands and claiming it as your own?
Do it. Do it now.