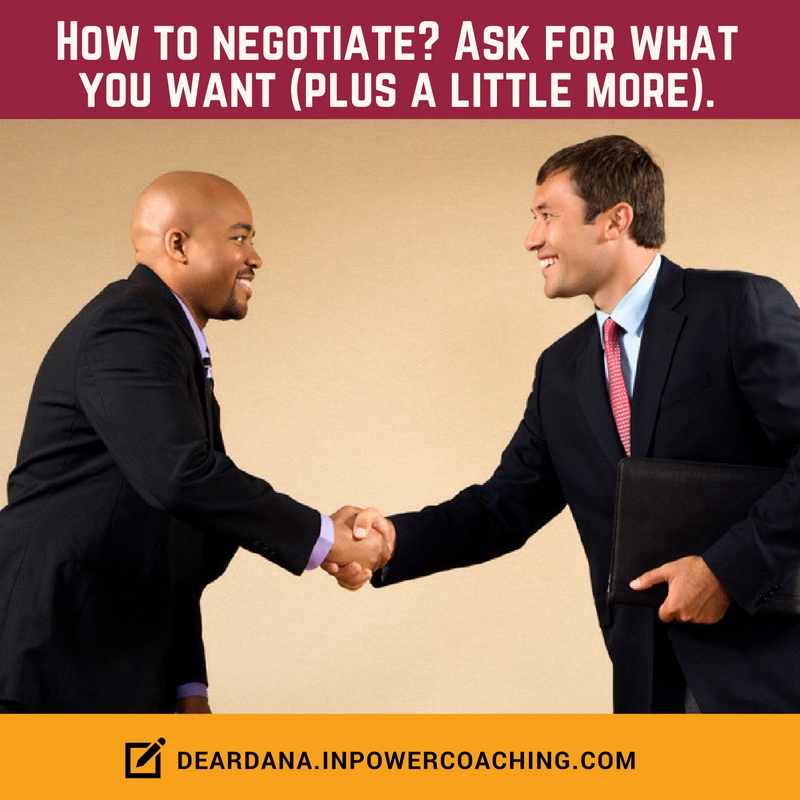 Welcome to "Dear Dana", our weekly column to give you career and workplace advice/coaching. Please write in and tell me about a career challenge or frustration you're facing at the office! – Dana Theus
Dear Dana, I just got a job offer within my company (in another division). I've wanted this job for a long time, and I'm afraid to ask for anything because I don't want them to withdraw the offer. My husband says I'm crazy to think about NOT negotiating a job offer. He says I have to ask for more money. I don't want to mess this up! What should I do? – On Pins and Needles in New York
[Note: I have already answered Pins and Needles since her timeline was short, but I'm putting the full answer here for the record. And good news! She got the job with a better employment package than the first offer!]
Dear Pins and Needles,
Congratulations on the job offer! I'm especially psyched that it's a job you've wanted for a long time. That shows that you're doing more right than wrong in both your work and your career development.
As for the question of negotiating a job offer, I have to say I think your husband has the right idea here. Before I explain why, I want to unpack some of the assumptions you may have, based on your question.
It sounds to me like you're making the assumption that you believe they will only want you for the job if you "come cheap," "are no trouble" or otherwise "don't make any waves" on your way in the door. It's pretty normal not to want to mess up a good thing, but if any of these feelings are underneath your hesitation to negotiate, you have to get over them. Here's why.
Setting the tone: When you take a new job, you're starting a new set of relationships and the way you negotiate (or don't) is kind of like your first smile and handshake when meeting someone new. It sets the tone for how they see you and how they treat you going forward. If you have a wimpy "handshake" that says "don't mind me," they won't. You will be signalling to them that you don't believe you bring much value to the team, and your influence and credibility will suffer as result.
Leaving money on the table: When they make a job offer, they're almost always offering a lower salary than they can afford because they expect you to ask for more. This means that if you don't negotiate there is a high likelihood that you're leaving money on the table. It may not be much, but if it's there and you can get it, you deserve to. Over the course of your career, when you may change jobs multiple times, these little bits add up to a lot of money.
Negotiating is a skill you need to practice: It's hard to achieve your goals in life if you aren't comfortable asking for things and negotiating with others to get closer to your goals. Whether it's buying a car, getting your kids to bed without a fuss or getting what you deserve in your employment package, your personal negotiation style will become a critical part of your success in life. It sounds to me like you're still working on this skill, so this is an excellent time to practice with real-world upsides! The best part is that when you ask for something and they give it to you (in part or in whole), you build your confidence and learn more about how to negotiate for the win-win.
Bonus reason #4: The worst they can say is "no" and since you know you'd already be willing to take the job at the current offer, you have nothing to lose.


Already a subscriber? Log In
All that said, I can tell that this is uncomfortable for you. And you're right to be concerned that if you don't do it right, you may make this transition more complicated than it needs to be. Women, in particular, find job offer negotiations to be
tricky territory
. Remember that you have more to negotiate with than just salary; you can ask for benefits, flex time and many other things. You should prepare before negotiating a job offer because you really only get one shot at it. You make your ask and most of the time they come back with a "final offer," so you need to be pretty clear about what you want and be ready to respond quickly once they respond.
When I coach people on job offer negotiations I walk them through detriggering their emotional attachments to the job and walk them through a variety of worksheets to help them figure out what's most important to them in their total employment package. This helps them arrive at the ask that feels right and which will—if they get close to it—makes them feel valued going into their new position. Take the time to prepare your ask, ask for what you want and know what you will accept if they come back with less. Be genuine in communicating your desire to become part of the new team and be confident that you're asking for more because you believe you're worth it. Good luck!
Executive Coach
P.S. – Have a question you'd like anonymous support on? Write me!