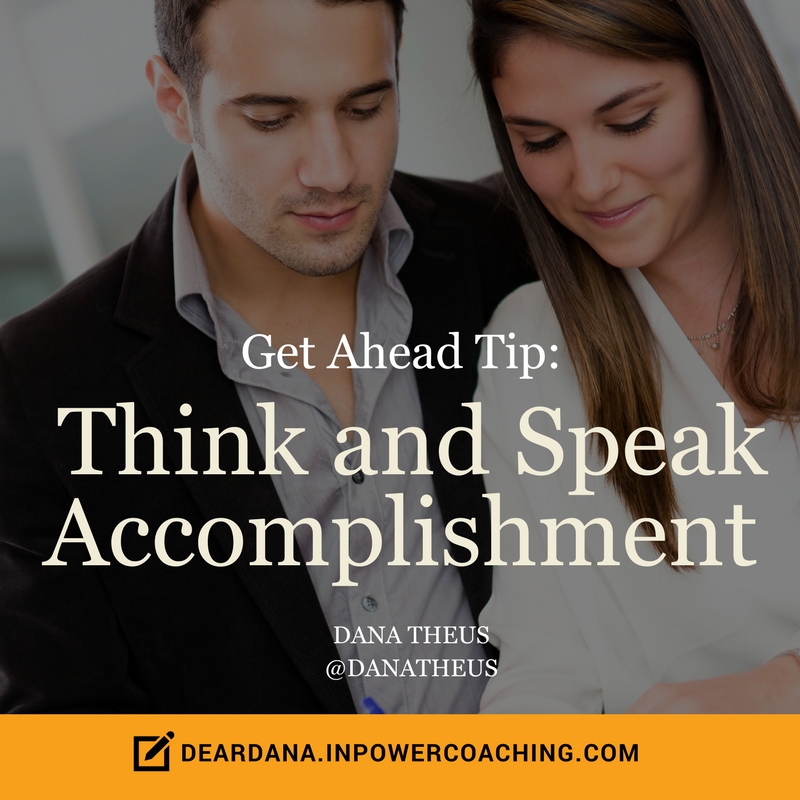 Welcome to "Dear Dana", our weekly column to give you career and workplace advice/coaching. Please write in and tell me about a career challenge or frustration you're facing at the office! – Dana Theus
Dear Dana, I've had several jobs since I got out of grad school but I've gotten them all through people I know in my (pretty small) field. Now I'm considering a career change and I have had a couple of informational interviews – I'm getting excited about what I could be doing in the future if I move. But one thing my connections said (both of them) is that I need to learn to talk more about my biggest accomplishments. I guess I didn't do that very well in our interviews. I'm not surprised since I'm not even sure what that means. I explained pretty clearly what my job involves now. Can you clarify what they meant? – Excited in Exeter
Dear Excited, Congratulations on taking a big step – to consider a career change. Now that most of us are working and living longer, it's not unusual for us to have 2 or more careers in a lifetime. It's a great way to keep life interesting!
Your question about how to communicate your biggest accomplishments is a great one! And you're not alone in being unsure how to do that, or what it even means. I'll answer your question in two parts. First, why do recruiters and hiring managers say that? What are they looking for? Secondly, what does it look like to talk about, and include on your resume, your biggest accomplishments?
Why do recruiters and interviewers want to know your "biggest accomplishments?"
The Executive Perspective
To understand the answer to this question, you need to put on an executive hat. In order for a business to be successful, certain things must happen. Product/service must be created, customers must pay money, that money must be well managed so the business doesn't go bankrupt, etc. In a non-profit it's a little different. Needs must be understood and solutions devised; funding must be secured and well managed; results must be evaluated and reported to improve programs and let funders know the impact of their contributions. To ensure these critical dynamics of the organizations occur, you must have employees who can get the key things done to make them happen. If you have employees who are busy, but who don't help accomplish these key things, for example, then the organization may not survive.
The bottom line is that when someone is hired, the business owner justifies their salary by assuming certain key things happen. Therefore, when the employee accomplishes those key things, the business plan is closer to being on track than if they don't. When the employee doesn't accomplish those things, the business can be in jeopardy. Even if the employee had many good reasons for not accomplishing those things, the business can still be in jeopardy, so knowing you're hiring someone who has accomplished things in the past is a good way to build confidence in that person's ability to accomplish things in the future.
At the end of the day from an executive point of view, as a pay check you are a business asset and you have to contribute in ways that create value in the business. This sounds cold-hearted, but it's not in the context of the business decision to hire or let go of employees; it's just the basic way business works. If your employers only treat you as a business asset, instead of a human being, then shame on them. All employees, including the executives, are business assets – AND human beings.
The Busy Recruiter Perspective
Recruiters look at hundreds of resumes a day. Hiring managers interview dozens of people a week/month/year. They are all busy and don't want to spend a lot of time trying to read between the lines of your resume, or pull out of you in an interview the ways in which you made your former employers more effective. Of course, they want to understand your skills and abilities, and what you've done, but to make the hiring decision they have to convince themselves (and usually other people too) that you can make certain things happen, i.e., that you can accomplish certain things, which are important to the business. When they ask you to explain your biggest accomplishments, they are asking you to help them, so they don't have to read your mind, by telling them what you've made happen for former employers.
Want to see why a recruiter or hiring manager might ask about your biggest accomplishments in an interview? Check out these 18 lines of questioning from that one single question.
Your Perspective
Even though it can be tough to think in terms of accomplishments, you want to learn to "think and speak accomplishment" because it really helps you stand out competitively among all the other candidates going for the job. In addition, the more accomplished at thinking and speaking in terms of accomplishments you become, the better you will be at managing your own time in your current and future jobs – to be sure you're accomplishing things that matter! (See below.)
How to answer the question "what's your biggest accomplishment?" on a job application or in an interview
Accomplishments vs. Activities
We're all tempted to explain our work by listing out things on our todo lists. It's easy and these are the things that gobble up our brain space most of the time. But, explaining what you do instead of the positive results of all that activity, is a sure way to lose your audience in an interview or miss an opportunity to make yourself sound amazing.
An activity is just that; a task or action. And accomplishment is what resulted. It goes to say that we all engage in many more activities than accomplishments. Here are a few examples:
Let's say you're an entry level Event Planner and you spend all day every day washing and filling coffee pots and prepping meeting rooms. Those are your activities, but your accomplishment is in reliably creating and maintaining a productive and pleasant space for company employees and guests.
Or maybe you're an Operations Manager and you are in meetings all day every day reviewing schedules, assigning tasks and communicating with vendors about delivery dates and contract requirements; those are your activities, but your accomplishments are managing projects for on budget/on time completion, ensuring resources are aligned with project requirements to ensure no delays in project deliveries and managing vendors to ensure contract commitments are met or exceeded.
What about a Marketing Manager? You may spend your days writing up new website content and responding to requests for marketing information from internal clients but your accomplishments include keeping an awardwinning (or highly converting) website current and competitive for growing volumes of search engine traffic and ensuring sales and operations teams extend the marketing power of the organization with relevant and up-to-date marketing information and materials.
How to identify your "biggest" accomplishments
Using the distinctions above, you should make the effort to frame as much of your work as possible in "accomplishment speak" in your resume and online/LinkedIn profiles. This will help those who read your materials imagine how their own organization will benefit from having you with them. But you'll want to draw attention to some biggies. These should include accomplishments that were:
Challenging: giving you a chance to describe how you overcome obstacles to achieve success, for example, managing a matrixed global team, or turning around a failing project.
Meaningful and Measurable: produced results that gave the organization or project a recognizable boost financially or otherwise, for example, increasing revenue, improving profit margin, reducing error rates – include actual numbers whenever possible
Worthy of Pride: You should be genuinely proud of your biggest accomplishments and this pride will help you express yourself confidently when talking about them.
Here is an example of a well-stated "biggest accomplishment." Lead cross-functional Q1 program evaluation that resulted in Q2-4 adjustments that produced $450,000 budget savings and 3% customer satisfaction improvements. This positions you of a leader in a difficult, cross functional, situation, the results of which are financial savings and improved service outcomes.
Learning to "Think and Speak Accomplishment"
When you break it down like this, and even further in worksheets like we give our clients to help them update their LinkedIn profiles and resumes, it's fairly easy to reframe your previous job descriptions as accomplishments and highlight a few. What is harder, is to learn to take this results-oriented point of view all the time.
The most successful people I know are always very focused on the results of their work, and on their accomplishments. They need to know they are providing value, and one of the ways they do that is to ask themselves all the time, what have I accomplished today? What will I accomplish this week? They set their intentions on accomplishments instead of activity and when you become skilled at this, you can do two very valuable things:
Manage your energy wisely so that you can easily and intuitively choose which activities to prioritize to achieve meaningful accomplishments. Of course this means that sometimes you will say "no" to things that appear important, but this attitude and mindset helps you achieve success much more effortlessly than those who prioritize activity for activities' sake. (For more on managing your energy, check out this free video/worksheet.)
You can talk about your accomplishments easily, naturally and confidently. This gives your personal brand a little polish and helps others see you as impactful and valuable without you having to brag about it all the time. When it comes to a job search, it's easy for you to focus on accomplishments in writing and to talk about them in interviews and networking. You'll easily present yourself as knowing what kind of results are important and how they contribute to the business. This not only makes you look good for the accomplishments you've already achieved, but it helps others see that you understand what accomplishments matter to the business and they can then easily believe that you can and will accomplish more.
Now, you may find that when you try to do this you don't know as much as you need to know about what's important to the business, so it's time for you to learn! Talk to your boss and mentor, ask questions about what the business priorities are and why they matter. Make sure you do understand your contribution to them and how your accomplishments are valued. This will make you better at focusing your time and energy and achieving success.
Good luck!
Dana Theus
Executive Coach
P.S. – Have a question you'd like anonymous support on? Write me! And be sure to read Part II of this topic!
P.P.S. — Need the inside track on your job search? Let me help you without the cost of personal coaching with my comprehensive online career transition program.