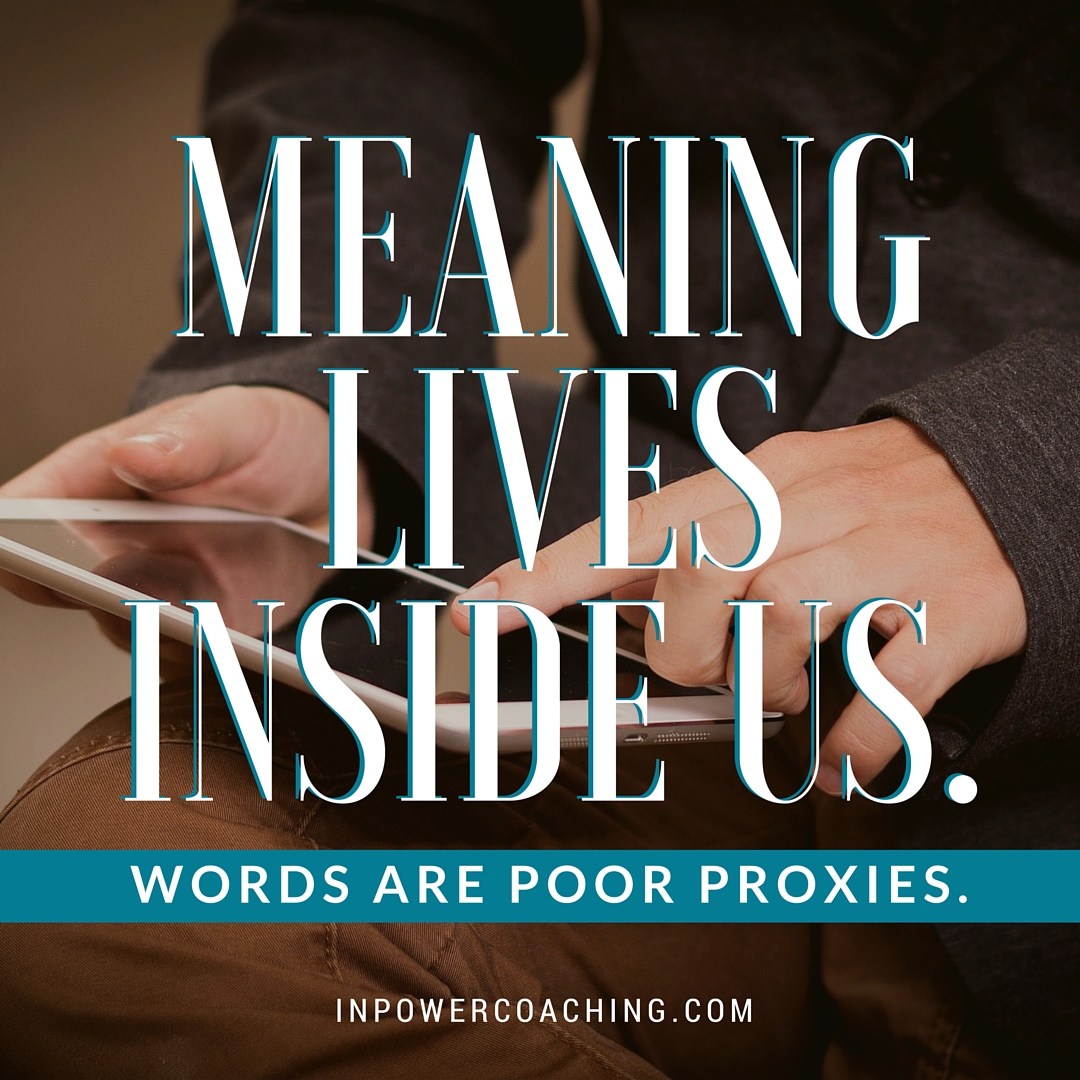 Developing the effective communication skills to navigate technical issues and projects can be harder than other kinds of workplace challenges. InPower Coaching is hosting a free webinar to help you understand how to navigate this special situation and we hope you'll join us. – InPower Editors
Miscommunication happens. The very nature of human communication dictates that the meaning I have inside me will become distorted by the time it makes it out of my mouth, through your ears and into your brain. But what happens when our brains seem wired very differently or our technical understanding of the situation varies by a lot? Are we destined to knock heads every time we try to collaborate? Are the communication skills we need to bridge varying levels of technical knowledge that much harder to master?
Since my entire career has found me translating between disciplines (i.e., political-to-technical, legal-to-engineering, marketing-to-engineering, and now human-to-workplace and human-to-self—I've really spent a lot of time examining this question and practicing (and teaching!) different strategies to sidestep the miscommunication chasms that seem to open up between people from different disciplines.
Meaning lives inside us. Words are poor proxies.
Maybe you're familiar with these deep divides that too-often come out of nowhere, especially when talking about technical subjects. You're in a meeting to discuss the requirements for a new software system and suddenly the engineers on the other side of the table hear you say, "it needs to be easier to use," and say to you, "so we don't understand what you want." You want to scream at them, "This system eats up hours of my day hunting around for how to make it do what I want it to do and I just want it to work like the app on my phone! How can you not understand this? Don't you use phone apps? Don't you get what 'ease of use' is all about?" But you smile, swallow your frustration and try to explain it again and again and again, while they take notes and look confused. All of you feel like you're in a Dilbert cartoon.
Or maybe you're meeting with a project team who wants to give you all the reasons you can't have what you want when you want it, and you just want someone to try to help you figure out how close you can get to what you want and give you a date you can work with. After 45 minutes of talking around the issues you finally break down and say, "Why can't you just give me a decision I can make to move the date in by 30 days, like I asked you at the beginning of this meeting? We can cut back on what we're trying to do to make the date but you have to give me the alternatives I can choose between!" They look at you blankly and tell you again why the dates can't change.
Or maybe you're a scientist trying to plan an event with colleagues and the planner you're working with keeps editing the registration page to remove the three most important words in the event description—the big words only other scientists in your field will understand but which will tell them exactly why they must attend. You say for the third time, "Yes, I know a lot of people don't understand that this is a mineral compound but for the people who do understand it's important. Please put it back in the description, and I'd like it if we could include it in the subtitle too." The event planner shakes her head and puts it back in telling you she's not responsible for a low turnout.
Why is effective communication so hard on technical subjects?
People in technical fields are trained and rewarded for a "seeing is believing" mindset. Unfortunately for them, the meaning inside us—and the transfer of meaning between us—is by its very nature unseeable.
Sure, sometimes you run into a checkout clerk at the grocery who makes you crazy too, but not at the same frequency as those people on the other side of a technical communications divide. What gives? Why are the same communication skills that work in the shopping mall completely useless in some workplace conversations when the stakes are so much higher? Here are the three primary reasons it's easy to miscommunicate about technical subjects and when working with technical or non-technical people.
Technical knowledge is abstract. Human beings have begun to understand complex realities in science, technology, manufacturing, logistics and other fields at such detailed levels that our brains must more deeply explore abstract realities–the dynamics and cause-effect relationships that frame facts differently than "face value." As our speciality knowledge deepens we become more comfortable with these abstractions in order to plumb even deeper depths of our specialty. What's the difference between "remote systems" and "the cloud"? To many people, not much! But to those who understand how networking has evolved software over the last few decades they understand that cloud-based architectures make things possible that the designers of remote systems never dreamed of.
Words aren't meaning. Even in the grocery store our words are just shorthand for the meaning our minds make of things, but as we explore deeper abstract concepts in our specialty fields our words become very tiny shorthand for very big ideas. This shorthand saves us a lot of energy when talking to others who know the code, but to anyone else we're practically speaking another language. Knowing that you're speaking in jargon and code is a key step to communicating across a technical language divide, but it's usually not enough to do it well because the code exists for a reason. Explaining it in "plain English" (or your language's equivalent) is really hard or the code wouldn't exist in the first place!
Meaning matters but it's hard to "see." For good reasons, most technical fields value validation and proof of reliability. After all if you're going to put human beings in machines that drive at high speeds or run huge and lots of financial transactions over thousands of miles of tiny wires filled with light, you need to know the thing you're building will work 99.999% of the time. So people in technical fields are trained and rewarded for a "seeing is believing" mindset. Unfortunately for them, the meaning inside us—and the transfer of meaning between us—by its very nature is unseeable. People—even technical people–are full of fuzzy reality and no matter how much we want it to be true, we're not just squishy machines.
Technical people and technical fields require clarity about abstractions inside us and outside us that simply isn't there most of the time. Are we doomed to scream at each other in our minds (and sometimes out loud too!)? I don't think so. After a couple of decades of this work, I've come to believe that all humans—even technically trained ones—are in the end humans. Everyone has the ability to "see the unseeable" when they look for it and learn to listen for it. I've also come to understand that anyone who wants to appreciate the way technical people and businesses work can become in effective communication with them, even about squishy things.
Effective communication skills aren't rocket science, and even the rocket scientists need them to find the moon—or Mars!
Watch a free webinar to explore this topic in more depth and learn about the "unseeable distortion zone" between people that make miscommunication so explosive and destructive in technical industries and processes. Whether you're technical or non-technical you'll also learn the one communication skill guaranteed to reduce the distortion so you can be more effective communicating about technical subjects with technical people.
Check out the InPower coaching Leadership Development Program for powerful virtual coaching resources that can help you master communications, conflict management and much more!