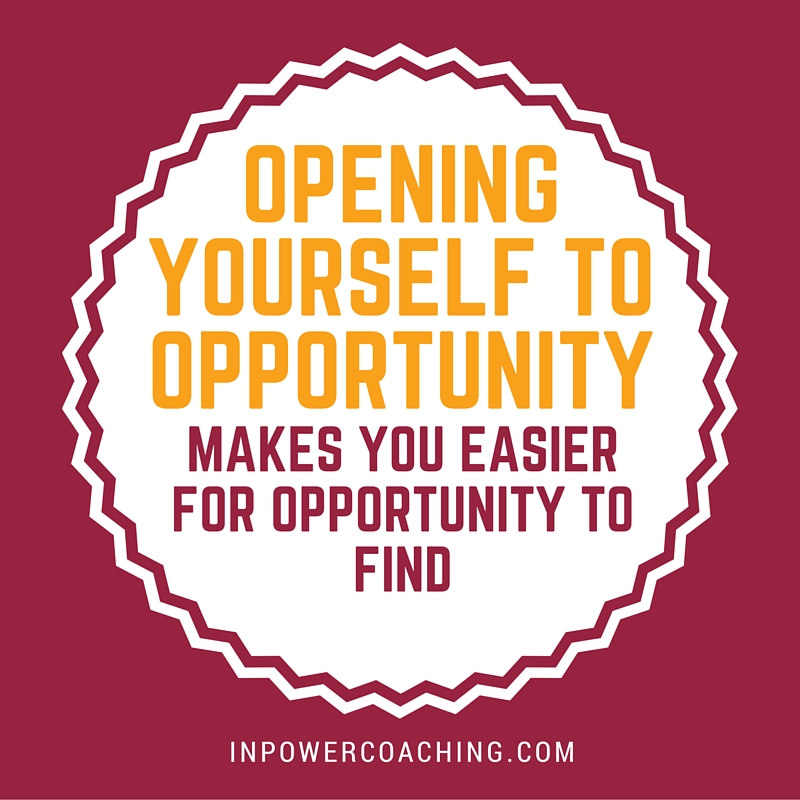 Every job has it's turning point, that time when you're not learning as much as fast; or you're losing interest; or starting to figure out what you really want to put your career energy into… even though you're not quite ready to declare the job you're in "ready to go."
It's this "itchy point" that marks what should become the beginning of your proactive passive job search, where you're not actively looking, but you're proactively exploring what's next for your career and opening yourself to opportunities that may happen across your path.
Susan has been in her job for just over six years when a trip to a conference woke her up to the fact that she was more interested in the sessions on future trends in her industry than best practices. She was hungering for something new and future-oriented instead of doing more of the same better than last year. At the conference she began to explore her new interest in the future: was it boredom with her job or interest in exploring what she could do with the skills and experience she'd gained that called her forward? Turns out it was a little of both.
Opening yourself to opportunity makes you easier for opportunity to find"
Identify Your "Perfect Job" To Fuel Your Passive Job Search
When you realize you're ready to start thinking proactively about the next step in your career, it's a great feeling. You're content enough where you are, probably being recognized and feeling accomplished. You're not in a hurry and can take your time to find a great fit while you're at the top of your game, maybe with your current employer. Don't let this opportunity go to waste! Get serious about how to move forward in your career—at your own pace and in your own way.
Do some homework to identify your Perfect Job
Refine your LinkedIn profile to position you as a candidate for your Perfect Job
Use your network to validate that it's "perfect" and open yourself to opportunity
Susan started the process of understanding what kinds of jobs would satisfy her interest in industry trends. Did she want to become an analyst? Or move into leadership to help strategize her company's response to trends? Stay in sales? Move to marketing? She settled on the leadership path and, just like Jonathan used his business networking to position himself for future opportunities, Susan began engaging with her network to better understand which leadership positions would give her a more strategic focus. To her surprise, staying in Sales but moving to a startup where a sales leadership role would put her on the executive team felt like a better move than switching to marketing. Describing her "perfect sales leadership job" and positioning herself online as a good candidate for it allowed her to reach people in the startup space, attend networking events and talk to investors. Soon she understood that her perfect job would probably be in a company that had received second or third stage funding. About this time at a networking event she met the COO of a company at the end of its first stage funding cycle who was planning their second round. They were looking for a strong sales lead and Susan's experience and track record was just what they were looking for.
The Power of Knowing Your "Perfect Job"
When you're desperate for a new job, you're more willing to accept anything. But in a passive job search, you're not desperate. You're content while considering your future. That's the time where your focus on your Perfect Job is most powerful. Taking the time to understand what it is, and why it's important to you, allows you to talk to other people in your network about it with enthusiasm and excitement. That enthusiasm allows others to "see" you in that role and help you connect the dots to find it. You can be patient. You can take the time to network and suss out what it is and where you might find it.
When you find it, you'll be coming at your Perfect Job from a position of strength, too. You don't need it, you want it.
Does a Perfect Job set you up for disappointment? After all, every job has its downsides. It will disappoint you if you think of your Perfect Job as truly "perfect." It is a dream, but it's also going to help you get closer to your dreams than one that feels "only ok." So go into the process eyes open to the fact that your understanding of what feels perfect to you is guiding you towards a more fulfilling future.
Most importantly, don't wait to get started! When you're still happy in your current job is the best time to start preparing for your next one.
Take charge of your career development to get the job that supports your work and your life. Check out the tools and resources in the InPower Coaching Career Center.