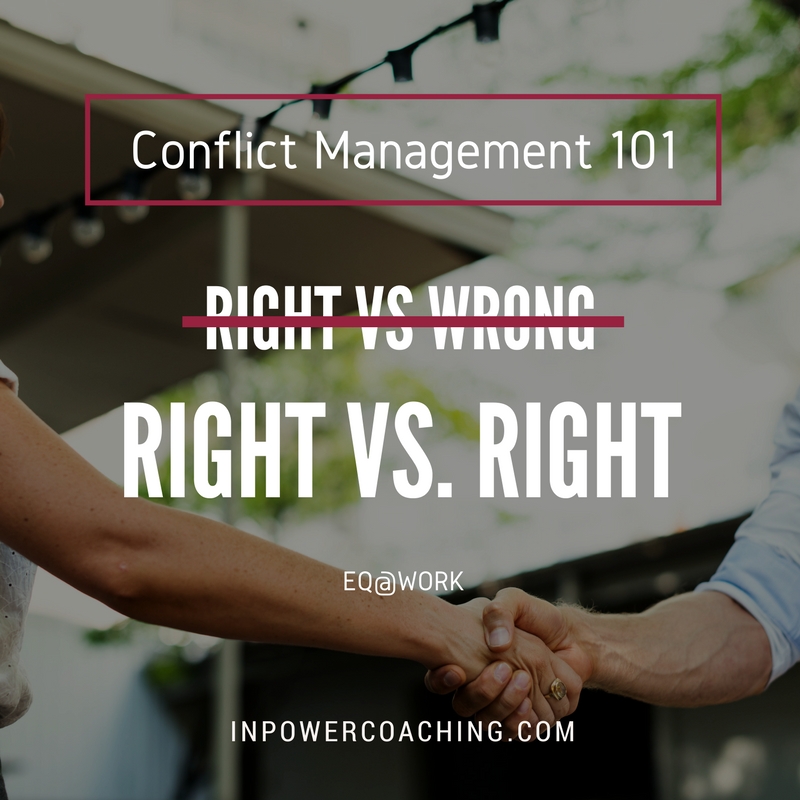 Every time I do a leadership training seminar at least one person in the room always has the same light bulb go off when I introduce the RIGHT vs. RIGHT concept, described in Chris McGoff's The PRIMES. You can see it in their eyes when they are able to perceive an alternative to making every conversation conclude with a winner and loser. They smile and you can almost tell that a weight just lifted off their shoulders because they now understand how to access more power through their leadership style. What is RIGHT vs. RIGHT? In short, when you're practicing the leadership skill of RIGHT vs. RIGHT, you learn to look beneath the right vs. wrong conversation you're usually in when you're debating approaches with a colleague, boss or subordinate. Practicing RIGHT vs. RIGHT allows you to hear the good thing your conversational opponent is advocating, and gives you the keys to turn the conversation into a powerful force for change in your organization.
No Judgment
When you're in a RIGHT vs. RIGHT dialog, there's no judgment about what's right and what's wrong, the whole focus on the conversation is about which "right" is the "best right" for any particular situation.
For example, in my last training one gentleman was in IT support for the Air Force and he was used to discussions with officers that frequently turned contentious. His clients wanted "the impossible" to support "the mission" and he felt like he was always in the position of having to tell them they were wrong. When he understood RIGHT vs. RIGHT, he was able to see how he could honor their loyalty to the mission and give them choices that supported the mission – and the budget – without having to make them "wrong." His smile was great as he talked with eagerness about how he was going to take this idea back and work with it.
Digging Out From Right vs. Wrong
Many of us struggle to understand how to get unstuck in the right vs. wrong arguments we find ourselves in sometimes, which is why I've started telling Ronald Reagan's pony joke to help us "get it." Here's the joke:
Worried that their son was too optimistic, the parents of a little boy took him to a psychiatrist. Trying to dampen the boy's spirits, the psychiatrist showed him into a room piled high with nothing but horse manure. Yet instead of displaying distaste, the little boy clambered to the top of the pile, dropped to all fours, and began digging.
"What do you think you're doing?" the psychiatrist asked.
"With all this manure," the little boy replied, beaming, "there must be a pony in here somewhere."
The key to The Pony Joke is that the optimist who knows there is a RIGHT vs. RIGHT discussion to be had doesn't stop at the surface of the conversation, where it looks like the other person must be wrong. The optimist leader looks deeply at the other person's motivations – asking questions if s/he has to – to find the RIGHT motivation (the pony) in the other person's perspective and bring it to the surface of the conversation. They also look deeply at their own position, and articulate the most powerful "right" for which they are advocating.
This is important for a couple of reasons. By finding your own, deep "right", you articulate your point more clearly. When you find the other person's deep, right you discover that sometimes they aren't even aware of their own motivations. When you can voice it for them, they often become less strident because they understand their own position more clearly and – importantly – because they know you understand it too. And sometimes you'll discover you've both found the same pony and are really in agreement.
Once you've found the pony (or ponies) and brought it to the surface of the conversation, the dialog almost always becomes more powerful. This is an excellent skill for any leader and a critical one for anyone trying to change a corporate culture and achieve buy-in and enrollment from others. To learn more about RIGHT vs. RIGHT and many other powerful principles of leadership, purchase THE PRIMES second printing with 14 new concepts.
Download the free InPower Coaching transformational leadership guidelines to help you lead others for personal growth and business results!