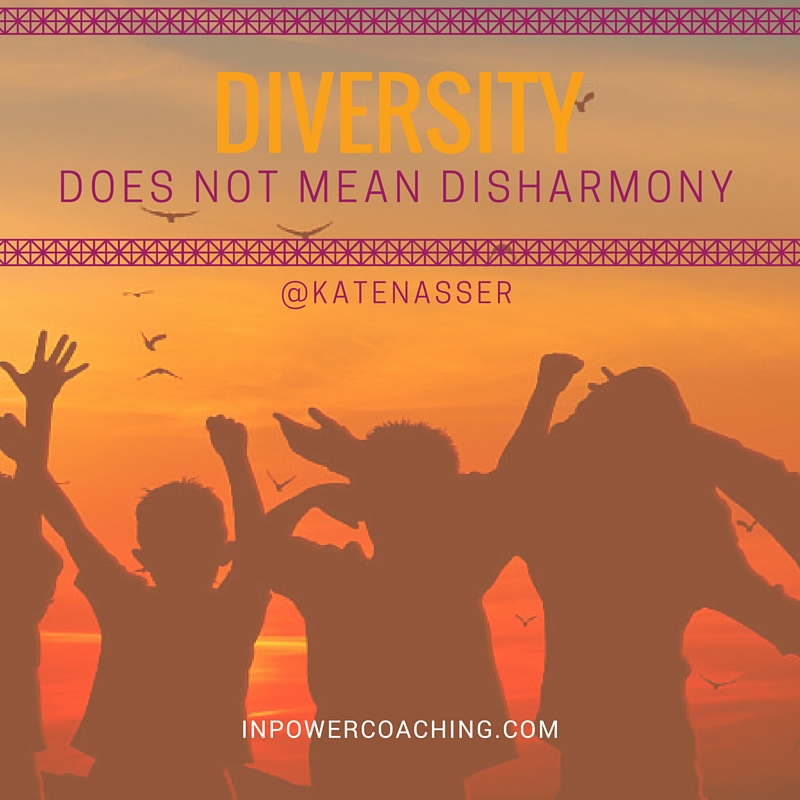 Guest Post By: Kate Nasser
Most leaders do not want strife and disharmony in their organizations. The emotion of disharmony drains the team's energy and attention from successful behaviors.  Leaders want insightful, competent collaborators who can get the job done and win the day.
So when they think "Whom should I hire or promote into leadership positions", what trait do they seek in leaders?  Answer: The magic of balance.  They want someone who seems strong enough to put their fears of failure to rest yet agile enough to instill and model collaboration, action, and accountability in the organization.
What does this mean for women in leadership? Those who can show strength without strife and build innovative, collaborative, action-oriented, accountable teams who deliver results will rise to the top.
To that end, women represent diversity not strife and disharmony.  Diversity of thought is vital to an organization; disharmony, fatal.
Diversity of thought is rooted in respect for ideas and for each other. Disharmony grows from fear and disrespect for others, their ideas, and their ways of working.
Diversity excites; it doesn't enrage. It expands possibilities; it doesn't limit.  It feeds organizational success. Disharmony — with all its disrespect and power struggles — strangles success with resentment, cliques, and self-protection.
The return on diversity of thought is growth, innovation, and stronger bonds through learning. The return of disharmony is less collaboration, lower morale, rampant mistrust and organizational paralysis.
Women with the magic of balance have replaced their focus on gender differences with a focus on  social styles/personality types. Gender is not the main cause of disharmony yet social styles and work styles are high on the list!
Being able to spot and adapt to social style is the great equalizer. Adapting in this case doesn't mean weakness or surrender. It means using the knowledge of someone's social style to communicate and influence effectively.  Sales professionals have used it for years and modern day leaders are working it well.
This skill is also tremendously helpful in resolving conflicts. It is a key skill of highly  successful leaders as they keep the organization moving toward success.
How much magic of balance do you currently have?
Do you know your social style (expressive, analytic, amiable, driver)? Do you know how to spot and adapt to each type?
Are you comfortable with your type or do you believe you have to be another type to lead? You may be apologizing for who you are without knowing it and your indecisiveness is scaring decision makers.
Can you spot the difference between discord that is fueling divisive paralysis and spirited discourse that elicits valuable views?  Desiring constant peace may blind you to the difference. Believing that harmony equals inaction and failure can also neutralize your magic balance.
How well do you instill commitment and accountability in others?  Do you shrink from building that culture—even a little bit—because of the desire to be liked?  Leaders looking to promote you to high levels want to see a focus on financial success and your ability to inspire everyone to do the same.
Can you make the tough financial decisions even if it affects many employees' livelihoods? The proof is not in saying you can; the proof is in showing your magic of balance at tough moments along the way.
Don't seek approval; show them who you are and deliver results.  Whether you get a promotion now or later, all your actions and interactions are your emerging portrait of what you can do as a leader.
Whether you choose to become a leader or contribute in these other incredibly valuable ways, develop and show your magic of balance so everyone can see your complete portfolio.
While many leaders still shy away from promoting women and other under-represented people into the highest slots because of a bias for the status quo, they are doing it at the glass cliff moment as with Yahoo's new CEO Marissa Mayer. I guess there is nothing like a point of no return to melt away fear driven bias.
Nonetheless, when they come looking, what will they see in you?  Someone who is focusing on proving a woman can do the job or someone who has been producing profitable results through the magic of balance with inspired accountable teams?
As you build your financial acumen, your P & L experience and your operational insight, hone your people-skills of diversity to influence those who will impact your future.
From my professional experience to your success,
Kate Nasser, The People Skills Coach™
©2012-2015 Kate Nasser, CAS, Inc. Somerville, NJ. If you want to re-post or republish this post, please email info@katenasser.com. Thank you for respecting intellectual capital.
Kate Nasser, The People Skills Coach™, is founder and president of CAS, Inc. For 25+ years, she has coached thousands of leaders and teams in the corporate world on profitable people-skills.
Her workshops in leading change, employee engagement, teamwork, and the ultimate customer experience transform results from the ordinary to the exceptional.  Her keynotes move everyone from inspiration to action with lasting effect.
Kate's diverse background and magic of balance make her incredibly valuable to leaders and teams in many different industries. She is a techie turned people-skills guru with a BS Mathematics and Masters in Organizational Psychology. She succeeded through balancing diversity her whole life with parents of two different generations, equally strong technical and people-skills bents, and career shifts from public school teaching to IT at American Home and Johnson & Johnson and finally to entrepreneurship.
Kate welcomes your direct calls to fuel your success – 908.595.1515 (USA).  You can also connect with her via http://thepeopleskillscoach.com, Twitter and LinkedIn.
Check out the resources in the InPower Coaching EQ at Work and Soft Skills Research Index.