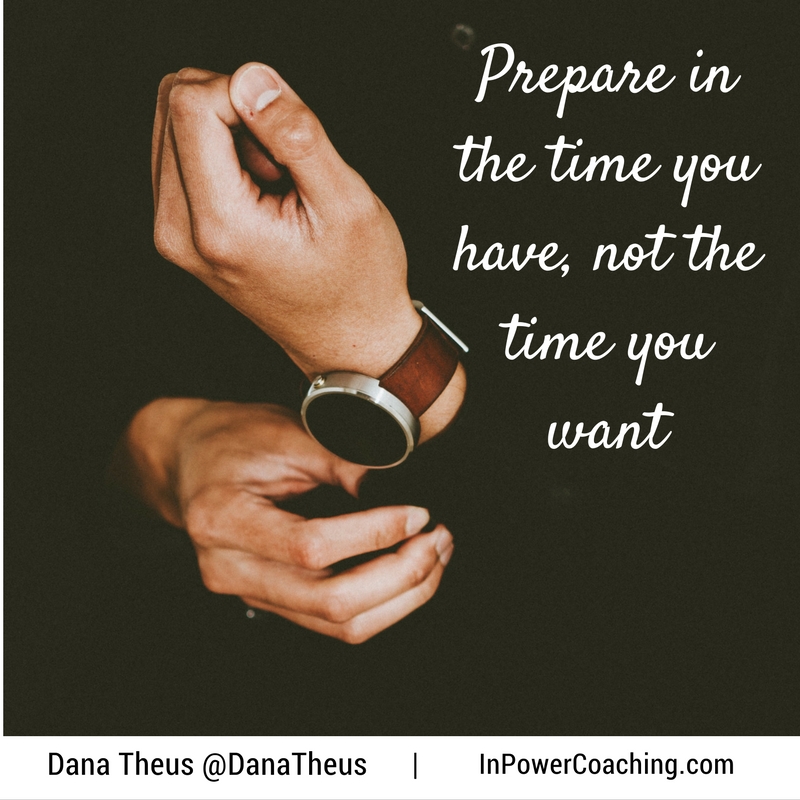 Congratulations! You got the job interview! It's totally normal to feel excited and anxious when you get the call or email. It's also normal to want to dive into preparing, but before you do, take a pause and look at how much time you have to get ready. Use that time wisely!
If you've got short notice, focus on the essentials and the essentials only. Don't get distracted by what you don't know and focus on what you do know.
 If you've got lots of time before your job interview, take the time to do your homework and then focus on the essentials and the essentials only!
The key is that when you walk into the interview, you want to be laser focused on three things:
Highlighting the key reasons you believe you're a good fit for the position
Asking for the key information you need to decide if the position is a good fit for you and your life
Being your best self: confident, positive and centered
Too often when you're preparing for an interview, it's easy to get distracted by anxieties you can do little about. Will they ask about the one area your experience is lacking? Who else are they interviewing? What are they looking for that they haven't told you about? These kinds of worries are normal, but spending energy on them deflects from what you should be focusing on. You have to let the anxiety go and focus.
Step 1: Why are you a good fit for their position?
While you could probably rattle off a laundry list of reasons, challenge yourself to focus on the top three. When you're in the middle of the interview, you don't want to be all over the place. You want to be focused and leave your interviewer with a clear idea of the top reasons you are the one for the job. Walk in with a clear focus and you'll find it easier to leave them with focus. Be ready to think on your feet and ask questions up front. That way, as you learn more about the position and what it requires to be successful, you can frame your strengths and the key reasons you're a good fit in ways that demonstrate you heard them clearly.
Step 2: Why are they a good fit for you?
Not every job is a good fit for your work-life and the "fit" is tough to figure out before you show up for your first day on the job. Will this position give you the flexibility, challenge and culture you're most likely in which to thrive? Ask! The interview is a great opportunity to learn about the position, the boss, the team and the company. Asking a few powerful questions in the job interview about what's most important to you also makes you look discerning (i.e., not desperate) and gives the interviewer a feel for what's important to you beyond the job itself. Good interviewers, will actually see you as a better cultural fit when your questions demonstrate aligned values and interests with others on the team. And if you're not a good fit, your questions and their answers can help you both realize it right up front. Don't worry about giving them reasons not to like you. A good fit is critical to your success. Ask about what's most important to you.



Already a subscriber? Log In
Step 3: Take your best self into the job interview
"Being your best" seems like it would go without saying, but when you're nervous and anxious you're not your best self. Yet most of us walk into the interview nervous, anxious and worrying about how we're going to screw it up. Getting yourself into a calm, centered and confident state isn't always easy, and it usually requires a unique strategy for each of us. Why? Because what makes you nervous is likely to be different from what makes your colleague anxious. Do what you need to do, but whatever you do, be your best self.
Did you know you can release your anxieties and practice for your interview even before you've gotten the call? The InPower Coaching Career Center track on Interviewing and Offer Negotiations is full of worksheets and strategies to help you prepare so that no matter how much time you do, or don't, have before the interview, you walk in ready to put your best self forward and get your dream job.