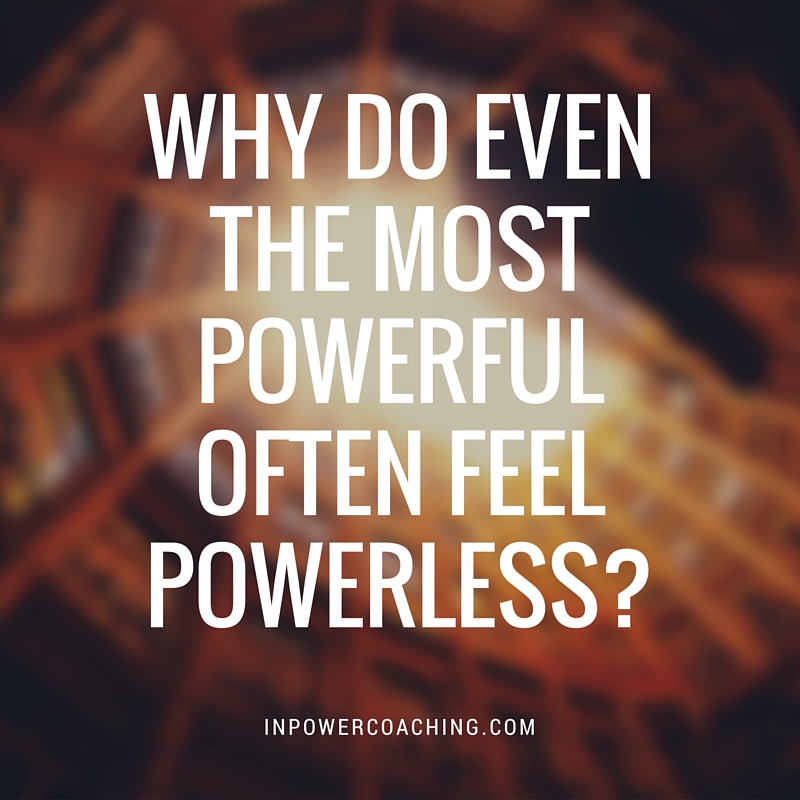 To everyone but us, we were a power breakfast.
Meeting early at the Mayflower Hotel in downtown Washington DC, we were strategists behind an international organization representing 160 of the biggest companies and Non Governmental Organization (NGO) nonprofits in the world. The Director, on a trip over from his home base in Switzerland to meet with the Chairman of his Board and two experienced consultants, had a most respected European academic institutions funding his effort and he personally exhibited more brain cells than the rest of the room put together.
The four of us discussed the big question for this organization, the issue of how to launch their organization to the global community – accommodating the various interests of their members in the process.
As we talked and explored the strategies of organizational change, I was struck by how this powerful group danced around the edge of powerlessness. The Director and his Chairman – a woman with decades of experience and deep knowledge of the politics and economics of this field – listed on their website some of the most recognized and powerful brands in the world as paying members. And yet, our discussion revolved around the "tyranny of minorities," two groups whose divergent positions threatened to stalemate the organization – either diluting or halting the launch.
It's a common experience in Washington DC and many other headquarters-locales where power seems to flow through the streets; groups of people with great power "on paper" often feel helpless to make things happen. Sure, the Director could decree the way forward, but he's likely lose important members, and the claim of sector-wide support, in the process. In today's world, Command-and-Control leadership just doesn't cut it in most situations.
Why do even the most powerful often feel powerless?
After 25 years of working in DC and in proximity to power of various kinds – international, democratic, bureaucratic and entrepreneurial – I think the answer to this question is that we too often get confused in the complexity of big problems. Mired in details and conflicting interests, we yearn for antiquated definitions of power – believing or wishing that a single act or decision by a single individual will immediately cause extensive and noticeable change. Part of us pines for the paternalistic King Model of leadership where someone just decides and everyone else falls in line. The fact that such decreeing power is often dangerous to the King himself (pick a Shakespearean King, any King) is something we conveniently forget, romanced by the illusion of simplicity in the model of Commander.
Of course sometimes Command and Control does happen – witness President Obama's decision to send in the SEALS to take down Osama. There are certainly times and places for the "royal king" style of leadership. But more often than not it's the Martin Luther King Jr. model of persuasive leadership that our business and political cultures call for.
What's at STAKE?
There are so many dimensions to this "King vs. King" discussion of leadership style I won't belabor them here.
The reality of change I've experienced is that behind every "decisive act" – even Obama's SEAL mission and certainly his Congressional agenda – is a sea of smaller acts – emails, meetings, analyses, "gut checks" – that actually create the momentum for real change. One way MLK and other participative leaders manage the stalemates of powerlessness, is focus their community on the pivotal discussion that motivates people to give up where they are in exchange for an unknown future. The question revolves around What's at STAKE?
I think this video by Chris McGoff explains it extremely well in the context of The PRIMES.
Stake
from
Chris McGoff
on
Vimeo
.
As Chris says, together, all six dimensions of the STAKE, act like a burning platform. When the fear and hope of an unknown future becomes less frightening for them personally than staying in the current situation, people will not only accept change but welcome it.
From Powerlessness to Power
I introduced the idea of STAKE at breakfast and immediately the conversation shifted. We moved from the hopelessness of convincing people to move off their entrenched positions and began discussing the STAKE from their point of view. We explored new ways to talk to them and encourage them to talk to each other. We tapped into a new vein of power available to us.
Will this one breakfast conversation alter the course of this organization's history? I don't really know. What I do know is that we left the Mayflower hotel feeling more in power than when we entered.
For me, for that one breakfast, this was enough.
Check out the resources in the InPower Coaching EQ at Work and Soft Skills Research Index.