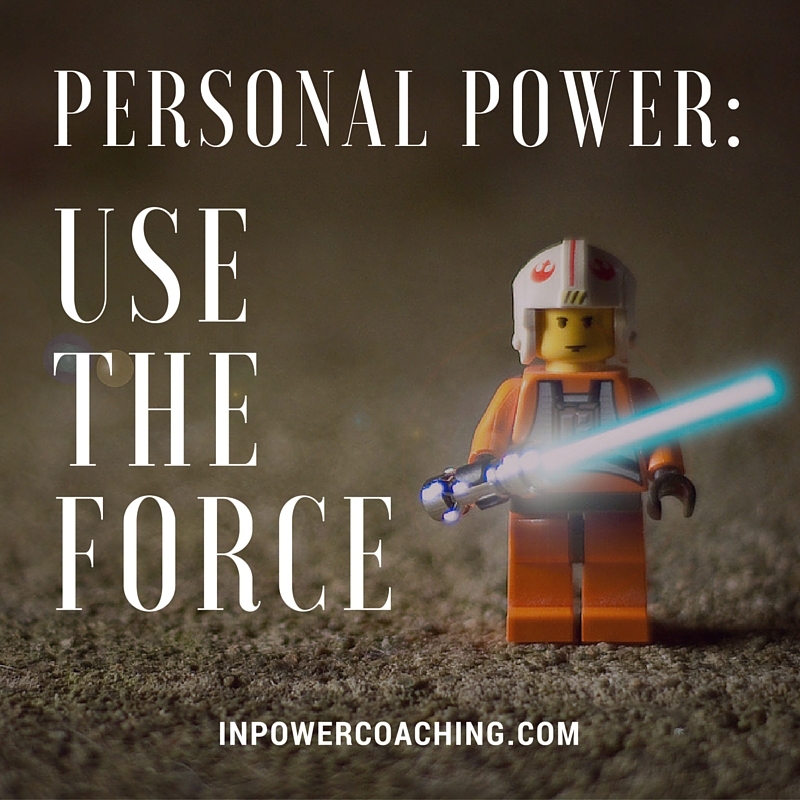 When I was a kid I loved action movies and magic. I sprained my ankle jumping off a roof as a member of the Three Musketeers (not sure which one since we all thought we were D'Artagnan.) I read comic books and even wrote a fantastical story of star voyagers to mars. I had an imagination run wild.
Then Star Wars came out and redefined my concept of magic and awesomeness. Of course as a kid in a movie theatre I didn't understand how intentionally George Lucas was using universal archetypes and mythical patterns of human development to manipulate my child-like sense of wonder. I just fell in love with the idea that people could have this inner power to see the unseen and influence the world around them. I wanted some Jedi power for myself, and Star Wars made me believe I could have it. Sitting in that dark theatre I felt a genuine connection to a force related to my humanity. "May the Force be with you," had immediate resonance and meaning to me.
I've spent my entire life since then looking for this inner power and with InPower Coaching I've not only found it, I've learned that I can teach it to others.
Personal Power: Use The Force
The reason media superheroes are so popular is because we all yearn to unlock our secret inner talents, the ones we instinctively know we have by virtue of being human. If we're fighting 16 foot tall monsters, then swords and lasers come in handy, but for most of us navigating the trials and tribulations of a day at the office a lightsaber seems like overkill. But Jedi powers? The ability to steer someone's thinking or read their true intent? Now that would come in handy!
Metaphors: May The Force Be With You
When we think of super powers as physical things, they seem out of our reach. After all, even when we go to the gym every day we can't toss cars around with ease (and that's probably a good thing). So it's easy to write them off as fantastical. But when we view super powers as metaphors, visualizations of what is otherwise hard to see with our eyes, then we can begin to understand what power we carry within us and view it as real power, real force.
Let me give you an example of the most fundamental InPower skill and its cinematic metaphors to help you understand your own super power potential. (If these scenes don't sound familiar, go watch just about any action/adventure movie, and certainly any Star Wars movie for a refresher course.)
You know how in just about every climactic fight scene the hero/heroine gets goaded by the bad guy into fighting with anger? And it's at that moment that our hero/heroine starts to lose the fight. Of course, we in the audience know better and start yelling at the screen, "NO! Don't succumb to the dark side!"
Then, just about at the moment that the hero/heroine is about to metaphorically die, they remember their teachings. They become centered and focused on their own inner sense of self. They become calm, let go of their anger and handily dispatch the bad guy to not only win the fight but save all of creation.
Don't you wish you had this super power when the bully at the office (or the relative you dread running into at the reunion) finds you?
Yes, the evil bad guy trying to get under your skin is just a fantastical visualization of your bully boss goading you into losing your center. When you succumb to the anger or anxiety they plant in you—lashing out at coworkers, working yourself into the ground, or failing to take credit for your true talents and contributions–you're starting to lose your battle just like the hero/heroine does in the movie.
So the question is, can you hear the people who care about you yelling at the screen, "NO! Don't succumb to the dark side!" Can you remember your teachings, center and save yourself and all of creation?
Where Is My Aunt Yoda?
Of course the superheroes have teachers. They have guides like, Yoda or Merlin, who teach them how to handle their equivalent of the bully boss, but who teaches us how to do this? If we're lucky our parents were good role models for emotional intelligence growing up and we just embody their natural skills. Some others of us have other role models, mentors and teachers, who give us a deep sense of self-worth we can connect to and learn these lessons on our own. These teachers and mentors encourage us to seek excellence in ourselves and master our personal abilities. They acknowledge our successes so we know what it feels like to master these inner powers. If that's you, congratulations!
Don't feel bad if you missed out on having an Aunt Yoda who taught you all this stuff, though. Most of us don't grow up with these teachers. We have to find them as adults. While this explains the explosion of self-help media out there, the hidden secret—whether Aunt Yoda lived next door or whether you're an avid fan of a yoga guru—you still have to do the work yourself.
And that's where InPower Coaching comes in. After exploring the real human super powers to help people survive the office bully and learn to lead others, I realized that too many people had bought into the metaphor! They thought the magic was in the wand, instead of inside them.
But there is no wand. Unlike Harry Potter and more like a Jedi, the magic is inside you and only you can discover how to use it for yourself. So put the self-help books down and start applying their lessons to learn what your personal super powers feel like.
My solution to help my clients do this was to create worksheets. It turns out that your deep inner powers—while unique to you—are also universal in many ways. So believe it or not, a few worksheets can unlock them and help you apply them in your every day life.
I have a bunch of worksheets I've developed over the years working with clients, but I'll give you my secret. All the powers they can unleash are built on this one, single power: emotional freedom.
All those bullies and troublesome people in your life can be managed effortlessly and easily when you've mastered the art of emotional freedom and letting go of your anger, anxiety and sense of vulnerability. Emotional freedom gives you the ability to become an amazing communicator and leader. And yes, I have a worksheet for that. It totally works.
Just call me Aunt Yoda.
Oh, and for the Star Wars nerds like me out there, May the Fourth be with You! (This is an obscure fandom reference to the fact that this is posted on May 4th, the official Star Wars Day!)