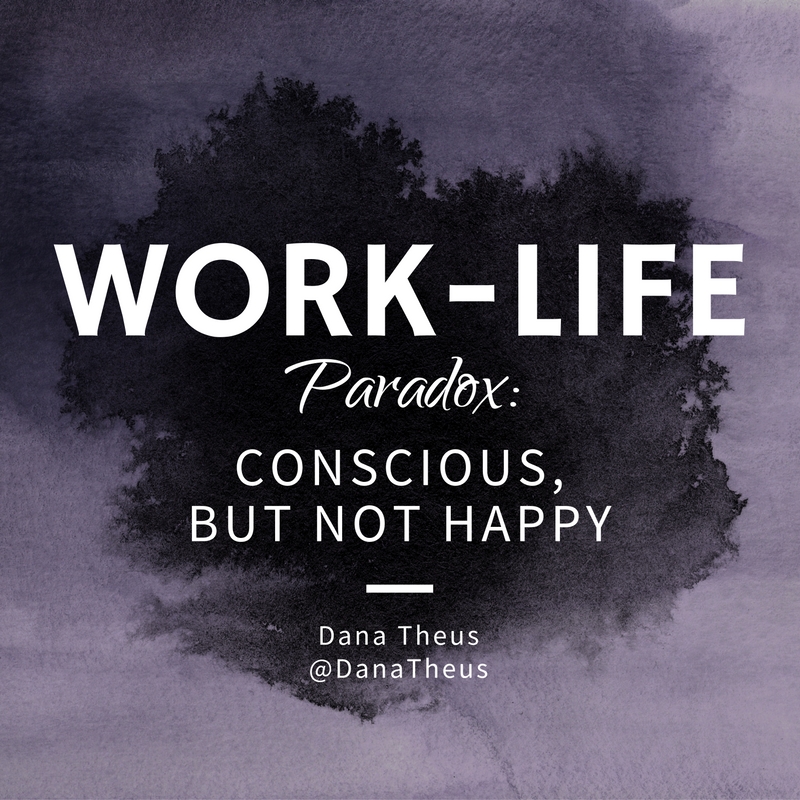 Over the past few months I've been hearing from clients and friends who struggle with a vague sense of dissatisfaction in their lives and careers.
In most cases it's not too tough to ferret out the source of work-life dissatisfaction; we scan our lives and find that we're happy in life, but we hate our jobs – or vice versa. But not always. When the dissatisfaction feels less clear, it can mean that we like all the individual things we're choosing to spend our time and energy on, but overall are still left feeling tired, stretched and stressed. As one of my clients put it:
I enjoy my job and put myself fully into it. I'm a devoted mom and my husband works at home so he can do most of the kid-care. I feel good about every single one of my choices. But all this doesn't make me happy.
Happy with the parts but not the whole
What's going on here? Where does the "vague" sense of work-life dissatisfaction come from? After listening intently over the last few months, here are a few trends I've noticed and some advice for each one, based on my personal experience and insights as an Executive Coach.
Forgetting to get a treetop view of your larger goals on a regular basis. When there are a lot of individual pieces and parts to work-life—errands, family, community activities, school, exercise, work, extra work, emergencies etc.—it's too easy to get disconnected from your larger goals. We coaches like to say that this means you're out of touch with your life's purpose, but that sounds so heavy. If you know what your life's purpose is, then regularly connecting with it can help. But if you don't know, you still need to have larger goals that put all your activities into perspective. These goals can be life goals (e.g., start a family), career goals (e.g., change careers) or personal goals (e.g., run a marathon before you're 35). Making progress towards these larger goals, when you take the time to focus on them, can help you find real joy in the day-to-day. If you feel like you need to refocus on your goals, get started by wiping the slate clean with our free InPower workbook for Starting Fresh.
Feeling undervalued and/or under-employed at work. Maybe the job you have suits your life well, or is "on track" with where you wanted to be, but it's not feeding your soul. That happens a lot as we work to pay the bills and take the opportunities that present themselves. Sometimes a job starts out awesome but after a couple of years, it's just not as exciting as it used to be. Whether you want to get a new job now, you can feel that time coming soon, or you're not there now but know you will be again someday, it's always a good idea to be sharpening up your career vision and managing your personal brand in case the perfect opportunity comes along. When your personal brand is in good shape, it's also easy to ramp up your career development efforts quickly when it's time to go from passive job seeking to an active job search. Not sure when is the right time to make your move? Check out these InPower Coaching posts for insights on this topic:


Already a subscriber? Log In
Spending too much energy in unsupportive relationships. We all have them, those people in our lives who drag us down or wipe us out. Sometimes you can let them go, but other times that's not an option. You may not want to leave your job just to get away from an annoying boss, or cut off a family member you love but don't like. Learning to manage your own energy in these relationships can be a critical part of regaining joy in your life. It's not always easy, but it's amazing how when you manage your own energy well, somehow the other person seems to understand this unconsciously and treat you in ways that make the relationship easier to manage. This can be a challenge to wrap your head around (it certainly was for me) but that's why I always start out my clients with lessons in how to detrigger their emotions to gain control in these difficult relationships.
There's no question that dissatisfaction in work-life is more complicated than this, but it's a good start. As you ease out of your summer relaxation, make a commitment to yourself to refocus on your larger goals, brush up your personal brand and career development plan and use your energy effectively in your personal relationships.
Take charge of your career development to get the job that supports your work and your life. Check out the tools and resources in the InPower Coaching Career Center.